LBJ School Welcomes 2010 Incoming Class
Week-Long Orientation Culminates with 'Gone to Texas' Celebration
AUSTIN, Texas-- Aug. 26, 2010-- The LBJ School of Public Affairs has opened its doors to a new class of incoming students who come to Austin from locations around the world, representing 25 states in the U.S. and nine countries, including Colombia, India, Iran, Kenya, Mexico, New Zealand, Pakistan, Russia and the United Kingdom.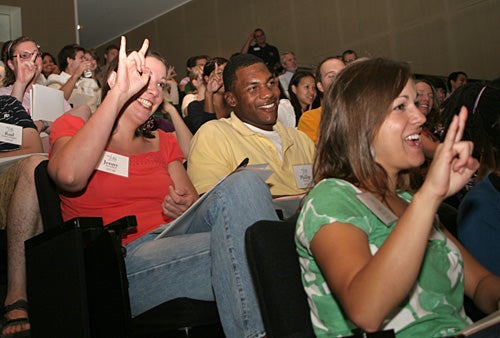 Additionally, the 2010 incoming class, the first to reap the benefits of a newly completed $19 million building renovation, includes members of AmeriCorps, the Peace Corps, Teach for America and several Vista volunteers.
The LBJ School welcomed these students during orientation week, Aug. 19 through 26, with a series of events ranging from information sessions on academic and research opportunities for students to social events, allowing new and returning students to mingle with Austin alumni.
Orientation week is designed to introduce students to the faculty who will teach and guide them through the next two years, as well as to their peers, and to the range of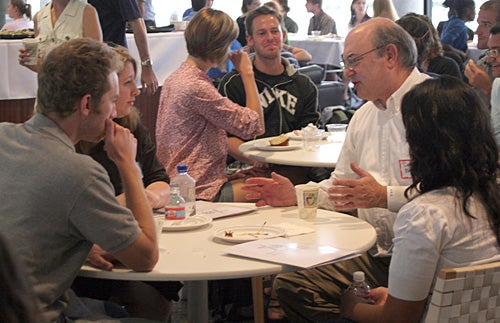 possibilities created by their new experiences.
The week opened on Aug. 19 with a full-day orientation hosted by the Office of Student and Alumni Programs (OSAP), which included a convocation led by Dean Robert Hutchings. In his remarks, Dean Hutchings urged the incoming class to take advantage of the wealth of opportunities provided by the University of Texas at Austin and encouraged students to "get to know your teachers," noting that many of his own former students have become life-long friends and associates.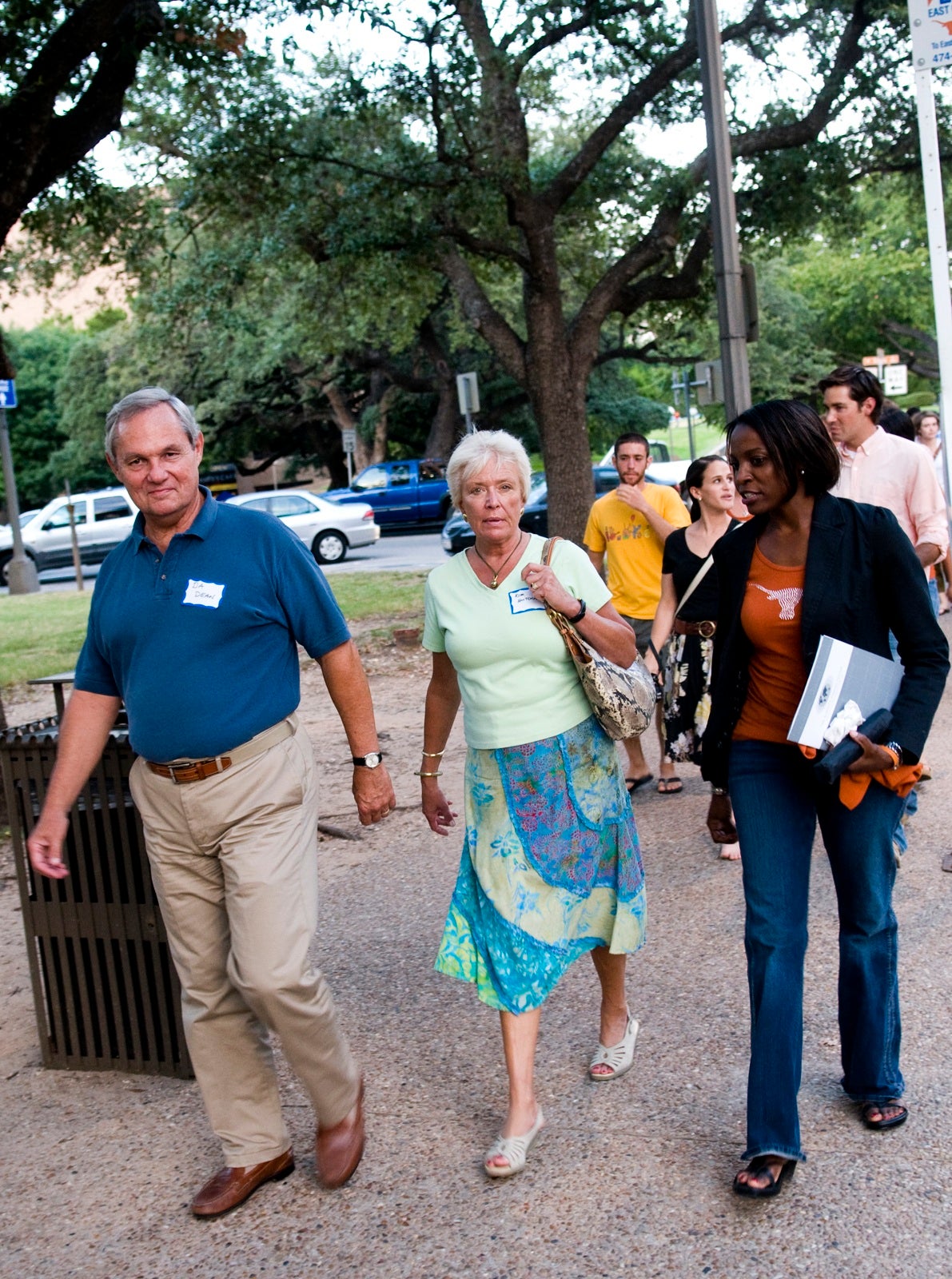 In conclusion, Dean Hutchings discussed public service in today's world, emphasizing that it is "an exciting time to be engaged in public policy," and challenged his students to think of themselves as "rising leaders," noting that the LBJ School takes very seriously its role in preparing students to be leaders. "It's what we do. It's why we are all here."
The day's activities included sessions on degree requirements, course selection, and registration procedures, a lunch-mixer with faculty, an academic fair and meetings with academic advisors. Associate Dean Robert Wilson, Assistant Dean for Administration Jeff Patterson, and Assistant Dean for Communications Susan Binford, also addressed the class and gave outlines of their roles at the School.
The official school orientation events culminated in a welcome dinner at the School, hosted by the Dean and Mrs. Hutchings, who led a march to the University of Texas at Austin Tower for "Gone to Texas," a campus-wide new student welcome.
Gone to Texas is presented by the Office of the President with support and sponsorship by the University Co-op. The event featured greetings from student leaders and university officials, including President William Powers Jr. It included performances by student groups, showcasing the diversity of the university community and the range of opportunities available to students.
Advice to new students is available on the Gone to Texas website from graduates of the university's spring graduating Class of 2010.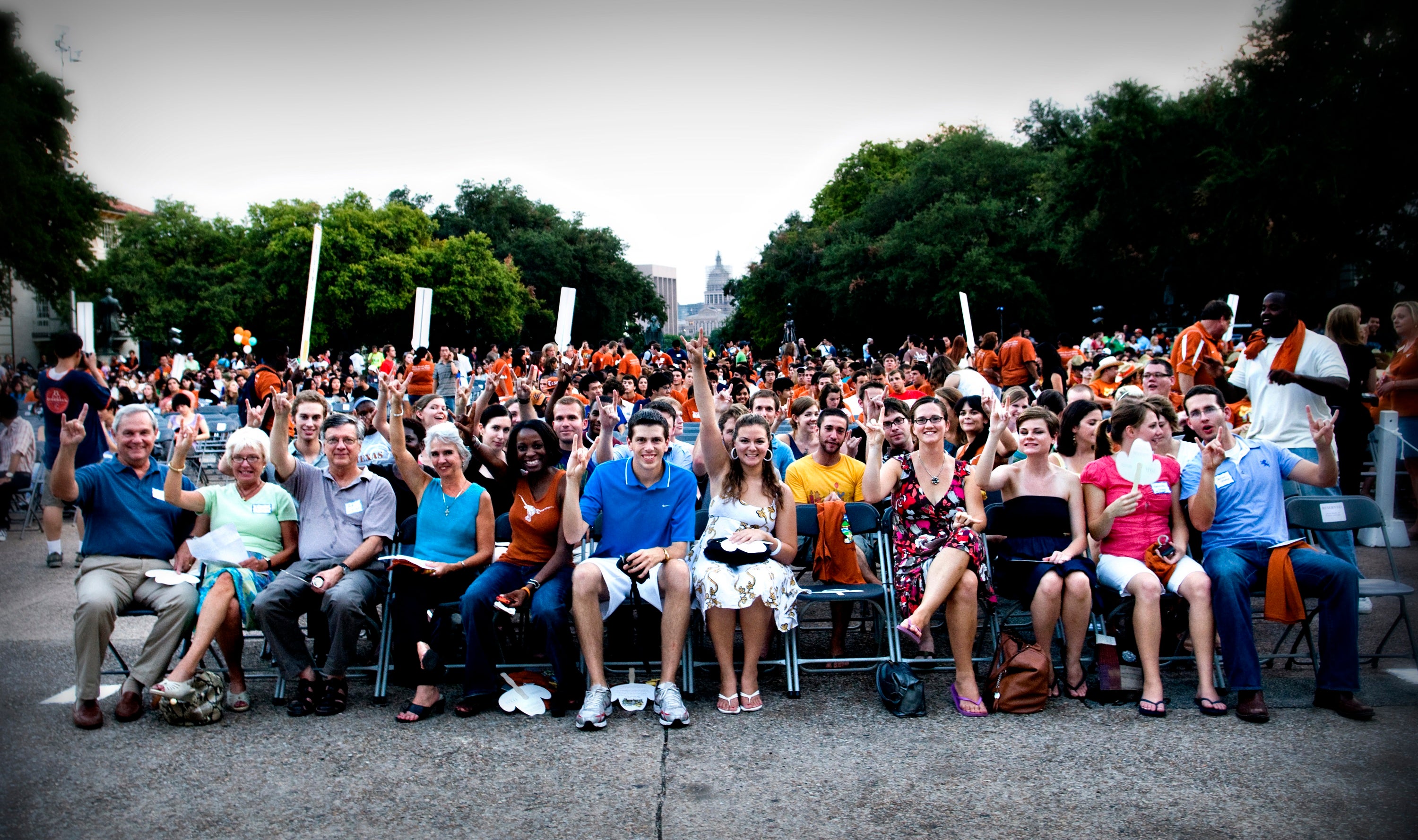 The week's events ended with a happy hour celebration hosted by the Austin Chapter of the LBJ School's Alumni Association where new and current students, as well as faculty, were invited to get to know area alumni on Aug. 26.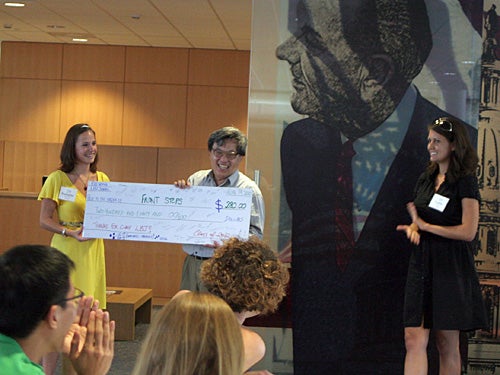 Another memorable orientation week event was the presentation of a gift from Camp LBJ students to Pat Wong, LBJ School Associate Professor of Public Affairs. Wong is the faculty director of Camp LBJ, a five-week intensive course that is designed to prepare incoming students for the mathematical and statistical requirements of their graduate-level coursework. As a thank you for Wong's, Camp LBJ students donated $280 in Wong's name to Front Steps, an Austin-based charity that helps the homeless.
The close of orientation week and the start of classes also mark the beginning of a wealth of activities sponsored by the career services department. These events include resume-building, cover letter and interview workshops, along with a variety of information sessions hosted by the U.S. Department of State, the CIA and the Presidential Management Fellowship Program. All of these activities are geared to help current students work toward career goals. For more information on these and other LBJ School events, visit the LBJ School events calendar at http://lbj.utexas.edu/calendar/.