Maymester-Type Class Offers Students a Glimpse into Southern African Governance Challenges
Three-week intensive course addresses crucial policy issues confronting southern Africa in the contemporary world
AUSTIN, Texas-- Aug. 10, 2010-- There is no substitute for real-life experience. The LBJ School plans to offer at lest one overseas intensive course each year that links classroom learning to direct experience in a non-U.S. institutional and cultural environment. This year's Maymester-type course, Governance Challenges in Southern Africa, gave 21 University of Texas at Austin graduate students the opportunity to study, survey and understand the problems facing southern Africa today.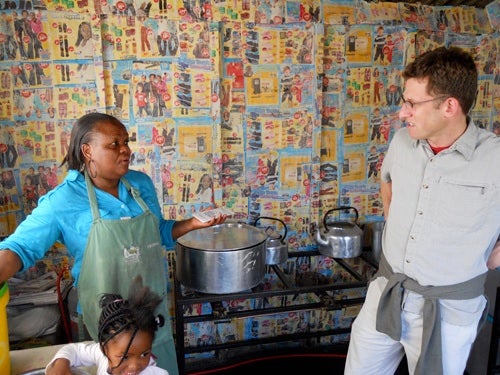 Eugene Gholz, LBJ School Associate Professor, and Josh Busby, LBJ School Assistant Professor, hosted the course at the University of Cape Town from May 17 to June 4. It combined daily three-hour lectures with excursions to townships, NGO and government offices, and a few museums and cultural centers.
Substantively, the course covered a range of governance challenges. Although the region is home to rich cultural and environmental heritage, it faces a multitude of threats, including HIV/AIDS, environmental degradation, weak national identities and liberation movement transitions to stable, successful governance.
Lauren Flemister, an MPAff and Community and Regional Planning student, said she benefited from being around and interacting with southern African people on the three-week trip.
"I am a dual-degree with Community and Regional Planning and that is a discipline where deciphering constituencies and understanding needs and chances for collaboration are significant skills," said Flemister. "We spoke with people from all walks of life who cared about many different things, and it was illuminating in a way that books and articles cannot provide. I thought the topical focus of the course made the issues more manageable and as we went along, interconnections between governance challenges became apparent. It was a useful device."
Studying in southern Africa provided a chance for students like Joanna Schenke, a Middle Eastern Studies and MPAff dual degree student, to interact with one another as well as local students, and to learn from local experts.
We heard from people who had drafted women's rights legislation into South Africa's post-apartheid constitution, people who started think tanks, parliamentary watch dog groups, political strategists and health crusaders," Schenke said. "The speakers not only lectured us on their area of expertise, but also were curious to engage in dialogue and encouraged us to ask tough questions. Even though the African National Congress (ANC) has a stronghold on the government we got to speak honestly with both ANC supporters and opponents about the party's strengths and weaknesses.
Schenke was also impressed by the local township residents' desire to show the students the initiatives that they had started to improve their surroundings.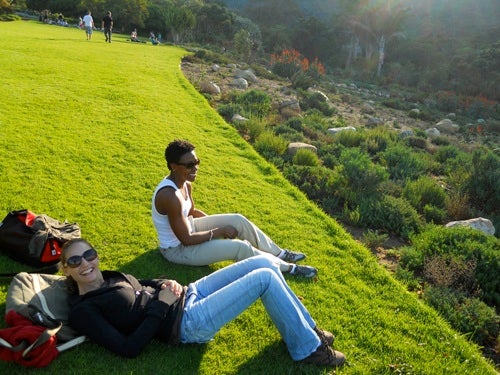 "We visited a woman named Rose who started a soup kitchen to feed her neighbors' children," Schenke said. "She feeds hundreds of children per day. We also visited an after-school arts center, a mother-to-child HIV prevention center and a computer skills training lab, just to name a few. The focus of our visits was on their work in the face of such overwhelming obstacles. These community activists faced huge policy challenges, such as little to no government support, disincentives to create lasting change and also apathy and misinformation among their political beneficiaries."
The overall goal of the program was to help students address broader global-governance challenges in their future professional lives. Students learned about these challenges first-hand by visiting various projects in four different townships - areas with very mixed development experience despite the end of apartheid. The visits emphasized HIV/AIDS awareness and treatment, wetlands conservation, after-school tutoring and care for students, elder care, and nutrition.
"My favorite part of the trip was the visit to the Khayelitsha shanty district," MPAff student Nalani Tyrrell said. "I loved talking to the people and learning about their daily lives and playing with the children. The best part of seeing any new place is interacting with the people who live there and truly getting a feel for how they view the world. I had several interesting race relations conversations with several of the people we interacted with."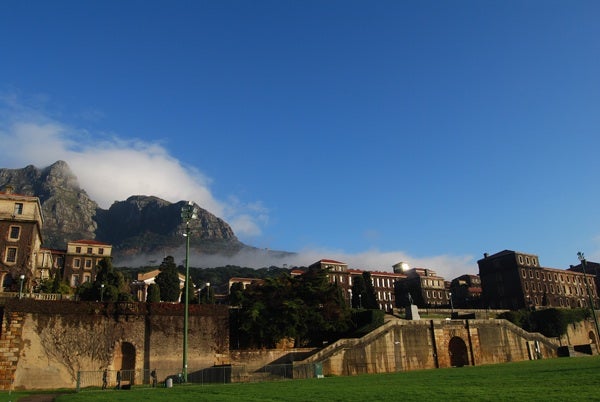 The course also included a visit to Robben Island, where Nelson Mandela was held as a political prisoner, as well as a stop at the South African Parliament.
One Master of Global Policy Studies (MGPS) student, Nancy Peek, was able to put her southern African experience to work in Washington, D.C.
"I was able to immediately benefit from the Maymester in South Africa," Peek said. "My summer internship is at the Millennium Challenge Corporation in Washington, D.C. I have spent this summer working on the development of U.S. Government aid projects for the southern African country of Zambia. Having just been in southern Africa and learning about the governance challenges, including those related to economic development, I felt more prepared to immediately contribute in my internship."
Vera Magero, an MGPS student and native Kenyan, used the experience to compare governance challenges in South Africa to governance in her homeland.
"I learned that South Africa faces the same governance challenges which Kenya faces but has handled them quite differently," Magero said. "As a student specializing in global governance and international law, this was a chance for me to understand the complexities of governing a country, the possible solutions and most importantly how policies affect the everyday man on the street. I was also surprised that behind the South Africa success story are a lot of unresolved issues. Despite these problems, South Africa is still many paces ahead of other African countries."
After attending the southern African course, Joanna Schenke looks forward to witnessing and participating in the changes southern African countries continue to work through.
"This trip was invaluable for me – to get such a comprehensive snapshot of a complex country's most pressing political, economic, health and environmental challenges in less than a month was an incredible feat," Schenke said. "I learned that South Africa's progress over the last 16 years has been remarkable in many ways, but also that the country has so much further to go. Hopefully, that's where policy students, both American and South African, can work for change."