LBJ School Co-Sponsors "Breaking Down the Walls: Increasing the Discourse in the American Policy Making Community" at Arizona State University
LBJ School faculty including Admiral Bobby R. Inman, Alan Kuperman, Eugene Gholz and Ken Matwiczak to participate in conference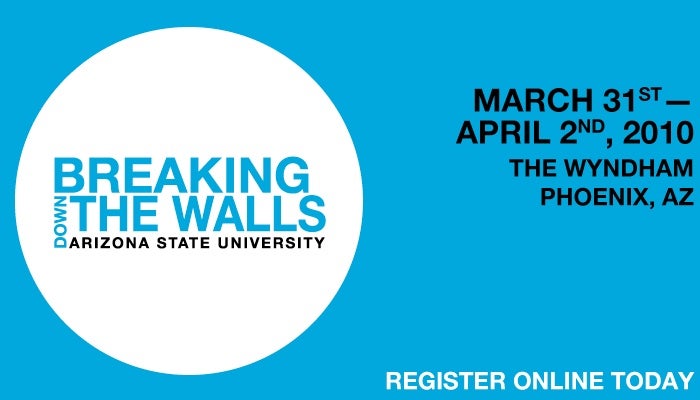 AUSTIN, Texas-- March 29, 2010-- The LBJ School of Public Affairs will co-sponsor the upcoming conference "Breaking Down the Walls: Increasing the Discourse in the American Policy Making Community" at Arizona State University March 31 through April 2.
Several LBJ School faculty members will be participating on panels, roundtables and presenting research at the conference. Admiral Bobby R. Inman, U. S. Navy (Ret.), Lyndon B. Johnson Centennial Chair in National Policy, will be participating on a roundtable on the challenges and opportunities in the War on Terror. Alan Kuperman, Associate Professor, will be presenting his paper "Rethinking the 'Responsibility to Protect" on a panel focusing on the potential and the limits of humanitarian interventions. Eugene Gholz Associate Professor, will present his paper "Energy Dependence and Vulnerability to Coercion" co-authored with Daryl Press of Dartmouth University on a panel titled "The Current State of Energy Policy as a Geopolitical Factor. Ken Matwiczak, Senior Lecturer, and LBJ School student LTC Mark Cheadle, U. S. Army, will both be participating a roundtable on the implementation of American public diplomacy.
The conference is co-sponsored by the George W. Bush School of Government and Public Service and the Society for Historians of American Foreign Relations. The conference will feature panels and roundtables that bring together academics from various disciplines including history, political science, communication, and law with people who are or have been active foreign policymakers from groups such as the U. S. military, Central Intelligence Agency, State Department and non-governmental organizations. The goal of the conference is to create a good conversation on historical and contemporary topics with modern-day applications, both from a theoretical and practical viewpoint.
Topics will include trafficking, anti-Americanism, energy policy and national security, the environmental impact of war, counterinsurgency, intelligence failures and successes, immigration, public diplomacy, Congress and foreign policy, and global terrorism. Additionally, Admiral Inman will deliver the Thursday luncheon speech titled: "Threats, Challenges and Opportunities in a Fast-Changing World." Dr. George Herring and General Victor "Gene" Renuart, NORTHCOM/NORAD Commander, will deliver the dinner keynote addresses. Assistant Secretary of State for Western Hemisphere Affairs Arturo Valenzuela will deliver the closing luncheon address on Friday. Other prominent participants include Ambassador John Maisto, Admiral Vern Clark, Colonel Gian Gentile, Deputy Assistant Secretary of State Roberta Jacobsen, as well as many others along with a strong core of distinguished academics.
For more information on the conference, including a full program, registration information, and papers being presented, please visit: http://bdtw2010.com/BDTW2010/__home.html.