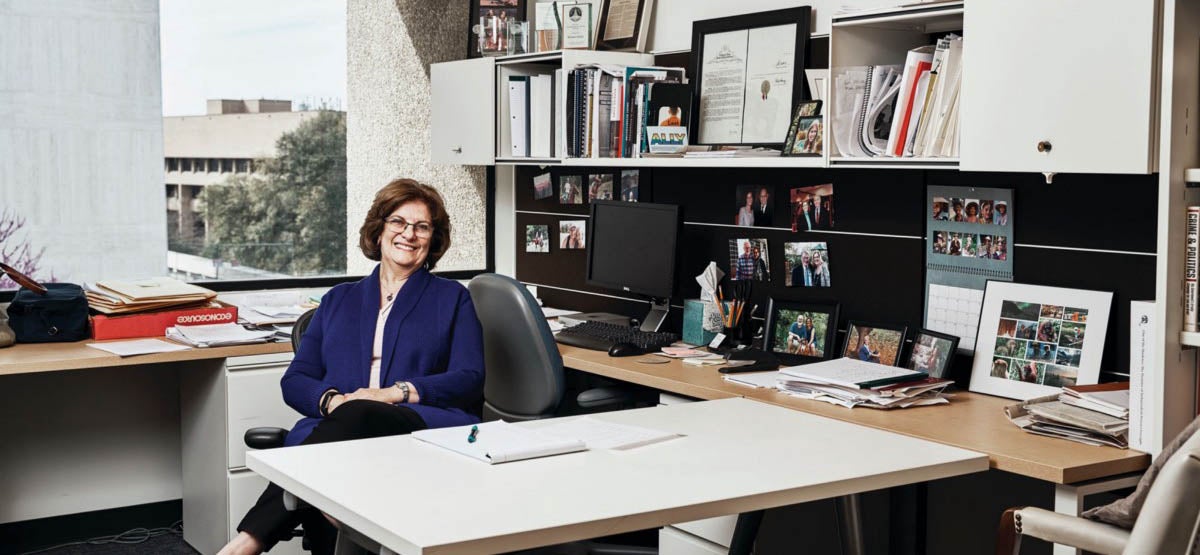 LBJ Senior Lecturer Michele Deitch was named one of the "Texas 10" — a group of faculty nominated by alumni for
making a lasting impact on them. (Photo by Matt Wright-Steel/
The Alcalde
)
LBJ School Senior Lecturer Michele Deitch has been named by The Alcalde as one of the 2019 "Texas 10" — a list of inspiring professors nominated by alumni. She appears in the May/June 2019 issue in the company of nine other University of Texas colleagues from across the 40 Acres.
"I am deeply honored and humbled to be given this recognition," Deitch said. "I am in awe of the incredible work being done by so many of my colleagues all across campus. UT is full of amazing professors, and our students are learning from some of the best in the nation."
Deitch, a lawyer and criminal justice expert with a joint appointment at the LBJ School and Texas Law, has made a real impact on efforts to improve criminal and juvenile justice. Most recently, she chaired an advisory committee whose report, released in December 2018, advised Sheriff Sally Hernandez and her team on how to design and operate a better, more rehabilitative women's jail in Travis County. Deitch testified about the report before the Travis County Commissioners Court, which will vote on the proposed women's jail in the coming months.
Given her reputation for finding ways to involve her students in real-world policy debates and turn them into her research colleagues, it's no surprise that those she has taught would want to recognize her with this award — the eighth annual list of faculty nominated by alumni for having a lasting affect on their lives.
"Teaching goes to the core of who I am, and I truly feel that it is a privilege to teach my students at the LBJ School and the Law School," Deitch continued. "I am passionate about opening students' eyes to the realities of our criminal justice system and about giving them the tools they need to make a difference in the justice system we want for the future. I want them to feel hopeful about their ability to make an impact in the world, and we try to find opportunities to start making an impact even while they are in graduate school through real world projects. My students inspire and teach me every day, and I believe we will be in good hands with these future leaders."
Congratulations to LBJ Professor Michele Deitch for being named one of this year's Texas 10 - a list of inspiring professors nominated by alumni and selected by @TheAlcalde. https://t.co/MrNJ1ccrMd

— The LBJ School (@TheLBJSchool) May 1, 2019
SO incredibly excited to study under Professor Deitch as an LBJ student these next 2 years. We have the exact same interests and basically I want to be her when I grow up. https://t.co/dmVmMWhxv9

— Julia Tisch (@jtisch_) May 2, 2019