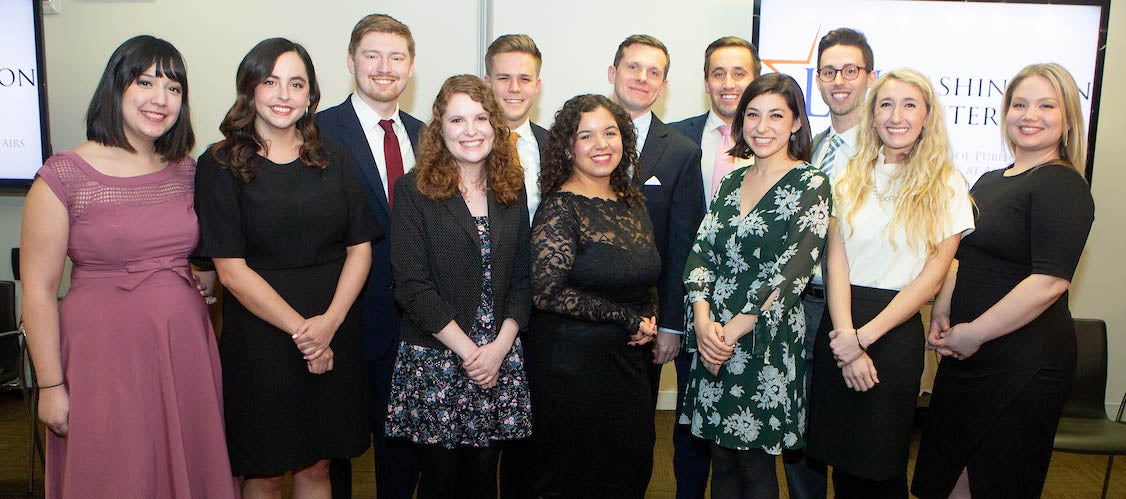 The LBJ DC Fellows class of 2018 at their commencement on Dec. 8. Left to right: Laura Santos (MPAff), Elaina Stephenson (MPAff), Sam Wojcicki (MPAff), Kimberly Schuster (MGPS), Caleb Seibert (MPAff), Nina Guidice (MPAff), Roman Pagle (MGPS), Chad Michaels (MPAff), Melanie Levine (MPAff), Justin Thompson (MPAff), Kelley Lane (MPAff) and Audrey Brandl (MPAff).
(Photo by Ralph Alswang)

"I greet you as the shapers of American society." —Lyndon B. Johnson
The LBJ Washington Center hosted the third LBJ School of Public Affairs DC Concentration graduation ceremony in Washington, DC on Saturday, Dec. 8, 2018. LBJ School Dean Angela Evans and LBJ Washington Center Executive Director Tom O'Donnell presented remarks during an intimate ceremony for family and friends.
"These savvy and sophisticated women and men are true leaders and are fulfilling LBJ's wish that his school produce both 'thinkers' and 'doers,'" O'Donnell told the crowd assembled to support the newly minted masters of public affairs and masters of global policy studies.

Tom O'Donnell, executive director of the LBJ Washington Center, welcomes the crowd of family and friends at the commencement for the 2018 class of LBJ DC Fellows on Dec. 8. (Photo by Ralph Alswang)

"It is my tremendous honor to celebrate the LBJ School DC 2018 graduates," said Dean Evans. "It is you and your generation that will shape the policy world in the years to come. For that alone, we have good reason to be hopeful. I wish you well — seek out the adventure of public policy and change the world."
In her keynote address, LBJ School Professor and leading immigration expert Victoria deFrancesco Soto advised the graduates to beware of the challenges and pitfalls of the policy world, and to always keep in mind their purpose in the work.
"Finding a balance isn't going to be easy in our hyper-polarized environment," she said. "This is what will be the greatest challenge you face. ... I want you to commit to cross-partisan/cross-tribal conversations. Interactions with 'them.'"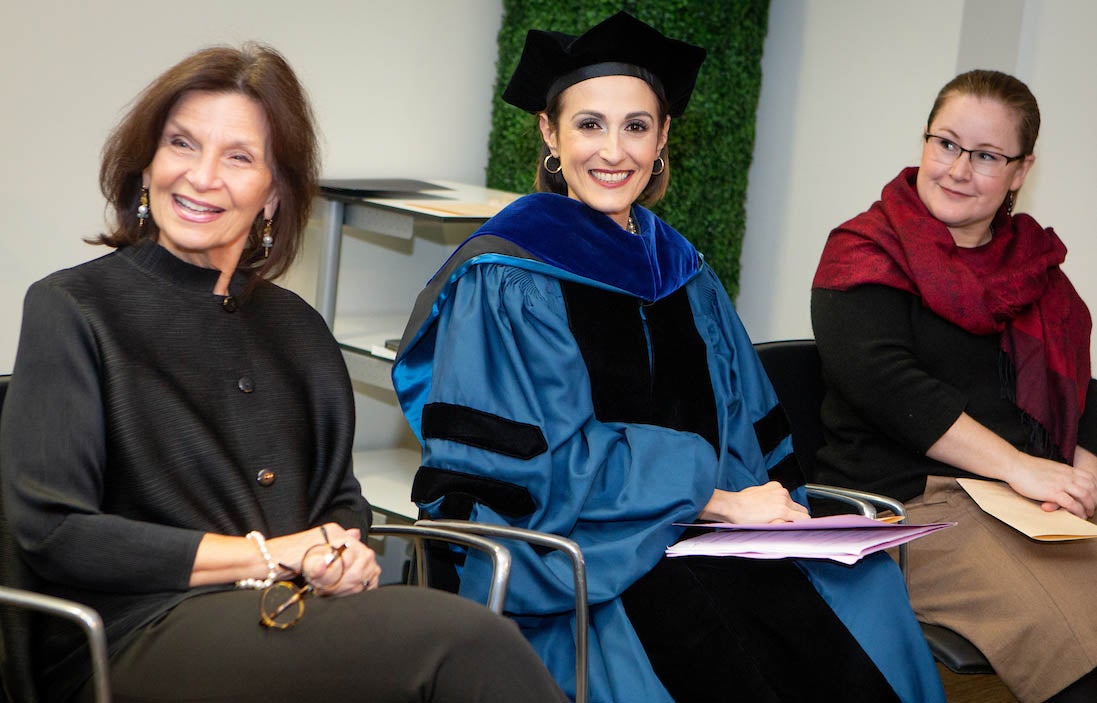 LBJ School Dean Angela Evans with Professors Victoria deFrancesco Soto and Kate Weaver at the graduation for the LBJ DC Fellows Class of 2018 graduation on Dec. 8. (Photo by Ralph Alswang)


In her LBJ DC Fellow Address, Nina Guidice (MPAff '18) struck a tone of hope in looking toward the future. "Here's why I'm optimistic: we are in possession of the beautiful burden of opportunity," she told her fellow graduates. "Be bold in making a way where first there was none. Be bold in rising to leadership, in making life better for your neighbor and for those you've never met. Be bold in bringing up those who will come after you."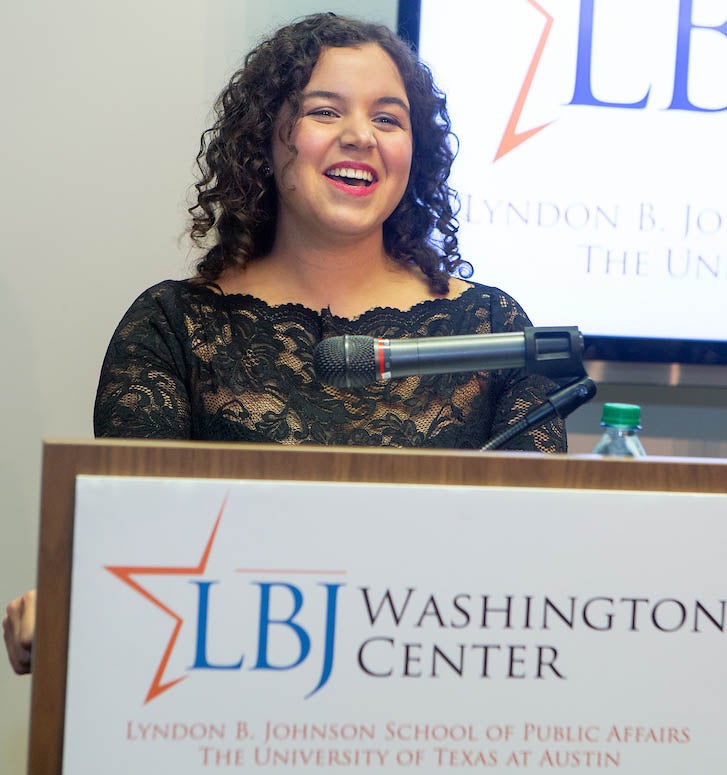 Nina Guidice (MPAff '18) delivers the LBJ DC Fellow Address at her graduation on Dec. 8, 2018. (Photo by Ralph Alswang)

In the DC Concentration, the LBJ DC Fellows completed an accelerated program of study and work that required them to spend two consecutive semesters studying in Austin before moving to Washington, DC for two additional consecutive semesters. During their DC sequence, they took classes while at the same time working for 32 hours per week in Policy Apprenticeships at leading public and private policy organizations around the nation's capital.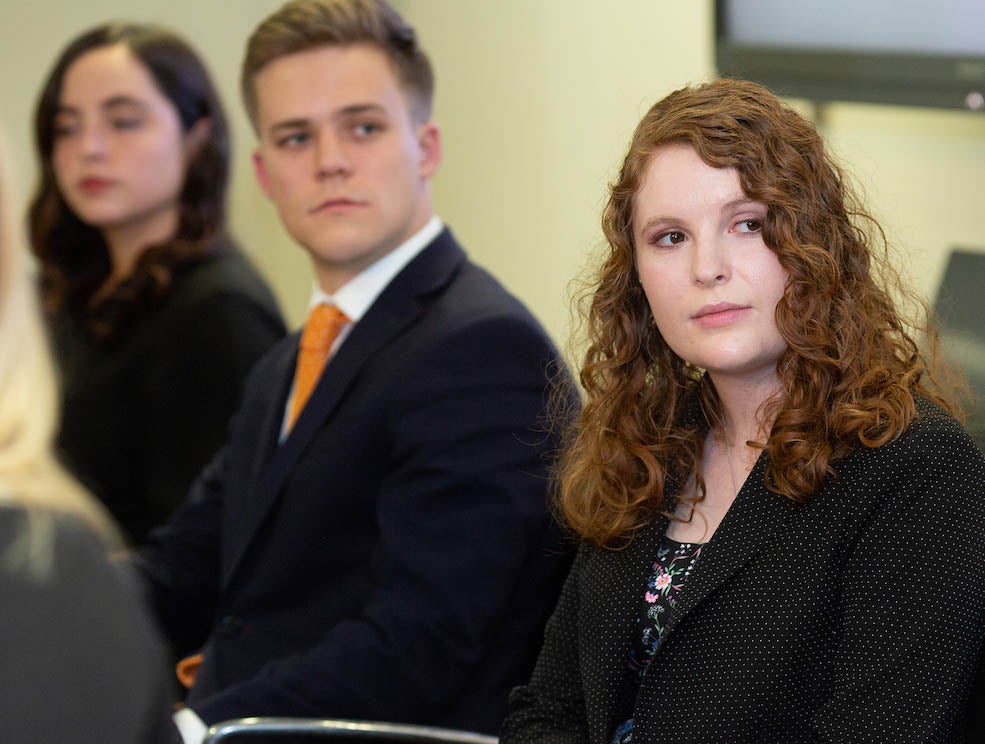 LBJ DC Fellows Elaina Stephenson, Caleb Seibert and Kimberly Schuster listen to remarks at their graduation on Dec. 8, 2018. (Photo by Ralph Alswang)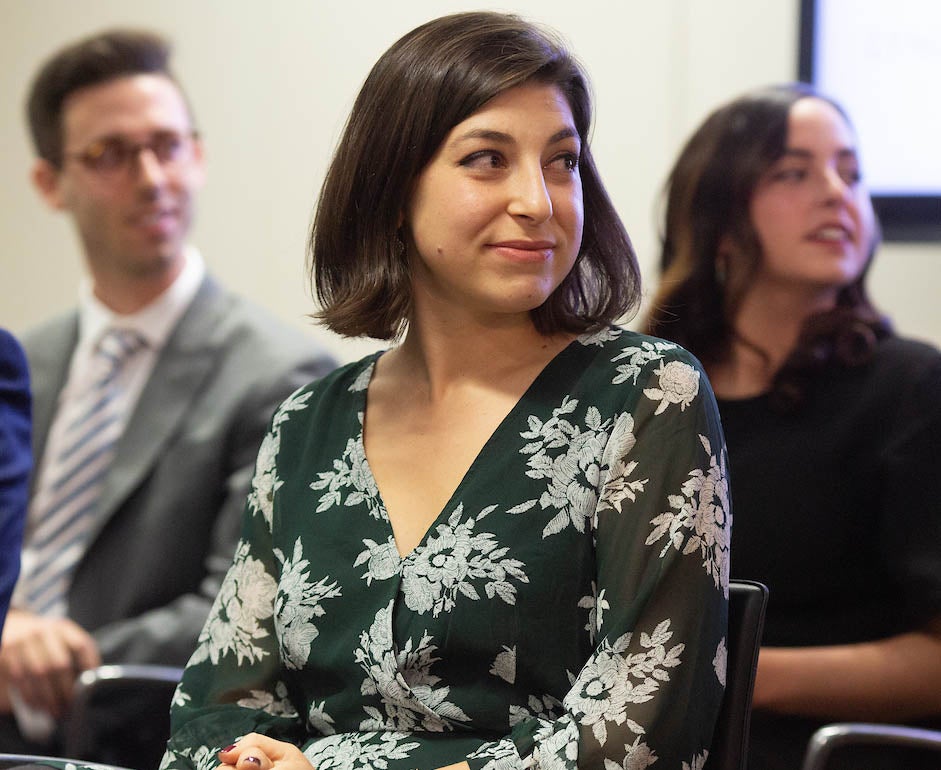 Justin Thompson, Melanie Levine and Elaina Stephenson, members of the newest class of LBJ DC graduates, during their graduation on Dec. 8. (Photo by Ralph Alswang)
So proud of and happy for the graduates of @TheLBJSchool @LBJSchoolDC Masters degree program. It was a honor and delight to have taught them. https://t.co/1lLkFM9HhV

— Ruth Wasem (@rewasem) Dec. 10, 2018
Congratulations to @emstephe__ on her graduation from @LBJSchoolDC @TheLBJSchool. So glad I got to work with her at @humanrights1st @Vets4AmerIdeals & even more thankful to call her a friend! pic.twitter.com/0FQYUcXjI5

— Fiona Tomlin (@fionaelisabeth) Dec. 9, 2018
Congrats to all of my fellow @TheLBJSchool DC program graduates! It was a wonderful 18 months with all of you. pic.twitter.com/8v4M4lMVVo

— Justin Thompson (@JustinMThomp) Dec. 9, 2018
It really was a great 18 months at @TheLBJSchool and @LBJSchoolDC. So excited to see what all my fellow graduates go on to do! Sure everyone will go on to become amazing public servants! https://t.co/69EsfX0PFQ

— Sam Wojcicki (@SWojcicki) Dec. 9, 2018
Congratulations to our ⁦@TheLBJSchool⁩ DC Concentration graduates! Great job by student commencement speaker Nina Guidice and faculty speaker Dr. Vicky de Francesco Soto. pic.twitter.com/Aa9UjAz24p

— Catherine Weaver (@kateweaverUT) Dec. 8, 2018
Congratulations to the outstanding Class of 2018 @TheLBJSchool DC Fellows on their graduation at @LBJSchoolDC! Was an honor to join the faculty this year and work with such great future public service leaders https://t.co/vtPgpYrVDu… @DonKettl

— Daniel J Chenok (@dchenok) Dec. 9, 2018
Congratulations to the 2018 LBJ DC Fellows graduating today! We're excited to celebrate your accomplishments with you & your family this evening!
DC Fellows graduate with a Master of Public Affairs or Global Policy Studies from @TheLBJSchool @UTAustin #LBJinDC #WhatStartsHere pic.twitter.com/jfkzqJ7sp9

— LBJ Washington Center (@LBJSchoolDC) Dec. 8, 2018
The graduates:
Audrey Brandl
Master of Public Affairs
Policy Apprenticeship: Aspen Institute — National Commission on Social, Emotional and Academic Development
Nina Guidice
Master of Public Affairs
Policy Apprenticeship: Dcode — Accelerator Program / Puerto Rico Federal Affairs Administration — Government Affairs Division
Kelley Lane
Master of Public Affairs
Policy Apprenticeship: Office of Management and Budget — Office of Performance and Personnel Policy
Melanie Levine
Master of Public Affairs
Policy Apprenticeship: World Cocoa Foundation — Worldwide Programs
Chad Michaels
Master of Public Affairs
Policy Apprenticeship: The Livingston Group — Government Relations, Public Affairs and Advocacy
Roman Pable
Master of Global Policy Studies
Policy Apprenticeship: Atlantic Council — Scowcroft Center for Strategy and Security / Office of the Speaker of the U.S. House of Representatives — Legislative Research
Laura Santos
Master of Public Affairs
Policy Apprenticeship: U.S. House Budget Committee (Minority) — Office of the Staff Director
Kimberly Schuster
Master of Global Policy Studies
Policy Apprenticeship: Center for Strategic and International Studies — Russia and Eurasian Program
Caleb Seibert
Master of Public Affairs
Policy Apprenticeship: American Enterprise Institute — Poverty Studies / Human Dignity Project
Elaina Stephenson
Master of Public Affairs
Policy Apprenticeship: Human Rights First / Veterans for American Ideals
Justin Thompson
Master of Public Affairs
Policy Apprenticeship: Data Quality Campaign — Policy and Advocacy (Education)
Sam Wojcicki
Master of Public Affairs
Policy Apprenticeship: U.S. Rep. Paul Tonko (D-N.Y.) — Sustainable Energy & Environment Coalition