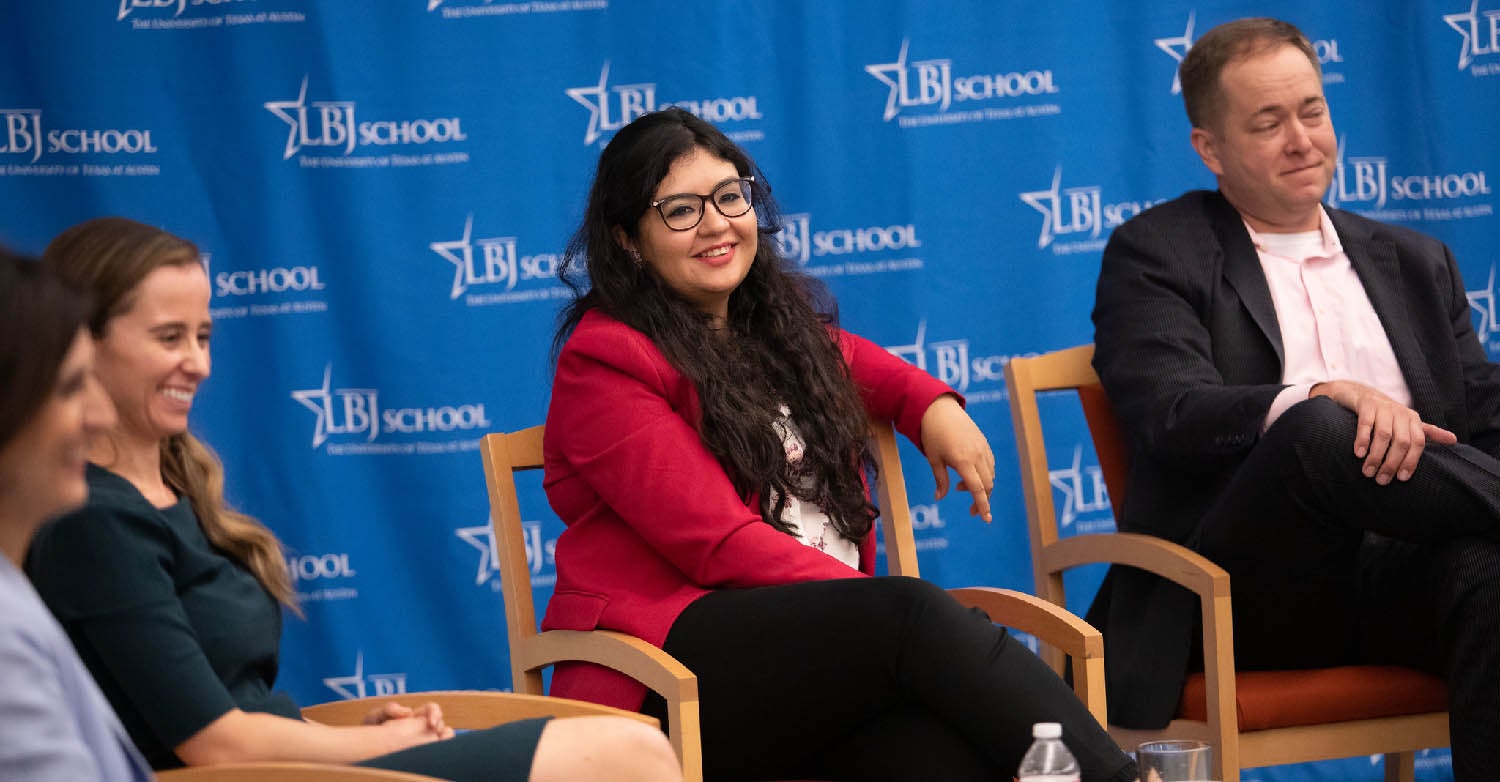 LBJ Professor Victoria DeFrancesco Soto (far left) moderates the DACA Policy Briefing on Sept. 10, 2019. Panelists
Alejandra Apecechea of King & Spalding LLP, LBJ School student Juany Torres (MPAff '21) and Brian Stansbury, also of
King & Spalding LLP, talked about the state of DACA and how activists have helped to maintain the policy.
(Photo by Callie Richmond)
On Tuesday, Sept. 10, the LBJ School hosted its first Civic Engagement Series event of the semester: a policy brief on Deferred Action for Childhood Arrivals (DACA), a program created by President Obama by executive branch memorandum in 2012. Dr. Victoria DeFrancesco Soto, the LBJ School's director of civic engagement, moderated a panel that included Alejandra Apecechea and Brian Stansbury, both attornies at the DC law firm King & Spalding; and Juany Torres, a current LBJ student (MPAff '21) who has done extensive work helping immigrant communities and filing DACA applications.
The panel discussed the current state of the DACA program and efforts made by nonprofits and law firms to help vulnerable communities navigate the system and resources.
---
News coverage:
---
This is one of the most politically urgent and informative panels I have seen at LBJ - TY to the panelists and organizers for a very real discussion about #DACA litigation and policy @DrVMDS @juany5torres https://t.co/bSqzwMAXQe

— Dana Johnson (@DanaMartha_) Sept. 10, 2019
#HappeningNow 1st Civic Engagement event of fall 2019 on the state of #DACA from a legal perspective. Panelists include LBJ MPAff student @juany5torres and Alejandra Apecechea, Brian Stansbury of King & Spalding LLP. Civic engagement Dir @DrVMDS moderates. https://t.co/fLwxwxNrkt

— The LBJ School (@TheLBJSchool) Sept. 10, 2019
Brian Stansbury speaks @TheLBJSchool about the long-standing problems with US Immigration Policy prior to current crisis at the border pic.twitter.com/evyXg2aGsT

— Ruth Wasem (@rewasem) Sept. 10, 2019
This quartet brought expertise and insights into the highly-charged #DACA litigation. @TheLBJSchool Thanks @DrVMDS for leading on this! https://t.co/x5ShFftCa6

— Ruth Wasem (@rewasem) Sept. 11, 2019
LBJ student Juany Torres talks with @SpecNewsATX about today's DACA policy brief. Segment airs tonight at 10pm. pic.twitter.com/MtMhGro9YU

— The LBJ School (@TheLBJSchool) Sept. 10, 2019
#ICYMI Civic Engagement Director @DRVMDS hosted an in-depth review and discussion of the state of #DACA from a legal perspective. Find out more via @SpecNewsATX. https://t.co/cn3ta7B6HH

— The LBJ School (@TheLBJSchool) Sept. 11, 2019
King & Spalding collaborated with @votolatino to provide pro bono services to Dreamers. https://t.co/BiAG8PeOkY

— The LBJ School (@TheLBJSchool) Sept. 10, 2019