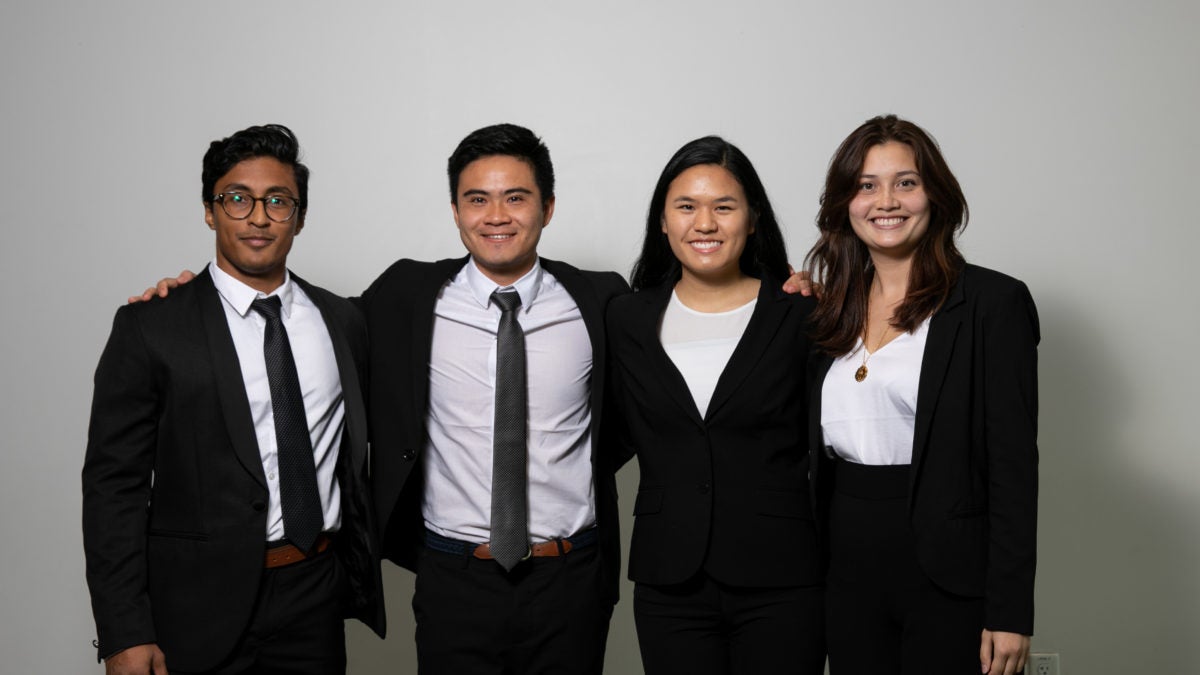 The diabetes in Mexico team poses after their pitch for the 2019–20 President's Award for Global Learning: Kanishka
Mitra, Harrison Mark, Joyce Tiong and Kathryn Quan. LBJ School Professor Jacqueline Angel, Adjunct Professor Meeta
Kothare and DellMed Assistant Professor Meghana Gadgil are the faculty team members.
A team of students and faculty respresenting the LBJ School that will research health system gaps in diabetes care in Mexico is among the five winners of the 2019–20 President's Award for Global Learning.
Faculty team members Jacqueline Angel, Dr. Meghana Gadgil and Meeta Kothare will work with undergraduate students Harrison Mark, Kanishka Mitra, Kathryn Quan and Joyce Tiong and graduate student Christian Vazquez on the project, titled "A Bittersweet Burden: Understanding Causes and Consequences of Diabetes Complications Using Design-Thinking in Puebla, Mexico."
The award is the signature program of the International Board of Advisors, a select group of influencers who, together with UT President Gregory L. Fenves and senior leadership of The University of Texas at Austin, are working to expand UT's global network.
Other teams chosen will create biodegradable embellishments for clothes in Copenhagen and leverage technology to deliver improved LGBTQ+ health care in India.
---
UT News: Winning Teams Selected for the 2019-20 President's Award for Global Learning (Oct. 30, 2019)
---
"The 2019 winners of the President's Award for Global Learning presented innovative projects that reflect our students' engagement with a range of significant international issues," Fenves said. "This summer, they will travel to nations across the world to conduct interdisciplinary research and partner with communities to undertake their projects. I am grateful to Bill and Judy Bollinger and the members of the International Board of Advisors for making this exceptional program possible."
Through a competitive process, teams of students and faculty mentors are selected to pursue interdisciplinary projects relating to international research, social impact and entrepreneurship in regions throughout the world. The teams work with international partner organizations, traveling together to implement their projects and gain hands-on experience.
"We are grateful to all the teams who submitted a proposal for the 2019-20 President's Award for Global Learning competition, and we extend a heartfelt congratulations to this year's awardees," said Sonia Feigenbaum, senior vice provost for global engagement. "This is a transformational program that advances the university's internationalization efforts by bringing together teams of students and faculty committed to addressing global challenges from an interdisciplinary perspective. Their commitment to transnational collaboration and to gaining a deeper understanding of themselves, as well as cultures around the globe, is inspiring."
There were 24 proposals submitted from teams composed of 97 students representing 11 colleges and 55 faculty members representing 12 colleges. A committee of faculty members from colleges and schools across campus reviewed the submitted proposals and selected 11 finalist teams.
The finalist teams participated in a pitch competition hosted by a panel of judges selected by President Fenves. From the 11 finalist teams, five winning teams were selected. The final awardees will receive up to $25,000 toward project implementation costs, as well as additional travel and academic financial support.
The winning teams by region:
Central America, Mexico and the Caribbean Region
A Bittersweet Burden: Understanding Causes and Consequences of Diabetes Complications Using Design-Thinking in Puebla, Mexico
Study patients in Puebla, Mexico, hospitalized with preventable, acute complications of diabetes in order to identify both medical and sociocultural systems gaps in diabetes care and to generate insights on potential points of intervention
Student team members: Harrison Mark, Kanishka Mitra, Kathryn Quan, Joyce Tiong
Faculty team members: Jacqueline Angel, Dr. Meghana Gadgil, Meeta Kothare
Graduate student team member: Christian Vazquez
Sub-Saharan Africa Region
Using Interprofessional Education to Improve Community Health in Kenya
Explore the new Community Based Education and Service model implemented by Moi University and the Academic Model Providing Access to Healthcare (AMPATH)
Student team members: Kristine Adiele, Lauren Cebulske, Livia Frost, Siddha Sannigrahi
Faculty team members: Julie Zuniga, Alexandra Garcia, Suzanne Seriff
East Asia Region
How Autonomous Vehicles Might Aid Vulnerable Populations: A Case Study in Tokyo 2020 Olympic and Paralympic Games
The autonomous vehicles in Japan team poses after their pitch Research how the elderly and disabled react to autonomous vehicles during the 2020 Tokyo Olympics
Student team members: Jean Kureyama, Eliezer Pearl, John Sherar, Peter Sumners
Faculty team members: Junfeng Jiao, Junko Hatanaka
Graduate student team member: Yefu Chen
Europe, Russia and the Caucasus Region
Sustainable Embellishments for the Apparel and Textile Industry in Copenhagen
Create embellishments for garments/accessories that biodegrade or form circular product cycle, preventing them from ending up in landfills or the environment
Student team members: Lilli Bennett, Cole Collins, Dominic Schillace, Shroothi Ramesh
Faculty team members: Jessica Ciarla, Luisa Fandino, Nathaniel Lynd
Graduate student team member: Jennifer Imbrogno
South/Southeast Asia and Oceania Region
Developing Equality: Creating a Mobile Application to Address Health Inequalities for LGBTQ+ South Indians
Create mobile and web-based technology to deliver an adapted LGBTQ+ health and sexual health curriculum for regional health care providers in Chennai, India
Student team members: Shelby Hobohm, Nima Rahman, Shilpa Rajagopal, Rosaleen Xiong
Faculty team members: Phillip Schnarrs, Paul Toprac
Graduate student team member: Aniruddhan Vasudevan