On June 6, the LBJ School and LBJ Washington Center hosted the Dean's Annual DC Alumni Reception. The event gives LBJ alumni living in our nation's capital an opportunity to reconnect with fellow alumni, LBJ faculty and staff, and friends of the school, and to welcome the 2019 LBJ DC Fellows. It is also a time to celebrate the accomplishments of members of the LBJ Washington Center community.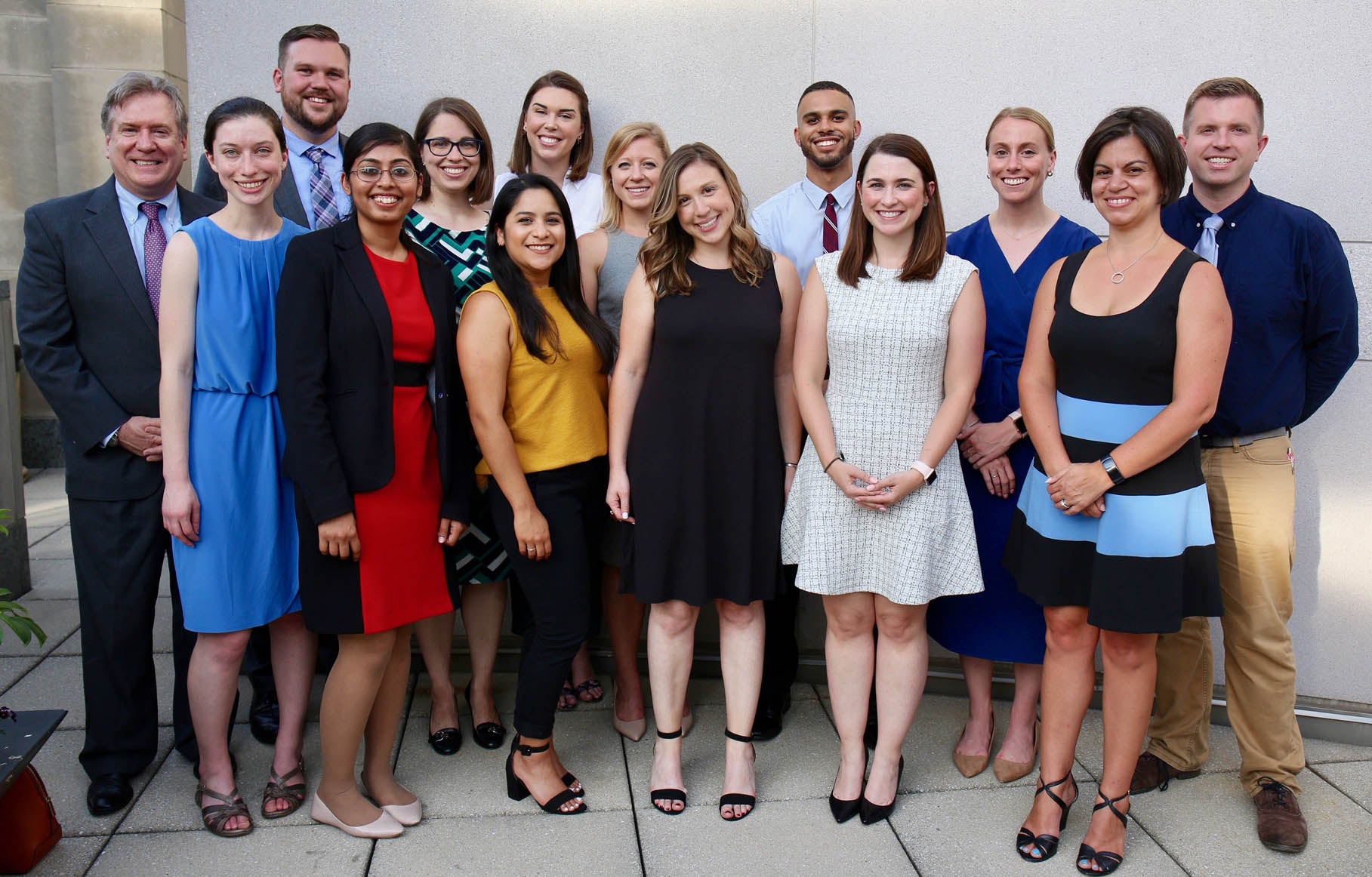 The LBJ School's 2019 DC Fellows with LBJ Washington Center director Tom O'Donnell (far left) and Deputy Director
Robin Presta Boone (far right) at the DC Alumni Reception June 6, 2019. (Photo by Ralph Alswang)
Lynda Johnson Robb addresses the LBJ School's DC alumni and the 2019 DC Fellows at the DC Alumni Reception.
(Photo by Ralph Alswang)
Thank you to @LBJSchoolAlumni for welcoming the DC Fellows to my annual reception at @LBJSchoolDC. This event is a wonderful opportunity to connect our students to alumni who are leaders in federal policy. AE pic.twitter.com/VBNjznZpC0

— The LBJ School (@TheLBJSchool) June 7, 2019
Dean Angela Evans presented the 2019 Dean's Award and two Distinguished Federal Policy Alumni Awards to individuals who are standouts within their fields and among their fellow LBJ alumni, and most importantly, because of their roles as key contributors and champions of the LBJ Washington Center.
Dean's Award Winner
Eleanor Crook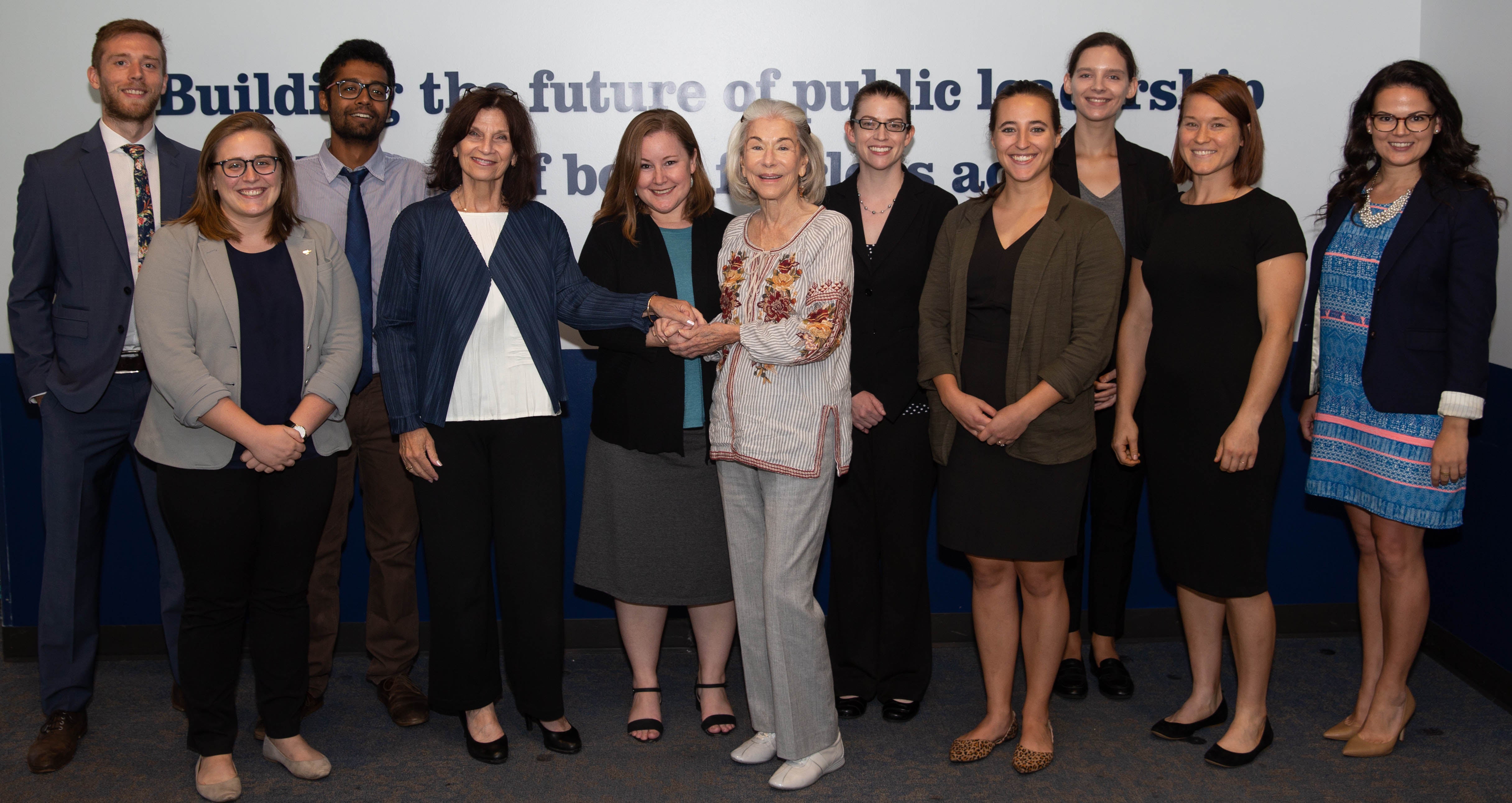 Eleanor Crook (center) with LBJ School Dean Angela Evans, Associate Dean for Students Kate Weaver, and the 2018
Crook Fellows. (Photo by Callie Richmond)
Because of Eleanor Crook's vision, leadership and generous spirit, LBJ School students have had and will continue to have the opportunity to pursue career and life-changing internships and apprenticeships without the worry of financial burden. In 2007, Eleanor Crook established The William H. Crook Program in International Affairs, a permanent endowment at the LBJ School which includes an international fellowship program. Through the William H. Crook Program, LBJ School students are able to gain real-world experience through internships all over the world.
William Crook was a pioneer in global development and the fellowship honors his impact in the fight on poverty. In 2016, Crook created a second endowment at the LBJ School, the Eleanor Crook DC Fellowship. The fellowship is intended to ensure the firm and high standing of the LBJ Washington Center degree program and its students. The fellowship serves as a model in preparing the next generation to take on effective leadership roles in public service on the federal stage.
Caleb Seibert, 2018 graduate of the LBJ Washington Center and Crook DC Fellow, credits Crook with enabling him to complete his coursework at the LBJ School. "The generosity of the Crook family allowed me to live in Washington during the final six months of the program and freed me up to focus on the coursework and policy apprenticeship rather than taking a second or third job to pay the rent. This extra margin made an incredible difference."
In addition to her enormous contributions to the LBJ School and LBJ Washington Center, Crook is making the world a better place through the Eleanor Crook Foundation, whose mission is to end hunger. In addition, her family's leadership through their grocery company, H-E-B, helped spearhead the national food banking movement.
Distinguished Federal Policy Alumni Award Winners
Christopher Bjornson (MPAff '96)
Christopher Bjornson is of counsel with the law firm of Steptoe & Johnson LLP, where he practices communications law. Before joining Steptoe, he served in various policy and management positions at MAXIMUS, the Federal Communications Commission, the U.S. Department of Health and Human Services, the Office of the Texas Attorney General and the Travis County Tax Office. He was instrumental in the adoption of the child support provisions of federal and state welfare reform as well as Motor Voter by the Texas Legislature and Congress.
Bjornson serves as a member of the advisory board for the Bill Archer Center, coordinates the Texas State Society's annual tribute to Lyndon B. Johnson, served as a two-time President of WALSAC, is a member of the LBJ Washington Center DC Steering Committee, and just completed his second term on the LBJ School's Alumni Board. In addition to his Master of Public Affairs from the LBJ School in 1996, he graduated from The University of Texas at Austin with a Bachelor of Journalism and Catholic University with his Juris Doctorate.
Sarah Williams Savoy (MPAff '10)
Sarah Williams Savoy is the director of development at the Stimson Center. She has 10 years of nonprofit experience in research, government relations and development. Prior to joining Stimson, she was a director at Elevate, an institutional fundraising firm and held research positions at the Partnership for Global Security, CSIS and the American Association for the Advancement of Science, where she was a Scoville Fellow. She is also a is a member of the LBJ Washington Center DC Steering Committee. Savoy holds a Master of Public Affairs from the LBJ School and a BA from the University of Maryland.
We asked both award winners to reflect on their time at the LBJ School and share some of the lessons they've learned throughout their careers. Here is what they had to say.
---
What experience(s) in your life made you want to pursue a career in public policy?
BJORNSON: I always had an interest in history and politics as a kid. As an undergraduate at The University of Texas at Austin, I started running voter registration drives after attending an event at the Lady Bird Johnson Auditorium. Those voter drives led to getting hired by the Travis County Tax Office when I was a junior at UT Austin and my career went from there.
SAVOY: My parents are both retired professors, so I grew up in an academically minded and public-service focused environment. For a while, I wanted to be a doctor, then a Navy pilot, but in my middle school civics class I realized that all these various professions I'd thought about were connected by a need for good government and engaged citizenry, so I chose to focus on policy. Also, The West Wing came out that year — which I know inspired a bunch of us older millennials to think about careers in Washington!
What role did the LBJ School play in preparing you for your career?
BJORNSON: Because of the generalist approach, the LBJ School gave me a strong understanding of how to evaluate public interest claims, which has proven invaluable when practicing before an agency that operates on a "public interest" mandate. The LBJ School also gave me the freedom to explore my research interest in telecommunications and technology policy.
SAVOY: The LBJ School was instrumental in helping me build my critical and strategic thinking skills, which have been incredibly helpful as I've moved through my early career. More important than the information I took in were the methods of digesting facts, data and context to make recommendations or come to conclusions.
What is something you didn't expect to learn at the LBJ School? Why?
BJORNSON: The great diversity of the students and alumni in terms of background and interests. It is impossible not to learn from and find interesting the paths my predecessors, peers and successors have chosen.
SAVOY: I went to grad school only a year after undergrad so I think I expected a deeper dive into the topics and I had developed a passion for. I certainly got that, but what I didn't necessarily expect or at least think consciously about was the experience of learning how to think. But that is what has served me best since.
Learn more about upcoming LBJ alumni engagement opportunities.