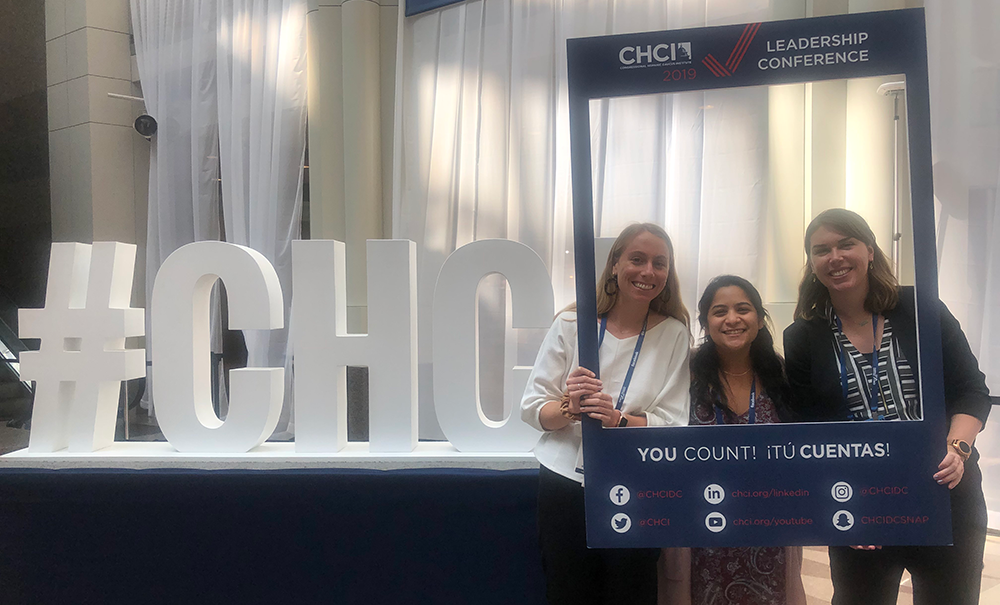 LBJ DC Fellows Melissa Bellin, Sara Plasencia and Emma Nye at the Congressional Hispanic Caucus Institute (CHCI) 2019 Leadership Conference in Washington, DC.
At the invitation of the Congressional Hispanic Caucus Institute (CHCI), LBJ DC Concentration students were able to attend the CHCI 2019 Leadership Conference Sept. 10-11. The conference brings together "key partners and thought leaders& from a wide range of sectors and industries to examine critical issues affecting the Latino community and our nation." Four students reflect on their experience at the conference.
It was an honor to attend the CHCI conference. The "Latinos in Education: Underrepresented and Underserved" session reminded me why it is important to continue pushing for educational equity and provided a much-needed sense of representation to be among so many accomplished individuals who looked like me and had similar lived experiences.
As a Hispanic woman, this has been a point of dissatisfaction that I have had to cope with as the only or one of the few people of color in academic and professional settings. Most importantly, I was empowered by the people around me and conversations taking place that served as a reminder that we have not done nearly enough to advance equity.
The CHCI 2019 Leadership Conference was incredibly empowering and encouraging. The programming discussed how a variety of issues specifically affect the Latina/o community. A panel on gun violence prevention activists stood out to me — the speakers emphasized the need for reform to revolve around people of color, given that they are disproportionately victimized by gun violence yet don't get much media attention.
I was pleased to have the opportunity to see three presidential candidates explain why they're best suited to represent this nation, specifically with regard to helping people of color. Mayor Pete Buttigieg, Sen. Amy Klobuchar and Sen. Cory Booker all showed up to state their vision. The issues most emphasized were immigration reform (putting DACA into law and addressing the border crisis), gun violence prevention (closing background check loopholes, banning assault weapons and passing extreme risk protection orders), climate change and universal health care.
The most memorable part of the conference was during a panel on infrastructure, which featured three business executives from prominent energy and construction firms. A young woman stood up and asked them to address the impact their practices have on the Latina/o community, which raised questions as to why there were not environmentalists on the panel to address these concerns. The crowd cheered for the young woman after pushing her question to be answered, which spoke volumes about the unity of the attendees in advocating for equality in today's America. I highly recommend the CHCI Leadership Conference for any policy wonks or individuals dedicated to enhancing equitable public policies.
Sara and I had the opportunity to hear Wil Del Pilar, Ed Trust's vice president of higher education policy and practice, speak on a panel about Latino representation in higher education. He presented the findings of a new Ed Trust report titled Broken Mirrors II: Latino Student Representation at Public State Colleges and Universities. The report, which was just released last week, finds that Latino students are underrepresented at public colleges and universities in virtually every state, and that states with the largest Latino populations fail to provide Latino students the same access to selective public four-year institutions as their White peers. Wil, and his fellow panelist Frances Messano from New Schools Venture Fund, did a fantastic job weaving research, data and their unique lived experiences. The panel was really engaging, and it was really neat to see Ed Trust's work in action!
After attending the CHCI Leadership Conference, I left feeling rejuvenated and hopeful. At the morning plenary on social determinants of health, the call to action was especially ­­­poignant with Henry Muñoz of SOMOS Community Care imploring the audience to vote. This is not to say that I did not hear some difficult truths. Dr. Ananya Roy with the Environmental Defense Fund spoke of her time in India and witnessing the economic and health disparities there: "I realized it was decisions made beyond individuals and their families creating these disparities."
The importance of structural changes could not have been made clearer. That said, speakers consistently referred to the importance of connecting with people to get them involved in their own health and well-being, regardless of their demographics or situation in life. As Edith Perez with the Mayo Clinic pointed out in a breakout session on STEM and the Future of Precision Medicine, policymakers and health care providers need to perform outreach and provide educational opportunities to better create a foundation for health equity. This enables the field to better include a diversity of voices and experiences. I was reminded that in all sectors within the broad field of health care, such inclusion and empowerment of diverse populations will be the driving force behind positive change.
CHCI 2019 Leadership Conf - Curated tweets by LBJSchoolDC