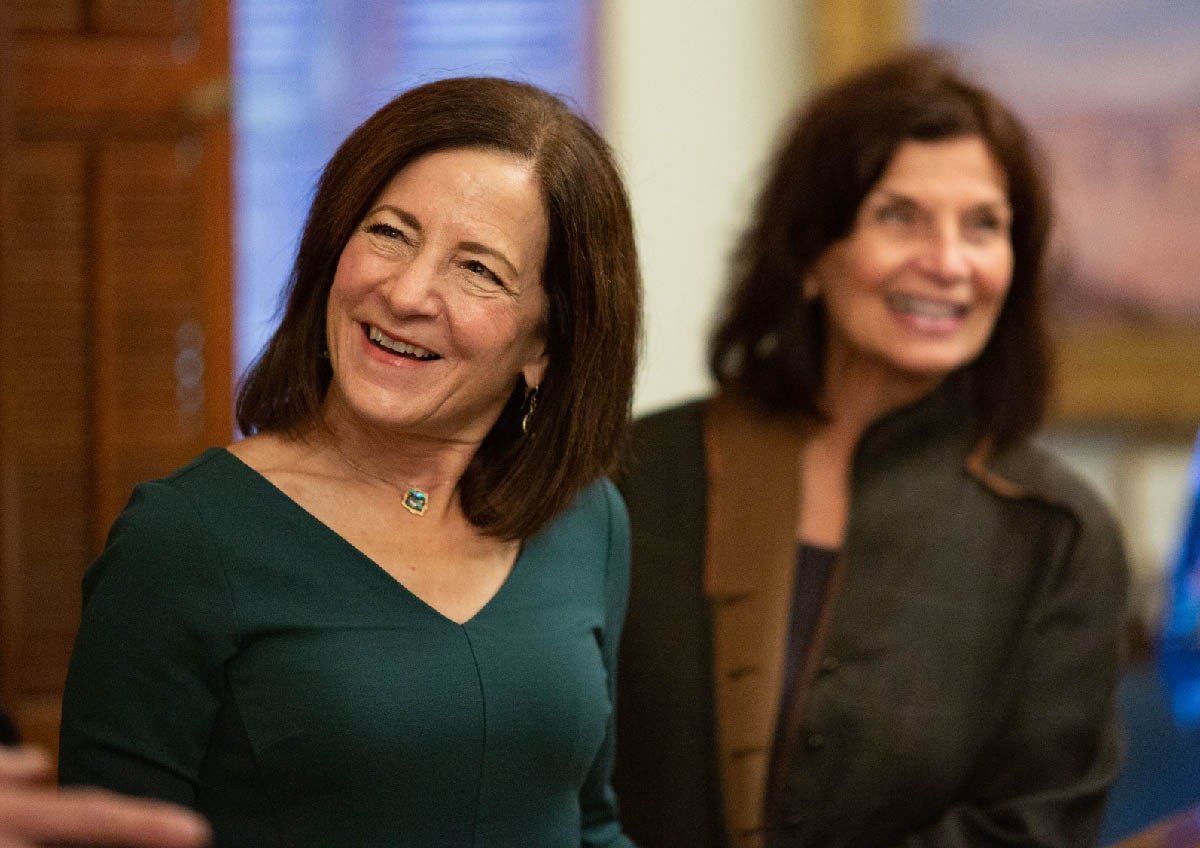 LBJ Professor Sherri Greenberg (left) with Dean Angela Evans at the Under the Dome reception at the state capitol for
students and alumni on Feb. 5, 2019.
The LBJ School helps students pursue their passions while giving them the foundation to research, analyze and take action to find solutions and shape policy.
The flexibility of the Master of Public Affairs (MPAff) program allows students to forge their own path in the policy arena and balance theory and practice, supported by renowned interdisciplinary faculty, leading policy practitioners and alumni worldwide.
Sherri Greenberg, a clinical professor and fellow of Max Sherman Chair in State and Local Government, serves as a graduate adviser to LBJ School students in the MPAff program. She joined the LBJ School after serving as a Texas state representative (1991–2001), and is involved in issues from public finance and technology to health care, housing and economic development.
With the first deadline for Fall 2020 entry just weeks away, Greenberg shared with us some thoughts about the MPAff program and why it's a great option for students with a desire to make the world better.
---
What makes the LBJ School's Master of Public Affairs (MPAff) program special?
The MPAff program prepares leaders with the knowledge and skills to address critical public policy and management challenges across a wide array of environments, from city, state and federal government to the private sector and nonprofit organizations. We take a multidisciplinary approach, bolstered by the resources of The University of Texas, world-renowned faculty and a global network of alumni.
The LBJ School was one of the first graduate public affairs programs to blend academic theory with practical experience, exposing students to real public life challenges both in and outside the classroom. The MPAff program is highly customizable and flexible, allowing students to really build upon and develop deep expertise in their interests. Combined with the 400-hour internship requirement and the Policy Research Project, we teach students to develop, implement, manage and evaluate solutions to complex public problems. Furthermore, our program is one of the best values in the country.

What is unique about the LBJ School's approach to a public affairs degree?
When he dedicated the LBJ School in 1970, President Johnson said, "We have a School of Public Affairs ... which will try to produce thinkers and doers: people who dream of progress and will try to turn those dreams into achievements."
The MPAff program, with its dual focus on both theory and practice, embodies exactly that aim. While many programs focus on either public policy or public management, we offer both, which significantly broadens our students' options to pursue research, internships and jobs in all spheres from government agencies to nonprofits to private sector firms.
Four main features make the MPAff program unique:
its interdisciplinary nature;
its focus on analytical reasoning, methodological and management skills;
its opportunities for experiential learning and options for a custom course of study via dual degrees or portfolio studies; and
its focus on policy relevance and practical application.
Our goal is for students to pursue their interests, receive the tools they need to apply their knowledge, and then gain the practical experience via internships, experiential learning in classes and research opportunities to thrive. Our focus is applied, not theoretical, learning.

How do students figure out what they should take/focus on?
As a graduate adviser, I dedicate a significant portion of my time and energy to helping students determine their paths here at the LBJ School and beyond. I meet with every incoming MPAff student by the end of orientation, so I get a sense of who they are and what their goals are for their time here and for their future. Then I continue to meet with students regularly throughout their LBJ School experience to provide guidance in many areas. It's critical that students understand not only how to schedule and fulfill their core requirements, but also the breadth and depth of opportunities open to them.
The LBJ School currently offers a total of 17 dual degrees with 14 different schools, departments or centers, enabling our students to earn two master's degrees in three years (four in the dual-degree program with Texas Law). MPAff students also may participate in UT's Graduate Portfolio Programs — 30 interdisciplinary certificate programs that the UT Graduate School offers and manages, 12 of which LBJ School faculty are engaged in operating. The Portfolio Program certification appears on the student's transcript after graduation.
There are so many options, and my goal is to make sure that students get the most they can out of their LBJ experience, so when it's time to find a job they are as prepared as possible.

What kinds of work/internship opportunities are available to LBJ students?
I'm also passionate about working with students in my classes — and that includes helping them engage directly in the world through internships and overseeing their work in Policy Research Projects (PRPs). Many students have found internships and jobs through their PRPs, and have gone on to work at the city, county, state, federal and international levels, as well as in the private and nonprofit spheres.
The PRP is a yearlong course in which students, supervised by a faculty director, work together on a project for a real-world client. The objective is to gain an understanding of the substantive issues and research processes including problem structuring, policy formulation, data analysis, project management, group dynamics, collaboration, ethics and report presentation.
To graduate, LBJ School students are expected to complete one school-approved internship, consisting of 400 hours in a policy or management-related placement. Most students fulfill this requirement in the summer between their first and second years, though some continue their work during the school year. Students in the DC Concentration, for example, complete their first year of study in Austin and then move to Washington, DC, where they work at Policy Apprenticeships during the day and take classes at night. And through several courses in Austin, faculty place students in legislative committees and offices while the Texas Legislature is in session.
Additionally, opportunities for students to work as research assistants and teaching assistants, develop professional skills and network are seemingly endless. The LBJ School's roster of research centers includes the RGK Center for Philanthropy and Community Service, the Center for Health and Social Policy, the Child and Family Research Partnership, the Prenatal-to-Three Policy Impact Center, the Center for the Study of Race and Democracy, the China Public Policy Center and the Ray Marshall Center for Human Resources. Several UT research centers that are closely affiliated with the School also provide valuable opportunities for LBJ students, including the Strauss Center for International Security and Law — including its Intelligence Studies Project, the Clements Center for National Security, the Population Research Center and the Energy Institute. Our students also have opportunities as research assistants and teaching assistants in many other departments across the UT campus.
After graduation, students' career choices are broad and include:
Elected office in federal, state and local positions;
Prestigious think tanks in Washington, DC (Brookings Institution, the Congressional Research Service);
Prestigious foundations (Arnold Foundation, Michael and Susan Dell Foundation, Walton Foundation);
Local government including major cities, counties, school districts and city council offices;
State legislatures including Senate and House committees, and individual lawmakers' offices;
State agencies including departments such as transportation, finance, education and health and human services;
U.S. Senate and House Committees, and individual lawmakers' offices;
FBI and various U.S. intelligence agencies;
U.S. Department of Agriculture and the U.S. Government Accountability Office;
The media, such as The Economist and The Texas Tribune;
The private sector, including consulting companies (Deloitte, Accenture), bond rating agencies (S&P, Moody's, Fitch), or other private entities (Apple, Facebook);
Advocacy and nonprofit entities, such as Sunlight Foundation and Center for Public Policy Priorities;
Research positions at academic institutions such as Johns Hopkins and UT Austin; and

What are the most important things you look for in potential MPAff students?
LBJ students come from a wide array of backgrounds, as well as diverse educational and work experience. As a school, we take a holistic approach to admissions, meaning that we don't look solely at a potential student's GPA or test scores. In the admissions process, we look at the whole of an applicant's experience, including academic performance, career and interests for the future as we assess the likelihood of someone's fit with our program.
That said, if you're interested in service — public, private or nonprofit — and are looking for a collaborative, cooperative environment where you can get to know both your fellow students and your professors, the LBJ School is worth your attention. We are looking for students who are creative thinkers, who are driven by their passion for the work to learn new skills and build new relationships, and who want to combine theory and practice in the policy or management arena.
Learn more about the MPAff program, watch a webinar or RSVP to our Open House Nov. 14–15 — and contact us with any questions about the LBJ School.