Former Foreign Minister and Vice Chancellor of Germany Joschka Fischer to Discuss Future of Europe at March 22 Event in Austin
Event Details
Thursday, March 22, 2012 - 5:30pm - 7:00pm
The Lyndon Baines Johnson Library and Museum
2315 Red River St
Austin
,
TX
78713
University Partners:
Related News:
LBJ School Dean: We need better diplomats - Austin American Statesman, April 7, 2012
Book edited by Madeline Hsu received honorable mention from Assoc. for Asian American Studies - Department of History, April 5, 2012
Related Events:
March 22- Reinventing Diplomacy Inaugural Lecture with former Foreign Minister and Vice Chancellor of Germany Joschka Fischer
March 28 - Longhorn Network program "Game Changers" filming titled "Can America Be Great Again?" featuring Jeremi Suri
April 4 -Jeremi Suri represents The University of Texas at Austin at the Dallas World Affairs Council meeting
April 9 - Reinventing Diplomacy Lecture with Ambassador Nabil Fahmy, founding dean of the School of Public Affairs at the American University in Cairo and Egyptian ambassador to the United States from 1999 to 2008.
May 3-4 - Executive Education course on "Leadership, Strategy, and Decision Making"
Summer 2012 - Jeremi Suri leads a weeklong Gilder Lehrman Institute of American History course for history teachers at the Lyndon Baines Johnson Library and Museum
April 18 -19, 2013 - Institute for Historical Studies Conference "Trans-Pacific China and the Cold War"
UT's LBJ School, Center for European Studies, Institute for Historical Studies, Strauss Center To Host
Global Statesman's Lecture to Mark Launch of 'Reinventing Diplomacy' Initiative
Former Foreign Minister and Vice Chancellor of Germany Joschka Fischer, one of Germany's most beloved and popular modern politicians who evolved from a radical street activist into a member of Germany's political elite, will share his unique insights on the future of Europe at a special event on Thursday evening, 5:30 pm, March 22, at the LBJ Library and Museum.
Hosted by the Lyndon B. Johnson School of Public Affairs at The University of Texas at Austin, along with UT's Center for European Studies, the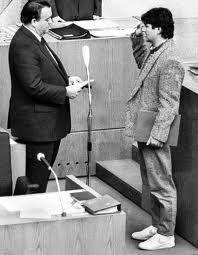 Institute for Historical Studies and the Robert S. Strauss Center for International Security and Law, Fischer's lecture will mark the launch of the new multidisciplinary initiative, "Reinventing Diplomacy", aimed at training the next generation of diplomatic leaders and scholars. The LBJ School is spearheading the new program.
"We are especially pleased that Joschka Fischer, who has revolutionized diplomatic practice, can be with us to mark the launch of this exciting new educational and research initiative, Reinventing Diplomacy," said Robert Hutchings, dean of the LBJ School of Public Affairs. "Not only has Fischer had a remarkable career as a public servant, party activist and a pioneer of democracy in Europe, but he continues to spread his fervor for controversial big ideas a teacher, consultant and advisor today."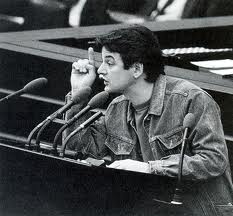 Not afraid to press his agenda and ask tough, challenging questions, Fischer's passion and moral commitment have left an enduring legacy in creating a vision for the future of Europe. Beginning his political career as a student revolutionary, Fischer renounced violence as a means of political change after witnessing a series of terrorist attacks, choosing instead to join the political process as a legislator with the Green Party. He quickly rose in prominence in the party and as a global statesman.
Fischer served as Foreign Minister and Vice Chancellor of the Federal Republic of Germany from 1998 to 2005. Fischer fought against his own party when he supported the participation of German forces in the Kosovo campaign. He famously challenged Donald Rumsfeld's case for invading Iraq by saying, "Excuse me, I am not convinced." That response gained him worldwide recognition and the contempt of the Bush Administration. Since retiring from politics in 2005, Fischer has held several positions in academia, including a visiting professorship at the Woodrow Wilson School of Public and International Affairs at Princeton University. He provokes debate through his monthly op-ed called "The Rebel Realist" for Project Syndicate. In 2010, Fischer joined the Spinelli Group, a pro-European initiative to create a federal Europe.