LBJ School and Student Groups to Host Documentary Screening and Discussion on Anti-Immigrant Violence
Event Details
Monday, November 7, 2011 - 7:00pm - 9:00pm
Bass Lecture Hall
Sid Richardson Hall 2.104 2315 Red River St
Austin
,
TX
78712
This event is free and open to the public. Parking will be available in the LBJ Museum and Library lot.
The Lyndon B. Johnson School of Public Affairs, the Progressive Collective (ProCo), Social Health and Economic Policymakers (SHEP), and the Public Affairs Allicance for Communities of Color (PAACC) will host a screening and disucssion of Light in the Darkness, a one-hour PBS documentary about one community's reaction to anti-immigrant violence. The event will take place on Nov. 7 from 7 p.m. to 9 p.m. at the Lyndon B. Johnson School of Public Affairs' Bass Lecture Hall.
In 2008, a series of attacks against Latino residents of Patchogue, New York culminated with the murder of Marcelo Lucero, an Ecuadorian immigrant who had lived in the Long Island village for 13 years. Light in the Darkness explores the ways in which the community addresses the underlying causes of the violence, works to heal divisions, and begins taking steps to ensure everyone in their village will be safe and respected.
The screening will be followed by a discussion led by Jonathan Bernstein, the executive director of Not In Our Town, the national organization that produced the documentary.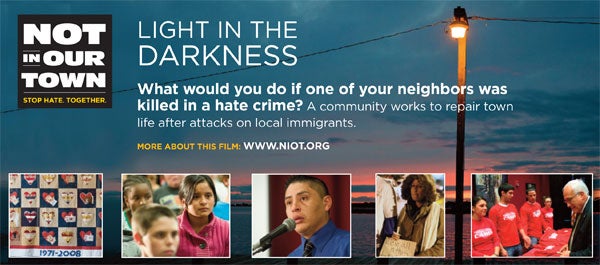 For more information visit: www.niot.org/lightinthedarkness.