Global Human Trafficking's Dirty Little Secret: It's Local
When most people think about slavery – if they think about it at all— they probably assume that it was eliminated during the nineteenth century. Unfortunately, this is far from the truth. Slavery and the global slave trade continue to thrive to this day.
– Ethan Kapstein, Tom Slick Professor in International Affairs, LBJ School of Public Affairs
Foreign Affairs Magazine – November/December 2006
Event Details
Wednesday, October 6, 2010 (All day) - Thursday, October 7, 2010 (All day)
Texas State Capitol
1100 Congress Avenue
Austin
,
TX
78701
I-10 Texas Corridor Cited as Major Human Trafficking Route
Inaugural International Human Trafficking Conference Examined Modern Day Slavery in Texas and Beyond; Women, Children Primary Victims
AUSTIN, Texas, September 27, 2010 – Texas State Representative Senfronia Thompson, The LBJ School of Public Affairs and the School of Social Work at The University of Texas at Austin, and the State Bar of Texas presented the 1st Annual International Conference on Human Trafficking (ICHT): "Moving Beyond Talk", on Oct. 6 -7 at the Texas State Capitol. This inaugural conference marked ten years since the United States enacted the Trafficking Victims Protection Act in 2000.
"The public has an inalienable right to know that human trafficking, a barbaric form of modern-day slavery, exists not just in countries half-way around the world but also here in Texas, and there is action that can be taken to stamp it out," said Representative Thompson. "This conference will provide a platform to help judges, lawyers, law makers, and law enforcement officials learn more about how to identify and rescue the victims by supporting efficient prosecution of the traffickers. "
In a recent appearance on Comcast Newsmakers, LBJ School of Public Affairs Dean Robert Hutchings shared his thoughts on the global problem of human trafficking, citing alarming statistics with disturbing implications for Texas.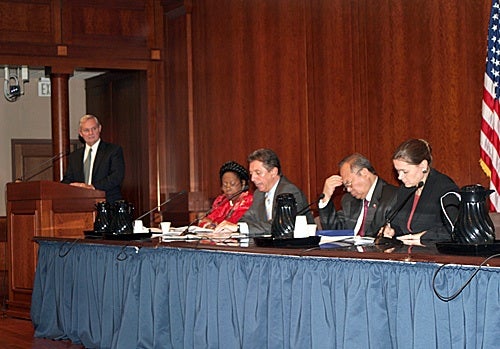 "The numbers are frightening," said Hutchings. "According to the U.S. State Department, an estimated 12.3 million people*, mostly women and girls, are enslaved around the world and 17,500** are trafficked into the United States each year. The Texas Office of the Attorney General estimates that 1 of every 5*** of them travels through Texas along Interstate 10. It's a global problem and simultaneously it's a local problem," stated Hutchings. "What should ordinary citizens do?
The first step is to simply open your eyes. Be aware of what is going on in your neighborhood. If it's not going on in your neighborhood, it's going on in neighborhoods that you pass through," concluded Hutchings.
The two-day conference examined global perspectives on human trafficking, emerging trends within the United States and Texas, the prosecuting of human traffickers, and victims' rights on the state and national levels. The conference not only aimed to raise awareness of the international problem of human trafficking, but to spur legislation and enforcement measures to curb human trafficking in Texas, the United States and internationally.
Ambassador Luis CdeBaca from the U.S. Department of State Office to Monitor and Combat Trafficking in Persons delivered the keynote address. The Republic of the Philippines' U.N. Ambassador Libran N. Cabactulan, The Russian Federation's U.N. Ambassador Vitaly Churkin, and the Socialist Republic of Vietnam's U.N. Ambassador Le Luong Minh participated on a global perspectives round table.
Other invited speakers included state and national prosecution and defense attorneys, members of local police departments and task forces, members of the Foreign Service, Texas state representatives, and members of state and national advocacy groups.
Together with the UT's School of Social Work, the LBJ School will be developing a research and internship program to help in drafting new legislation. The LBJ School will also be collaborating with the U.S. State Department's Office to Monitor and Combat Trafficking in Persons.
"The LBJ School has been preparing leaders for 40 years to help find innovative solutions to the most complex public policy issues and challenges of our modern world," said Hutchings. "Therefore, we see it as critically important to engage in this issue on every level -- local, state, national and international -- through research, collaborative partnerships, internship programs to help in drafting new legislation, and in conferences such as this one. We are pleased to collaborate with Representative Thompson and the other conference participants on finding solutions for one of the great injustices of our time."
"While much progress has been made in the fight against this hidden crime, there is room for improvement on many levels, including improving victim services and protections," emphasized Noël Busch-Armendariz, associate professor at the University of Texas at Austin's School of Social Work. "While scholarly debate continues regarding every aspect of trafficking, more attention needs to be paid to long-term services needed by victims and their families, which is one aspect of the issue that will be addressed at this conference."
The conference was presented in conjunction with the Texas District and County Attorney's Association, and Children at Risk.
Related: