Kevin Bacon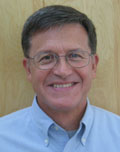 Adjunct Professor of Public Affairs
Contact Info
512-922-1731
SRH 3.268
kevin.bacon@mail.utexas.edu
Office Hours
Office hours for 2012-13 are Mondays from 4pm to 6 pm or by appointment.
Kevin Bacon has over 25 years of experience providing consulting services to public sector organizations. He recently retired from IBM Business Consulting Services where he was a Vice President in its public sector consulting practice. Prior to joining IBM, he was a senior partner and consultant with PricewaterhouseCoopers (PwC) in their government consulting practice.
He has consulted with public agencies at the Federal, state and local levels, as well as with several international organizations. He has led large projects designed to improve the quality, cost, and timeliness of public services. Consulting projects gave him the opportunity to work in 15 states, several foreign countries, major metropolitan areas, and a wide range of government program areas such as transportation, education, electric and water utilities, veteran's affairs, social services, and consumer protection. In his management role with PwC and IBM, he was responsible for developing consulting staff, oversight of major client accounts, marketing and sales efforts, and quality and risk management functions for a $500 million consulting business.
Mr. Bacon has a BA in Political Science from the University of California at Davis and a Master of Science in Economics from the London School of Economics. Prior to his career in consulting, he was a senior consultant to the California Legislature on tax and public finance issues.
Education
M.S. in Economics, London School of Economics; B.A. in Political Science, the University of California at Davis


Current Positions
Adjunct Professor, Public Affairs, LBJ School of Public Affairs


Previous Positions
Vice President, Public Sector, IBM Business Consulting Services; Senior Partner and Consultant, Government Consulting Practice, PricewaterhouseCoopers