Montgomery C. Meigs, a former adjunct professor at the LBJ School and retired general who led the U.S. Army in Europe from 1998 to 2002, died on July 6, 2021 after a long illness. He is survived by his wife, Mary Ann, and their sons William and Matthew.
Meigs taught at the LBJ School from 2002 to 2004, focusing on leadership, military strategy, technological innovation and peacekeeping operations. A West Point graduate, he earned a bachelor's degree from the U.S. Military Academy and a master's degree and a doctorate in history from the University of Wisconsin-Madison.
Meigs's distinguished 35-year military career included commanding armored units in Vietnam and during Operation Desert Shield/Desert Storm. His decorations include the Department of Defense's Medal for Distinguished Public Service, the Bronze Star with "V" Device and the Purple Heart. At the time of his retirement, he was Commander of the U.S. Army in Europe, a four-star position, overseeing 60,000 soldiers and commanding NATO's peacekeeping force in Bosnia. Stars and Stripes noted that in that role "in the aftermath of the 9/11 terrorist attacks, Meigs was in charge as garrisons across Europe went from having relatively relaxed post-Cold War security conditions to becoming the highly secured compounds of today."
His long, distinguished family ties to the military and public service ran deep. He was a third great-nephew of the Civil War general Montgomery Meigs, a civil engineer who served as President Lincoln's quartermaster general, the "engineer of the Capitol" and a key figure in designing and constructing Arlington National Cemetery. His father, Lt. Col. Montgomery Meigs, was a tank commander during World War II who was killed in France before he was born. He is the grandson of John Forsyth Meigs Jr. and John B. Griggs, a commander and a captain, respectively, in the U.S. Navy.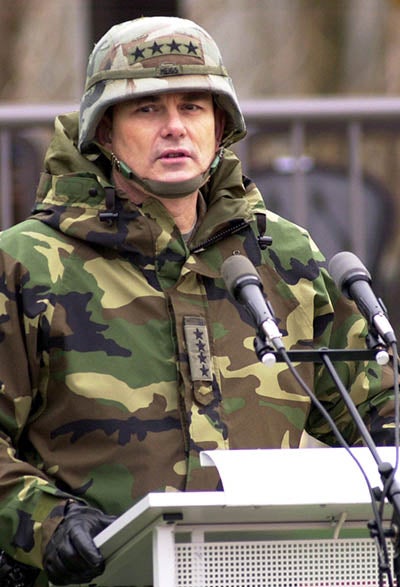 Gen. Montgomery Meigs, the outgoing commander of U.S. Army Europe, in Heidelberg, Germany, in 2002. (Photo by Michael Abrams / Courtesy of Stars and Stripes, All Rights Reserved.)
After leaving the Army, Meigs and his wife settled in Austin, her hometown of Austin. After teaching at the LBJ School, he later held professorships at the Maxwell School and Georgetown University. During the U.S. occupation of Iraq, he accepted a Pentagon assignment as director of the Joint Improvised Explosive Device Defeat Organization (JIEDDO) in the Office of the Secretary of Defense at the U.S. Department of Defense, to develop ways to detect and destroy improvised explosive devices (IEDs). Following that assignment, he served as president of Business Executives for National Security (BENS) and later returned to Austin, where he returned to LBJ as a guest lecturer.
The author of Slide Rules and Submarines: American Scientists and Subsurface Warfare in World War II (National Defense University Press, 2002), Meigs also wrote articles and editorials on military operations and strategy. He was a member of the Council on Foreign Relations, the U.S. Department of State International Security Advisory Board, the Southern Methodist University Tower Center Advisory Board, the International Institute for Counter-Terrorism Advisory Board and is a member of the Board of Trustees of the MITRE Corporation and the Board of Directors of International Executive Service Corps (IESC).
Meigs made an enormous impact on the lives of those he touched.
"There were some leaders in the Army during my 21 years that I looked up to," wrote Jim Goldberg on a memorial page. "Then there were the very few like Col. Meigs who was such a remarkable, kind, tough Commander, that I would have followed him anywhere."
"In many ways he treated me as one of his sons," wrote Christopher "Mac" McGarry. "He filled a void left by the death of my own father. I felt more like a family member than a lower enlisted member."
"General Meigs was my good friend and mentor," wrote Jim Rabon. "My life was richer for having known him. I learned so much from Monty over our 25 year friendship, but the most important lesson was how to live a life of personal courage and integrity. He will be dearly missed."
Our hearts and thoughts are with his family and loved ones.
We are saddened to hear about the passing of Retired GEN Montgomery Meigs, the former Commanding General of @USArmy Europe from 1998 - 2002.

GEN Meigs facilitated major impacts across the @USArmy & @NATO.

Read More: https://t.co/289VWNvERd pic.twitter.com/UMBr30szdn

— U.S. Army Europe and Africa (@USArmyEURAF) July 9, 2021
Retired Gen. Montgomery Meigs was a combat veteran who commanded the Army in Europe for four years and hailed from a storied line of military officers https://t.co/S7urRBd2Ic

— Stars and Stripes (@starsandstripes) July 9, 2021
The First Infantry Division lost a historic member on Tuesday —General Montgomery Meigs had a 35-year long career serving the Army and proudly commanded the First Infantry Division from 1996-1997. Thank you for your part in the legacy of 1ID. pic.twitter.com/5mS1SmZ6ey

— 1st Infantry Division (@FightingFirst) July 8, 2021