The LBJ School presents Black History Month events to highlight the legacy and achievements of Black Americans, and to promote engagement on issues of diversity, equity, inclusion and social justice. ** Due to the Texas winter storm, some of these events have been postponed and rescheduled. New dates to be announced.
---
Feb. 4, 11 & 18: The Path to Racial Equity Series
Feb. 12: The State of Black UT: Pay it Forward
POSTPONED: 24th annual Barbara Jordan National Forum
RESCHEDULED: March 5: Civil Rights in the Texas Borderlands

---
Despite America's most sacred ideal of egalitarianism, racial inequality has been a fact of American life throughout our history. Despite historic civil rights advancements, systemic inequity continues to be ingrained in our society—including in our own communities—holding us back from our promise.
How can we all make a difference? The Path to Racial Equity, a series of six free virtual programs that began on Thursday, Jan. 14 at 5:30 p.m. CT, draws on experts who will examine the issues surrounding racial inequity in Austin and offer simple, practical steps each of us can take to be part of the solution. Speakers include LBJ School Professors Peniel Joseph and Victoria DeFrancesco Soto.
Full program, including event partners and video of previous sessions
Thursday, Feb. 4: Economic Justice
What does economic inequality look like for people of color—and what policies have deepened the racial wealth gap? How can we bridge the gap and create long-term economic opportunity?
Thursday, Feb. 11: A View from the Next Generation
How is the next generation fighting for racial justice? What do they have to say about the pursuit of Racial Justice and what might we all learn from listening to the voices of young people? How do we nurture anti-racist children and what do they need from us?
RESCHEDULED: Thursday, Feb. 18: Political Influence and Involvement
How can we best wield our individual and collective political influence toward meaningful systemic change? How can we ensure that political candidates and elected officials promote and pursue a racial equity agenda?
Dr. Peniel Joseph, Director of the Center for the Study of Race and Democracy (CSRD), will deliver the keynote address as part of a program devoted to UT students, staff and faculty presenting on projects/initiatives they are involved in to improve future Black folks' experience on the Forty Acres. His speech will take place from 12:20 p.m. to 1:20 p.m. CT on Day 3 of the event.
More information:
State of Black UT: Memory Lane — Feb. 10, 1–5 p.m. CT
State of Black UT: Reality Check — Feb. 11, 1–5 p.m. CT
State of Black UT: Pay it Forward — Feb. 12, 11 a.m.–1:30 p.m. CT
This annual signature, student-led weeklong program honoring the life and legacy of former congresswoman, distinguished public servant and teacher Barbara Jordan, will include a keynote presentation and panel discussion. The 2021 theme, "An America As Good As Promised," comes from a quote from Barbara Jordan: "What the people want is simple. They want an America as good as its promise."
** Due to the Texas winter storm, these events have been rescheduled. We will announce the new dates soon. The 2021 Forum will serve as a platform for policy agendas on social issues to take center stage.
Previous Barbara Jordan National Forum celebrations: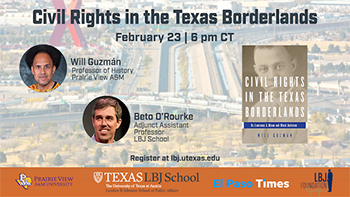 Former U.S. Rep. Beto O'Rourke and Will Guzman, author of Civil Rights in the Texas Borderlands, will reflect on the life and legacy of physician Lawrence Nixon, a community and civil rights leader in El Paso. In 1923, Nixon challenged the law that banned Black Americans from voting in the Democratic primary. His victory in two subsequent Supreme Court decisions paved the way for dismantling all-white primaries across the South.