Highlight on Alumni
Generations of Policy: Jan (Younglove) Lindsey (MPAff '74) and Julie Lindsey (MPAff '13 expected)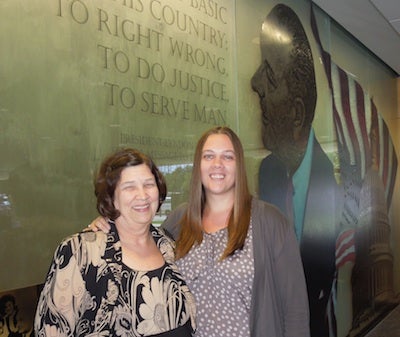 Public service was never an abstract concept for Julie Lindsey, a student in the master of public affairs program. Nor did she and her mother, Jan Lindsey (MPAff '74), ever have a discussion about Julie's decision to attend graduate school at the LBJ School: it was simply a "given" for Julie, having grown up in a household where public policy and commitment to the common good were a way of life.

The story of two generations of Lindseys at the LBJ School begins with Jan. She was fresh from her undergraduate experience at The University of Texas at Austin in the fall of 1972 when she and her classmates made up the third cohort of students to enter the LBJ School of Public Affairs. As part of the last class to be addressed by former President Lyndon B. Johnson, Jan recalls that the School offered an exciting, innovative, and wholly new concept in education in Texas at the time. It was this innovation that cemented her decision to study public affairs as an alternative to social work, the more tried-and-true path to public service at the time. Jan was particularly attracted to the idea of creating broad-reaching change at the policy level. After two years immersed in this stimulating learning environment, Jan started her career in the criminal justice division at the governor's office and later worked at the Texas Youth Commission. She then took some time away to raise her four children. When she was ready to reenter the work force, she decided to work more directly with children, and earned a teaching certificate. She taught for nine years in the Dripping Springs, Texas school system before returning to public policy, this time with the Texas Workforce Commission. Today Jan is a senior director for federal and state education policy with the Texas Education Agency, a role that marries her professional experiences in teaching and policy.
-------
Julie Lindsey is the youngest of Jan's four children. She is a second year master of public affairs student. After completing an undergraduate degree in supply chain management at the McCombs School of Business at the University of Texas at Austin, Julie worked at a Fortune 500 firm for a year. She then returned to Austin to direct operations for an education nonprofit for three years before applying to attend the MPAff program – the only school on her list, as it turns out. Julie felt she developed concrete tools in the business area in her undergraduate studies and subsequent work experience, but her desire to have real impact in the community required advanced tools in policy to put both pieces together for optimal effect. Julie never had to have a discussion with her alumna mom about the need for a degree from the LBJ School. "It was a given. If I want to work in local or state government in Austin, I'll have a ready-made network."

Julie is extremely active in student activities. She was elected secretary of the graduate public affairs council (GPAC), served as a member of the professional development committee that organizes the popular Alumni/Student Policy Meals, and was co-chair of 2012 Camp LBJ and orientation. Julie most enjoys volunteer work that emphasizes community building within the student body. She feels her contributions include the business skills that have improved structure within some of the student organizations, enhancing the work these groups can accomplish.

Julie completed an internship with Deloitte over the summer, working on a state policy project in Santa Fe, New Mexico. As she completes her second year and weighs her options post-graduation, she knows that state policy issues will likely be at the forefront of her future policy career. She is flexible about the sector she will pursue after graduation, be it at a state agency, consulting or local government. Far more important, "I want to find a problem that can be fixed and get a great group of people together to do it."
Q & A with Jan Lindsey
How did your decision to attend the LBJ School effect your career? "When I was entering the workforce, the LBJ School had a strong, positive name. It also had a great alumni network, even in those early days." Jan reports that re-entering the policy world after a rather lengthy absence presented little difficulty as a result of both factors. Her network, though not actively maintained during those busy years of childrearing and teaching, was just as effective for her second foray into the policy arena – a testimony to the tight-knit community at the School that she finds just as prevalent in today's culture as it was in the 1970s.

What do see as the biggest differences between your student experience and Julie's? "The School is has diversified in such exciting ways, with the number of dual degrees, the new global policy studies program - which many of my classmates would have loved - and the wonderful new facilities after the renovation. And the class size! We had about 30 students then. However, the sense of community continues to be phenomenal, in terms of students who have strong bonds with one another, the faculty, and the practitioners providing real-world experiences in the classroom."
-------
For her part, Jan could not be happier that daughter Julie is a third generation Longhorn. She jokes that Julie was the only of her children to "get it right" by following her footsteps in pursuing a degree from the LBJ School. Jan has enjoyed the opportunity to return to her alma mater to talk with Julie's classmates about her career, which she did at a recent alumni lunch panel discussion as part of Camp LBJ. She and Julie agree whole-heartedly that the sense of community among today's students echoes that of the early days of the School, and also that public affairs is a passionate and rewarding career.

President Johnson certainly could not have known that he was addressing the first generation of Lindsey women to graduate from the School he founded, but he would most assuredly have been pleased to know that his vision for Texans who care deeply for their community was in such good hands.