News from Alumni Association and Chapters
Austin Alumni Association Chapter
By Lisa Loftus-Otway (MPAff '04) President

Greetings Austin alumni! Summer 2012 took a somewhat slower pace but was centered around the annual meeting and elections in June, and the Annual Welcome Back Reception and giving out the Spirit of LBJ Award for the 5th year.
The annual meeting held 23rd June was attended by over 20 alumni at Opal Divines on South Congress. The board reported back on events and activities that had taken place, and gave an update on our fund raising campaign for 2012, including monies raised for the Spirit of LBJ Award. At this meeting elections were held for new board members and we saw Jonas Miller (MPAff '12), Lauren Oertel (MGPS '12) and Tedd Holladay (MPAff '07) join the board. We also lost two long serving members Bryan Hadley (MPAff '07) and Theresa Gage (MPAff '00) who stepped down from the board. While losing long-standing and hard-working members is hard, we are extremely fortunate that Austin area alumni are always ready to step up and join the board when asked. During our regular August meeting Lisa Loftus-Otway was elected president of the board. Biographies of the 2012-2013 alumni chapter board members is available here.
The Spirit of LBJ Award call for nominations also went out this summer and we received six excellent nominations of candidates, Ala Ahmad, Garry Davis, Julie Lindsey, Robert Love, Charles Maddox, and Natalia Rivera Mack. It was wonderful to see that at year five of this award, LBJ School students continue to impress with their dedication to the school and embodiment of the spirit of LBJ. Among the strong slate of monimees, we are proud to announce that Garry Davis was chosen as the 2012 recipient. Read all about Garry and his nomination here.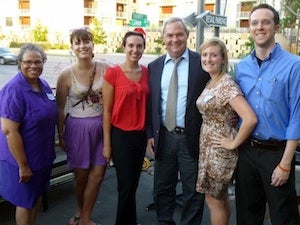 August's end saw the hosting of the 5th annual welcome back reception on August 29th at Hugos on South Lamar. We hosted approximately 70 folks and held a raffle to raise funds for the Spirit of LBJ Award. In total we raised $138 and we are very grateful to those who provided raffle items. These included alumna Kate Brodsky (MPAff '03), who gave a $100 gift certificate for a nutrition assessment; Texas Performing Arts for two tickets to a performance of Grupo Corpo; a one month all access pass from Castle Hill Fitness; four t-shirts from GPAC; and Dean and Mrs. Hutchings, who will host the annual 'Dinner with the Dean' for three lucky alumni and three student winners. See photo: Regina Martin (MPAff '97), Ana Yglesias (MGPS '13), Kaitlan Sharkey (MGPS '14), Dean Robert Hutchings, Lauren Oertel (MGPS '12), David Paine (MPAff '12). Not pictured, Larry O'Bryon (MGPS '13). More photos are available on the Alumni Facebook page.
Thank you, again, to all our 2012 donors. If you have not yet donated, please visit our web site to donate online. These gifts, processed by Texas Exes on our behalf, come directly to the Austin Chapter to support the Spirit of LBJ Award, career networking events, public policy discussion opportunities, and more.

---
Washington, D.C. Alumni Chapter
The Washington, D.C. Area LBJ School Alumni Chapter (WALSAC) had an active summer of activities. We again hosted the Summer Speaker Series, held at the Archer Center. Speakers included Ambassador Ron Kirk, United States Trade Representative; Arturo Barrio, Minister for Economic and Development Issues at Mexico's Permanent Mission to the Organization of American States; Bill Shute, Vice Chancellor for Federal Relations, The University of Texas System and Angela Godby, Associate Vice Chancellor for Federal Relations, The University of Texas System; and Ari Fleischer, Former White House Press Secretary, President George W. Bush.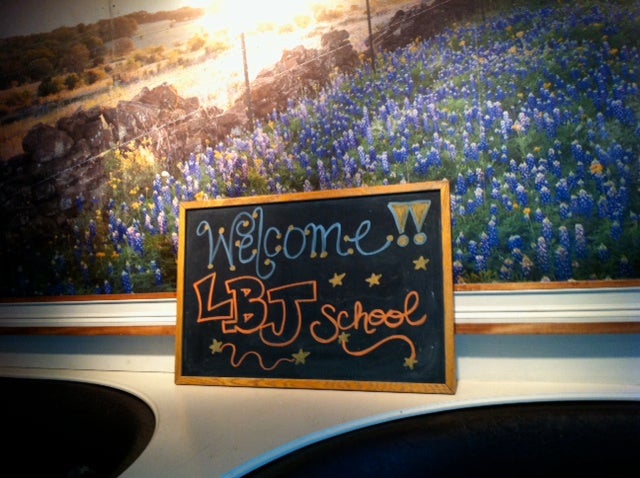 On August 1, area alumni and student interns gathered at Hill Country BBQ for a fun evening of networking in comfortable Texas fashion. Special thanks to Yael Cohen (MPAff '06) and Ram Srinivasan
(MGPS '13), who co-organized the event, and to GPAC, for contributing appetizers.

Currently, WALSAC is planning a winter holiday fundraising event. The successful inagural event in December 2011 generated more than $8,000 for scholarships and the School's annual fund. Please stay tuned for more details.

In the meantime, we look forward to the annual alumni reception taking place on September 13 and hope to see many of our fellow District-area LBjers on the Hill. Special thanks to John Seale (MPAff '06), who helped to secure the location through the Office of U.S. Senator Kay Bailey Hutchison.

We welcome your input. Please visit our web page to find out more about WALSAC.