Fall 2012 Cornerstone
Alumnae Profile: Meet the Lindseys: Two Generations of LBJ School Scholars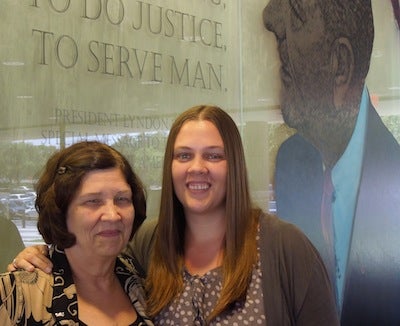 Find out more about native Austinites Jan Lindsey (MPAff '75) and Julie Lindsey (MPAff '13 expected) in our feature article.
---
Annual Washington, D.C. Alumni Reception, Sept. 13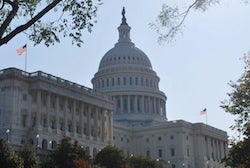 Join Dean and Mrs. Hutchings for the annual alumni reception in Washington.

Thursday, September 13, 2012
6 to 7:30 p.m.
Russell Senate Office Building, Room 385

Learn about the latest advances at the LBJ School in both Austin and at the Washington Campus.
Meet the newest graduates and catch up with old friends as you navigate the Congressional Building halls.

Dean Hutchings will make brief remarks at 6:45 p.m., followed by greetings from special guest, Lynda Johnson Robb.
Drinks and appetizers will be served.

This event is free, but prior registration is required. Please complete the RSVP form.

We look forward to seeing you on the Hill!
---
Alumni-Student Policy Dinners Program Enters Third Year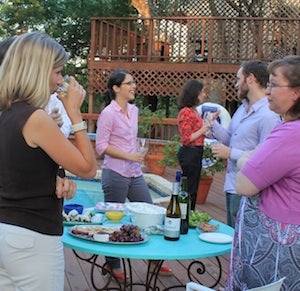 GPAC links LBJ School students to alumni for meals based on a policy topic. Alumni host meals at their homes, at local restaurants and offices.
Students enjoy the program and the opportunities for frank dialogue with alumni. "I thought it was great to meet alumni in the field and ask questions in an easy relaxed environment," commented one student. In 2011-2012, 158 students signed up to attend the dinners and the need is expected to stay on pace this year.

The commitment is relatively small, consisting of meeting a group of three to four students in a restaurant or hosting them at your home one evening this fall or next spring. A student organizer will work with you to plan the details.

Not only is the program an opportunity for students and alumni to discuss career goals and network, but it's a great way to reminisce a little about your time at the LBJ School and to enjoy the company of the School's best and brightest.

If you have any questions about participating, please contact student director Jeanie Donovan (MPAff '13), or Michelle Potter-Bacon, alumni coordinator. To volunteer for a fall or spring dinner, please complete this form by September 17.
---
LBJ School Professor Receives Exceptional Public Service Medal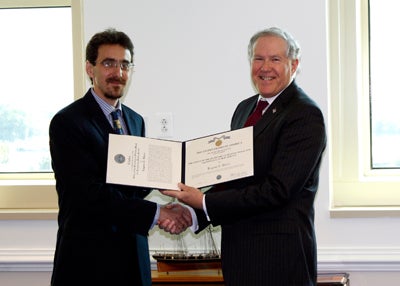 In a ceremony that took place this summer, Strauss Distinguished Scholar Eugene Gholz received the Office of the Secretary of Defense Exceptional Public Service Medal, one of the highest awards the Secretary of Defense can bestow on a private citizen. The award was presented for the contributions Gholz made as a senior advisor to the Deputy Assistant Secretary of Defense for Manufacturing and Industrial Base Policy from 2010 to 2012.

Associate Professor Gholz was graduate advisor of the master's program in global policy studies from 2007 to 2010. He returned to the LBJ School this autumn after an extended leave for his position at the Pentagon.