Great Society Page
1970s
Howard Lemcke (MPAff '73) retired from his position as prosecuting attorney in Salt Lake County, Utah in 2009. He published a book, "Death in a Fish Pond," in 2005. It was later released in paperback under a new title, "In Her Own Backyard."
Rodney Ellis (MPAff '77) co-authored "Short-sighted Cuts Costly to Poor," for the Houston Chronicle on August 29. Read the article.
Crawford Bunkley, III (MPAff '78) is the community development manager of Global Real Estate and Facilities at ExxonMobil Global Services Company in Houston.
David Duncan (MPAff '78) returned to Strategic Partnerships, Inc. (SPI) as a senior consultant. He previously worked at SPI from 2003 to 2004. He has a long record of public service in the local, state and federal levels of government, including positions with the Texas Commission on Environmental Quality, the Texas Workforce Commission and the Texas Department of Information Resources.
1980s
John Bartle (MPAff '83) was named acting dean for the College of Public Affairs and Community Service at the University of Nebraska, Omaha. He is the David Scott Professor of Public Affairs and director of the School of Public Affairs. Read the press release.
James Hirsch (MPAff '86) wrote the 2010 New York Times best-seller, "Willie Mays: The Life. The Legend."
Angela Atwood (MPAff '89) is chief executive officer of Family Eldercare in Austin.
1990s
Stephanie Muth (MPAff '93) was profiled in Strategic Partnerships, Inc.'s Texas Government Insider on June 24. She was the focus of "Strategic Partnerships salutes Texas' Lone Stars." Stephanie is the chief of staff at the Texas Health and Human Services Commission.
Josh Collett (MPAff '96) is the vice president at AARP Office of International Affairs in Washington, D.C.
Mimi Gleason (MPAff '96) is township manager in Tredyffrin, Pa.
N. Bird Runningwater (MPAff '96) was appointed to the University of Georgia's George Foster Peabody Award Board, a group of distinguished experts who select television and radio's most coveted prize. Runningwater is director of the Native American program at the Sundance Institute in Los Angeles, Calif.
Tom Vincent (MPAff '97) began his doctoral program in public policy at the LBJ School of Public Affairs this fall.
Adam Thomas (MPAff '99) has joined the faculty at Georgetown Public Policy Institute. He previously worked as research director at Brookings Institution's Center on Children and Families.
Debra Wanser (MPAff '99) was named commissioner for the Department of Assistive and Rehabilitative Services (DARS) by the Texas Health and Human Services officials in June. She served as interim commissioner since Jan. 1, and previously worked as DARS' deputy commissioner. Before starting at DARS three years ago, Wanser worked at Adult Protective Services. She is also a registered nurse.
2000 to 2004
Susan Bohn (MPAff '02) was named Lake Travis interim superintendent by the school board in July. Read the announcement in the Austin American Statesman.
Sunni Brown (MPAff '04) was interviewed by Curt Finch for Business Bytes on August 30, 2011. Read "Ignite Creativity & Innovation with the Technology of Gamestorming: Sunni Brown Interview" here.
Sarah Brownstein (MPAff '04) is the resource conservation coordinator for Multnomah County Office of Sustainability in Portland, Ore. She plans to return to Austin this fall, joining spouse Alvaro Torres-Crespo (MPAff '04) who began a graduate program in Radio-Television-Film at the College of Communication at the University of Texas at Austin.
2005 to 2010
LeRoy Vaughn (MPAff '04) was elected to the Lewisville City Council. Lewisville, a city of approximately 100,000 people, is located north of Dallas-Fort Worth.
Jennie Kerr Sasser (MPAff '05) is a manager for Deloitte Consulting, LLP, in Atlanta.
Special Updates from the classes of 2007 and 2008
Marti Bier (MPAff '07) writes:
Hi All, as you might guess, I've had some big changes in the last few months. In June my boss lost re-election for City Council, so I too was out looking for a job. Luckily I was needed (and very interested) in the Neighborhood Housing and Community Development Department (NHCD) at the City of Austin. I have now joined the ranks of fellow alum Kelly Nichols (MPAff '08) as a planner, and I'm honestly loving every minute of it. Most of my time I work on the city's permanent supportive housing strategy (PSH), which is a perfect combination of my passion for affordable housing and health and human services issues. It's already been very rewarding, and I am looking forward to digging even deeper into the issue to try to reach the city's goal of creating 350 units of PSH by 2014. All of that and my ever-growing toddler, Kiyah, who just turned 18 months old, are keeping me very busy---and very happy!
Priscilla Aquino Garza (MPAff '08) writes: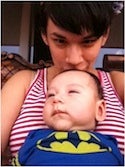 We welcomed Zacarias Federico Garza into our lives on March 13, 2011 after a good natural labor! Whew what an experience. He is keeping us quite busy but motherhood has been amazing. I have, of course, included a picture. In addition to our personal change, I also left the Texas Education Agency and started as the deputy director of policy at the new Texas office for Stand for Children. Education reform remains on top of my life goals, and while I enjoyed my time at the agency to figure out policy in Texas, I am looking forward to the more advocacy-based work. My DJ hubby has also added nursing as a new career. So life has changed pretty dramatically in the last few months, but we are loving the new roles! I missed our alum weekend in the midst of all these changes but hope Zacarias can meet the LBJ fam soon!
Jon Lee (MPAff '07) writes:
I'm working for the Texas Department of Information Resources in Enterprise Policy and Planning. I really enjoy my job because I get to help set the top technology priorities for state agencies to follow. Information technology is often perceived as a tactical and operational matter (fix my computer, keep the lights on), but in our agency, we focus on using technology strategically to improve how agencies do business. We provide guidance and policies to help agencies do things cheaper, better, and faster.
Margie Tsaousis (MPAff '07) writes:
I guess saying there've been a lot of things happening recently would be an understatement. I started a new job at the end of January, and it's going really well! I have some very warm and funny co-workers, and the only downside so far of working for the IRS is that their Internet and software are waaaaay outdated. We're talking Internet Explorer 6 and Microsoft Office 2003. Also, I just turned 30 at the end of April, and my boyfriend and I bought a house at the end of May. It's in Alexandria, Va., and once we get our act together, we have an extra room for people to come visit! I've included a picture of the house. We were in the house only about two weeks, and already my boyfriend started home improvement projects- like jack hammering the concrete 'patio' in the back yard.

Finally, I made a somewhat spontaneous decision to do the Marine Corps Marathon in October, so now's the time to start training! I'm lucky to be training with the wonderful and patient Rachel Silberman (MPAff '07), so I'm pretty sure I'll do okay. Anyway, I hope to be in better contact with everyone once life calms down a little, and I hope you're all doing amazing!
Tim Riley (MPAff '07) writes:
I'm still living in D.C., and still loving being able to go for a run on the National Arboretum or to bike commute through national monuments. I just passed the two-year mark as a Congressional liaison at this little independent federal commission that pretty much no one had heard of before March. Then the Japanese earthquake struck and damaged the nuclear reactors at Fukushima; suddenly everybody and their brother wants to know about the U.S. Nuclear Regulatory Commission and what they do to keep American reactors safe (calmly expressed as, "Why won't you do your job and shut 'em down?!"). A year ago, I nearly had to splash water on a congressional staffer's face to keep him awake while I was describing our work, now I could have them hanging on my words while describing the maintenance routines of water purifiers. Mostly I'm still trying to adjust to the contrasting extremes of working at a regulatory agency, which moves at a glacial pace, and the urgency expected by fire and brimstone nuclear disaster scenarios ever-present in people's minds.

I am enjoying the work pretty much, mostly because I'm neither a nuclear advocate nor adversary, so I appreciate the back and forth between the industry and public interest groups. And who needs coffee on a morning in which you have to call staffers and say, "There's been an explosion at the nuclear plant, but the situation is under control..."

I haven't participated in the class updates, so I should make known that I got married last October to Jennifer Gorenstein (MPAff '08). We had a nice wedding and adventurous honeymoon in Nicaragua. There's nothing better for testing matrimonial problem solving than by submerging your rental truck to above the wheel wells in a "puddle." We came back from the trip with no injuries; only a $30 repair bill to the car rental agency, and lots of fun memories, so I think it was a great success."
Tara Rohde (MPAff '07) is a director for Public Strategies, Inc., in Washington, D.C.
-----
Livier Cabezas (MPAff '09) works for the UCLA Center for Health Policy Research. She was interviewed as a result of a policy brief her team produced titled "The Impact of Health Care Reform on California's Children in Immigrant Families." See Livier's interviews on Univision and Press TV. Read a copy of the brief.
Jenny Diamond (MPAff '09) was appointed the Urban Renewable Board in Austin. She is a transportation planner for PBS&J.
Fritz Fitzpatrick (MPAff '09) was named executive director of YouthLaunch, Urban Roots. Urban Roots is a youth development program that uses sustainable agriculture as a means to transform the lives of young people and increases the access of healthy food in Austin.
Andrew Hoekzema (MPAff '09) is an air quality program specialist for the Capital Area Council of Governments in Austin.
Greg Pardo (MPAff '10) was highlighted by the U.S. Department of State's Office of Civil Rights in honor of Hispanic Heritage Month. Greg is on his first assignment in the Office of the Coordinator for Cuban Affairs. Read the story.
2011
Jon Arnold (MGPS '11) has taken a position as vice president at Drexel Hamilton, LLC in San Antonio, Texas.
Sarah S. (Bingham) Jensen (MPAff '11) works as an education research analyst at Laying the Foundation in Arlington, Texas. Additionally, she and Sarah E. Jensen (also MPAff '11) became sister-in-laws this summer.
Dana Campos (MPAff '11) is enrolled in a law program at Columbia University in New York.
Nicola Clifford (MPAff '11) is working as a consultant at Deloitte Consulting in Ann Arbor, Mich.
Chloe Colby (MGPS '11) is employed by The University of Texas at Austin School of Law. She is an administrative associate in the continuing legal education department
Drew Dupuy (MPAff '11) has relocated to Emilia-Romagna, Italy.
Erica Grieder (MPAff '11) is a writer based in Austin, Texas. Since 2007 She has been the southwest correspondent for The Economist. Her work has also appeared in the New York Sun, The Spectator (UK), and More Intelligent Life.
David Hardy (MPAff '11) is an instructor of introductory economics at a Singaporean Business School in Ho Chi Minh City, Vietnam. He also teaches English to young children.
Matt Hartman (MPAff '11) works as a financial specialist for the City of Austin's Treasury Department.
Chris Holcomb (MPAff '11) has taken a position as a postgraduate research fellow at Pecan Street Project, Inc. in Austin, Texas.
Hoor Jangda (MGPS '11) is a tactical analyst for Stratfor Global Intelligence in Austin.
Johnie Jones (MPAff '11) is a special assistant at the U. S. Department of Agriculture in Fort Washington, Md.
Sara Kemptner (MPAff '11) continues her work as a legislative consultant at Blackridge in Austin, Texas.
Amy Knop-Narbutis (MGPS '11) has taken a position as a senior research analyst at Austin Energy.
Melissa Lott (MPAff '11) works as an engineering research scientist at The University of Texas at Austin.
Amy Martin (MPAff '11) is a marketing and membership specialist at Harry Ransom Center at The University of Texas at Austin.
Emily McCartha (MPAff '11) is working as a communications manager at mindPOP Arts Education Initiative in Austin, Texas.
Major Brian Miller (MPAff '11) is an academic instructor with the United States Army in Fort Montgomery, N.Y.
Patricia (Peachy) Myers (MPAff '11) is the director of individual giving at Foundation Communities in Austin, Texas.
John Peterek (MPAff '11) took a position with the City of San Antonio. He is a senior management analyst in the City Attorney's Office.
Jennifer Quereau (MPAff '11) is an analyst at the Legislative Budget Board in Austin, Texas.
Courtney Seals (MPAff '11) works as a program director in the day enrichment program at Southwest Key in Austin, Texas.
Patrick Steck (MPAff '11) has taken a position as a research associate with The University of Texas at Austin.
Shelby Tracy (MPAff '11) is working as a policy and research coordinator for the Texas Association of Community Health Centers in Austin.
Nalani Tyrrell (MPAff '11) has taken a position as a FORSCOM planner, AFRICOM, with the United States Army in Raeford, N.C.
Kendra Vessels (MGPS '11) is a director at Strategic Forecasting in Austin, Texas.
Kathryn Yeager (MGPS '11) is a program coordinator at A Glimmer of Hope Foundation in Addis Ababa, Ethiopia.