2011 - 2012 GPAC Officer Biographies

President Wes Ven Johnson (MGPS '12) is in his second year of the MGPS program specializing in international development. He also holds an MBA from the McCombs School of Business. Currently, he serves as the president of the LBJ School's Graduate Public Affairs Council (GPAC) and works as an assistant for the Climate Change and African Political Stability (CCAPS) project. Before coming to the LBJ School, Wes worked as an international development consultant in Southeast Asia and as a management consultant in the public and private sectors in the U.S.







Vice President Harry Lindner (MPAff '12) is focusing on policy and budgeting analysis as well as criminal justice policy. Born and raised in Cincinnati, Ohio, he attended Ohio State University where he majored in psychology. He interned at Pride at Work, part of the AFL-CIO, and studied abroad in Salamanca, Spain. In college, he started an activist campaign to encourage Ohio State to influence Coca-Cola's business practices related to international human, worker, and environmental rights concerns, and to eliminate sweatshop labor from university apparel. The campaign ran two ballot issues on the student government elections. Anti-sweatshops passed with 76%, and putting pressure on Coca-Cola set the level of participation, obtaining more votes than the president's race. His senior year, Harry trained the newest members of the campaign. Those students hosted the national United Students Against Sweatshop conference in 2011, and were recently interviewd for a story in the New York Times.

Harry continued his activist work after college, starting two community building organizations in Cincinnati. At the LBJ School, Harry has worked on improving the registration process, increasing core course availability, and offering combined MPAff/MGPS sections for the statistics and economics requirements.



Internal Finance Director Tope Eletu-Odibo (MPAff '12) is interested in several policy areas, including education, economic development and technology. Prior to enrolling at the LBJ School, she studied a Bachelor of Law at the University of East Anglia in Norwich. After graduating Tope spent over a year in Spain, learning Spanish, teaching English, providing American and British legal language training to Spanish lawyers, and volunteered at the Immigration Advice Centre in Madrid.

In her first semester at the LBJ School, Tope helped found a technology policy group called the Apollo Project, which aims to educate students on science and technology policy issues and connect students to alumni working in that field. She also serves on the College Tuition and Budget Advisory Committee.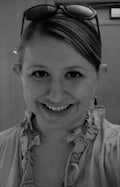 Outreach and Professional Development Chair Rebecca Hopkins (MPAff '12) is in her third year at the University of Texas at Austin, where she is pursuing dual-master's degrees in public affairs and middle eastern studies. An Ohio native (and HUGE Cleveland Indians fan), she came to the LBJ School by way of Atlanta, Egypt and Jordan. Most of her academic work focuses on U.S. foreign policy towards the Middle East. She loves living in Austin and enjoys the city's relaxed vibe.

Rebecca is excited about leading this year's Outreach and Professional Development (OPD) Committee. She hopes to work with her committee to increase student-alumni communication and establish a monthly professional development seminar series, among other initiatives. She also hopes to work with OPD increase the interaction between LBJ and the other professional schools at UT.



Student Life Chair Katy Zamesnik (MPAff '12) is focusing on local government management. She recently was awarded the Blodgett Fellowship for Local Government, and is working for the Budget Office at the City of Austin. While still open to new opportunities, she intends to pursue a career in city management.

Katy graduated from the Florida State University in 2008 with a bachelor's degree in economics and international affairs. While at Florida State, she worked for one of the UK's largest law firms as an intern in London. She also successfully defended an honors thesis in the field of economics, titled "The Effect of Neighborhood and Family Characteristics on Predicted and Actual Fertility." She was an active member of the Phi Alpha Delta pre-law fraternity and worked as an Ambassador for the University.

Katy is from a Navy family, and has traveled extensively. She has lived all over the United States, as well as Turkey and Italy.