News from the LBJ School Alumni Association and Chapters
National Board of Directors
Nominations for the 2011 Distinguished Public Service Award have been extended until October 7. The recipient will be presented with the award during the 40th Anniversary celebration during Alumni Weekend on Friday, April 20.

To view a list of previous recipients, please visit this Web site. For detailed instructions on the nomination process, visit this link.
Austin Alumni Association
By Ginger Lowry (MPAff '85) President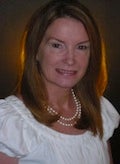 The Austin Alumni Chapter held elections in June. We have a dynamic board with experienced and new members. Find out more about us here.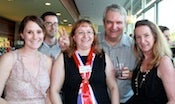 The new board got down to business and held our first event, the 2011 Welcome Happy Hour, on the second day of classes at the School. A new South Lamar lounge, Hugo's, proved the perfect location for a fun-filled happy hour for alumni, students and faculty to gather, network and celebrate as the 2011 Spirit of LBJ Award recipients were named.

We raffled off a number of fabulous prizes including an iPod from Capitol Texas Credit Union, gift cards to BookPeople and Macy's, dinner at Hugo's and dinner with the Dean and Mrs. Hutchings this October. Kristen Vassallo (MPAff '97), Kate Mason (MPAff '10) and Austin Alumni Chapter President Ginger Lowry (MPAff '85) will be dining with Dean and Mrs. Hutchings in October along with three students. A picture says a thousand words, so please visit the LBJ School Facebook Alumni Page (and become a fan!) to view photos from the evening.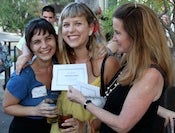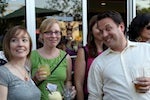 We are planning an alumni/student Longhorns Tailgating event with GPAC. Mark your calendars now for November 5 and watch for a special e-mail with the details coming in October. Hope to see you there!


Washington, DC. Chapter
The Washington Area LBJ School Alumni Chapter (WALSAC) held elections in the spring and elected a new slate of board members. Read the biographies and roles of the WALSAC members here.

Summer activities included a happy hour with LBJ student interns at Bar Louie on Friday, July 29 as well as the ever-popular Washington, D.C. Summer Speaker Series.

We look forward to our upcoming annual alumni gathering with Dean and Mrs. Hutchings at CU House on September 28. Register here today.