Alumni Profile: The Reynas - The People's Business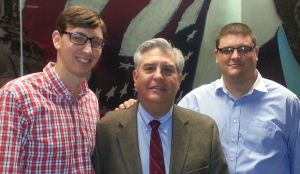 It took a few postcards from the LBJ School inviting him to meet the former legislator Barbara Jordan to get Michael Reyna (BBA '78, MPAff '82) to make the trip to east campus. After completing his bachelor of arts in business, Michael determined that the private sector was not the right fit. His curiosity got the better of him, and he decided it was worth his time to meet the legendary Professor Jordan. While chatting in the faculty lounge, Jordan asked him, "Ever consider doing the people's business?" and Michael was hooked.

During his time at the LBJ School, Michael began to connect the lessons of childhood with those in the classroom. He recalled his father, a physician, accepting food as payment for services. Michael remembered many food deliveries over the holidays from grateful patients. His father told him that he charged what people could afford. At the LBJ School, he found the same spirit of service to the greater good, and he found a vocation in the public sector.

After graduation, Michael moved his family, which included wife Karen, whom he met while working at the University Co-Op, and son Sean, born in May 1981, to Sacramento. He started his career at the Legislative Analyst's Office. He served for 11 years as a principal advisor to the California State Legislature, working on financial service industry regulation and a wide range of issues, including housing, economic development, local government finance, and political reform. Michael also volunteered at a number of local government and nonprofit organizations during that time. Son Ryan was born in 1983.

Michael went on to serve as director of USDA Rural Development (formerly known as Farmers Home Administration) in California from 1993 to 1998. He was appointed by President Clinton and confirmed to the Farm Credit Administration (FCA) Board of Directors in 1998, serving as FCA's chairman and CEO. He then was CEO of the Consumer Attorneys of California, a professional association representing plaintiff attorneys statewide. He retired from his position as project director-executive of the Financial Information System for California (FI$Cal) in 2011, and returned to Austin to live closer to Karen's parents as well as son Sean and his family.

The Next Generation
Michael's sons both chose to attend the LBJ School and to seek careers in the public sector. Ryan Reyna (MPAff '08) and Sean Reyna (BA '05, MPAff '09) agree that public service was instilled from a young age, and it drives the passion for their work. Sean recalled door-knocking with Michael for various campaigns as a six-year-old. Ryan too, had strong memories associated with traveling around central California and, in particular, visiting farm laborer camps with his father. He eventually came to understand that government provided basic services to people, such as potable water, where none would otherwise exist.

For both Ryan and Sean, these early experiences demonstrated a government working to serve the common good and each decided to design their own careers around public service. Sean was initially attracted to information policy and took classes with Internet policy lecturer and senior lecturer, Gary Chapman. Michael had been called out of a final exam given by Professor Dick Schott in order to attend Sean's birth. Coming full circle, Sean took a management core course taught by Professor Schott. He particularly enjoyed Professor Sherri Greenberg's Professional Research Project studying the implementation of an e-government act. The class conducted interviews in Washington, D.C., which provided a contact that later led to his first job. Sean noted, "Being pushed, especially on the level of professionalism, shaped me, and polished me professionally."

Ryan's favorite academic experience at the LBJ School was working with then-Dean James Steinberg on a Professional Report. In a previous position, Dean Steinberg had been involved in passing a security law the class was studying for the project. The role allowed for great insight into precisely how the law came into being from a first-person, insider point of view. Notably, one of the interviewees for that project later became Ryan's boss. A group project in Professor Cynthia Osborne's class demystified the path from research to publication and cemented his desire to pursue a career in education policy. Ryan also noted the Deloitte Case Challenge was an incredibly pragmatic and useful learning experience despite not winning the competition.

Sean recently became a police planner with the Austin Police Department, returning to Austin from Washington, D.C. where he initially worked as a budget analyst with the federal government. As a planner, he works in performance measures and data generation in response to public and media requests. He and his wife, Marian, have a daughter, Sydney, born in 2011 (not during a Schott final).

Today Ryan is a program director in the education division for the National Governors Association in Washington, D.C. He and wife, Elizabeth, whom he met while they were undergraduates at the University of Virginia in Charlottesville, married in 2009 and make their home in Alexandria, Va. On the road roughly fifty percent of the time, Ryan works in partnership with 46 state governors' offices on policy related to common core state education standards.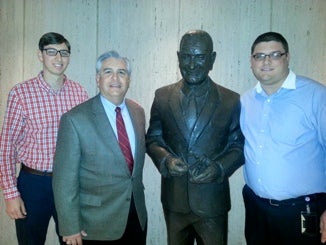 Words of advice to current students
The Reynas agreed that the great strength of their LBJ School education was learning how to be a skilled generalist. This ability to translate across policy areas is a crucial skill in the market place.

Sean: "I could have easily spent another year learning more! Remember your time goes quickly. Be active."
Ryan: "Pay attention to the people you meet. Build your network not only among your fellow students, but all those professional contacts you meet through research."

Michael: "The most important thing I learned in graduate school I learned from Barbara Jordan. I was meeting with her and her assistant knocked on the door, indicating that NBC was calling. Professor Jordan replied. 'Tell them I'll call them back. I'm with a student!'" It was a profound moment about the power of respect and the value of mentoring. Ryan chimed in on his father's behalf, based on his own observations of Michael's actions over the years: "Give back. Stay connected. Hire student interns from the LBJ School." Michael replied, "The LBJ School provided the foundation for virtually all of my success. I feel responsible to give back at least as much."

What's next?
Sean envisions his ideal career as an employee of the City of Austin Budget Office. Ryan would someday like to work for a governor as an education policy advisor. Mike hopes to remain retired, balancing family time with volunteer work on various nonprofit boards. Whatever the future may hold, Michael, Sean and Ryan Reyna view themselves as Presidents Johnson's 'living legacy,' each striving in his own way to 'do the people's business' and to make the world a better place.