News From the Alumni Chapters
Austin Alumni Association Chapter
By Lisa Loftus-Otway (MPAff '04) President

Greetings Austin alumni! This fall we were joined by a new board member, Charles Wilson (MPAff '06). It's been terrific to have a robust group of alumni working on the board this year.

Most recently the Chapter hosted a holiday happy hour and charity drive at Nuevo Leon in East Austin. In addition to enjoying tasty margaritas, alumni and students donated toys to benefit the Blue Santa program, run by the Austin Police Department. It came as no surprise that our community was extremely generous, and it was a wonderful way to kick off the holiday season. See more photos from the event on the Alumni Facebook Page. 


We have a number of local events planned in the new year. Please join us on January 17 at Under the Dome and hear alumna Amy Praskac's presentation on January 24 at the LBJ School. See the Alumni Events section of this newsletter for more details on how you may participate.
---
Washington, D.C. Alumni Chapter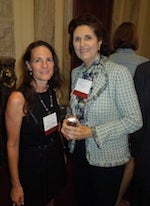 The Washington, D.C. Area LBJ School Alumni Chapter (WALSAC) celebrated the holidays with a happy hour on December 11 at the Austin Grill. Be sure to like us on Facebook to receive future event announcements.
Manyarea alumni attended the annual alumni reception on September 13. Dean Robert Hutchison gave a brief talk as did special guest, Lynda Johnson Robb. We again wish to thank John Seale (MPAff '06), who helped to secure the location through the Office of U.S. Senator Kay Bailey Hutchison. View a slide show of event photos here.
We wish to thank our departing members, Travis Allen (MPAff '08), Beth Casey (MPAff '10), Yael Cohen (MPAff '06), Katherine (Samuels) Groves (MPAff '09), and Fernando Rodriguez (MPAff '05), for their unique talents and exceptional service to the board. Please watch for a call for nominations message in January.
We welcome your input. Please visit our web page to find out more about WALSAC.