Alumni News
Spring Alumni-Student Policy Meals a Success
A rejuvenated initiative led by Sara Myklebust (MPAff '12) and GPAC linked LBJ School students to alumni for meals based on a policy topic. Alumni hosted meals at their homes, at local restaurants and offices. Thirty-two alumni hosted 17 meals throughout spring semester.
Policy topics included local government, energy and environment, health care, education, immigration and nonprofit work. Students appreciated the opportunity to meet with local alumni to talk about shared areas of interest. Student feedback was overwhelmingly positive.
"I enjoyed getting to know alumni and fellow classmates. The alums were really open and honest about their experiences, which made the time with them relevant and meaningful."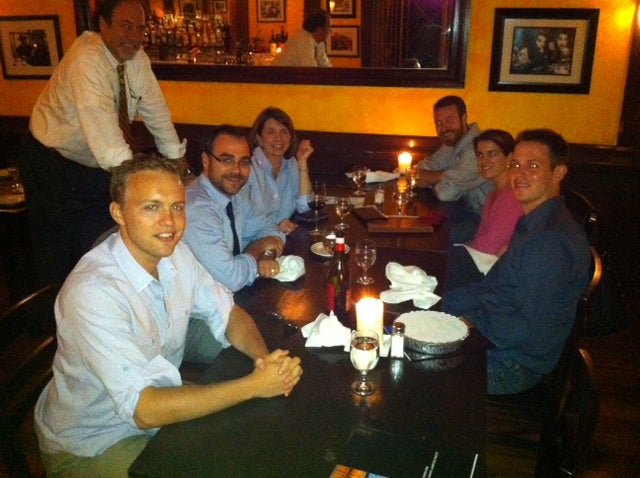 "A great opportunity to meet alumni and make connections for networking."
"I thought it was great to meet alumni in the field and ask questions in an easy relaxed environment."
"My favorite part of the experience was connecting with alumni and making plans to do work together in the future."
For their part, alumni participants enjoyed talking with the students was great.
"This would be a good way to connect with potential interns and applicants in a low stakes environment."
"I enjoyed connecting with students and learning about their interests. I also enjoyed sharing my experiences post- LBJ School with them."
Thank you to the spring 2011 alumni volunteers!
Naila Ahmed (MPAff '06)
Ann Baddour (MPAff '96)
Rowland Baldwin (MPAff '90)
Taja Beekley (MPAff '07)
Maile Broccoli-Hickey (MPAff '06)
Courtney Brown (MPAff '83)
Leigh Byford (MPAff '08)
Jessica Cassidy (MPAff '09)
Jenny Diamond (MPAff '09)
Amanda Dillon (MPAff '10)
Laura Doll (MPAff '78)
Anne Dunkelberg (MPAff '88)
Kenneth Flippin (MPAff '06)
Theresa Gage (MPAff '01)
Kelty Garbee (MPAff '06)
Meredith Gray (MPAff '10)
Kay Hart (MPAff '10)
Laura Huffman (MPAff '90)
Shelley Kilday (MPAff '96)
Jessica Kingpetcharat (MPAff '02)
Greg Landreth (MPAff '05)
Kristen McConnell (MPAff '06)
Sharla Megilligan (MPAff '04)
Anne Nappa (MPAff '87)
Stephen Niemeyer (MPAff '92)
Kevin and Holly Priestner (MPAff '09)
Emily Sentilles (MPAff '08)
Amy Thompson (MPAff '02)
Emily Vasile (MPAff '09)
Carron Whittaker (MPAff '94)
Charley Wilson (MPAff '06)
Ari Witkin (MPAff '08)
If you were a participant and have not yet completed the alumni feedback form, please let us know about your experience here.
Hosting current students is a wonderful opportunity for busy public affairs professionals to stay connected current students and to the School , as the time commitment is slight. Please visit this link to indicate your interest in becoming involved in the Alumni-Student Policy Meal program next year.
Online Alumni Directory Coming (Back) Soon
The LBJ School and several University of Texas at Austin departments are in the final stages of development of a new and vastly improved alumni directory. It is scheduled to launch this summer. Watch your inbox for instructions of how to access the database to claim your profile and to update your contact and work information. This is an opt-in database, so please spread the word to your classmates! The more alumni who activate their profile, the more robust the database will be.
Alumna seeks Barbara Jordan's LBJ School Students for Book
Much has been written documenting Barbara Jordan's career and enduring legacy as a public servant through her service as a member of the Texas Senate and U.S. House of Representatives, and as an advisor in various capacities to state and national elected officials.
I am interested in documenting the profound effect she had during her tenure as a professor at the LBJ School of Public Affairs. As one of her former students, I remember well Professor Jordan's insistence that public service is a noble calling demanding integrity and focus on the common good. And I can recall a number of experiences with her both in and out of the classroom that shaped my government service and continue to inform my views of government in general as well as those elected or appointed to government positions.
I would like to contact Barbara Jordan's former students and LBJ School faculty colleagues to capture their experiences with her and how those experiences shaped their lives. Their stories will allow me to create a book that speaks to Barbara Jordan's legacy as a teacher and her continuing impact on those she taught and interacted with at the LBJ School.
If you willing to participate, please contact Stephanie A. Korcheck (MPAff '00)
Statistics on the Entering Class of 2011
There are 101 enrolled master of public affairs students and 51 for the master of global policy.
The class of 2013 is comprised of students from 26 states and ten countries. Texas residents make up 48.7% of the student body, while 44.1% come from outside of Texas and 7.2% are international students.
There is a male to female ratio of 44% to 56% and the average age is 26.
This year's incoming doctoral class is the largest on record, with eleven new candidates.
Alumni Needed for Camp LBJ
We look forward to welcoming the new class at Camp LBJ in July. The Office of Student and Alumni Programs (OSAP) seeks alumni to talk informally about their public affairs careers with the incoming students. If you are interested in participating in a brown bag lunch talk on Tuesday, July 19 or Tuesday, August 2, please contact Michelle Potter-Bacon for specific details.