LBJ School Alumni Association Groups
National Board of Directors
By Karen Livingston (MPAff '02) President
We welcome the class of 2011 to a network of over 3,000 public affairs professionals and friends. Your degree from the LBJ School will open doors for you, and I encourage each of you to take advantage of the alumni network in the months and years to come. Remember to keep your contact information up-to-date with the School, and share your professional achievements in the Great Society Page. We are indeed a 'great society' of public affairs professionals and we look forward to incorporating the class of 2011 into the fold.
Exciting changes are taking place as we move forward with plans to strengthening ties between the School and the National Board. Because of possible restructuring, we have decided the delay the current election process. Watch for an in-depth update on the changes in store for the National Board later this summer.
Austin Alumni Association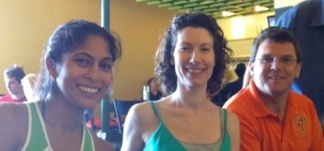 The annual meeting took place on June 11. We say goodbye and thank you to three officer, Naila Ahmed (MPAff '06), Karen Latta (MPAff '97) and TJ Costello (MPAff '03) for their outstanding dedication and contributions to the Austin-area alumni.
Congratulations to Ginger Lowry (MPAff '85), who was elected to a second term and Jennifer Diamond (MPAff '09) became a new member.
Find out more about the Austin chapter at our website.
Washington, DC. Chapter
By Nicki Alam (MPAff '07) President
The LBJ School Washington, D.C. Alumni Chapter is seeking new members. The board is a great way to stay involved with your fellow alums and give back to the LBJ School with a minimal time commitment.
The application is available to download here.
Please send completed applications to this address by Wednesday, June 30.
Please feel free contact me if you have any questions regarding the application or the Washington, D.C. chapter.
We look forward to hearing from you!