Spirit of LBJ Award
The Spirit of LBJ Award, started with seed and matching funds from Ben Barnes, recognizes students whose commitment to the greater LBJ Community goes 'above and beyond' the normal to capture Lyndon B. Johnson's spirit of vision, leadership and action. The Austin Alumni Chapter gives the award to incoming second year student(s) who have demonstrated leadership, commitment to the LBJ School and the greater Austin community, and exhibit a strong sense of ethics and integrity.
Current Recipient
2016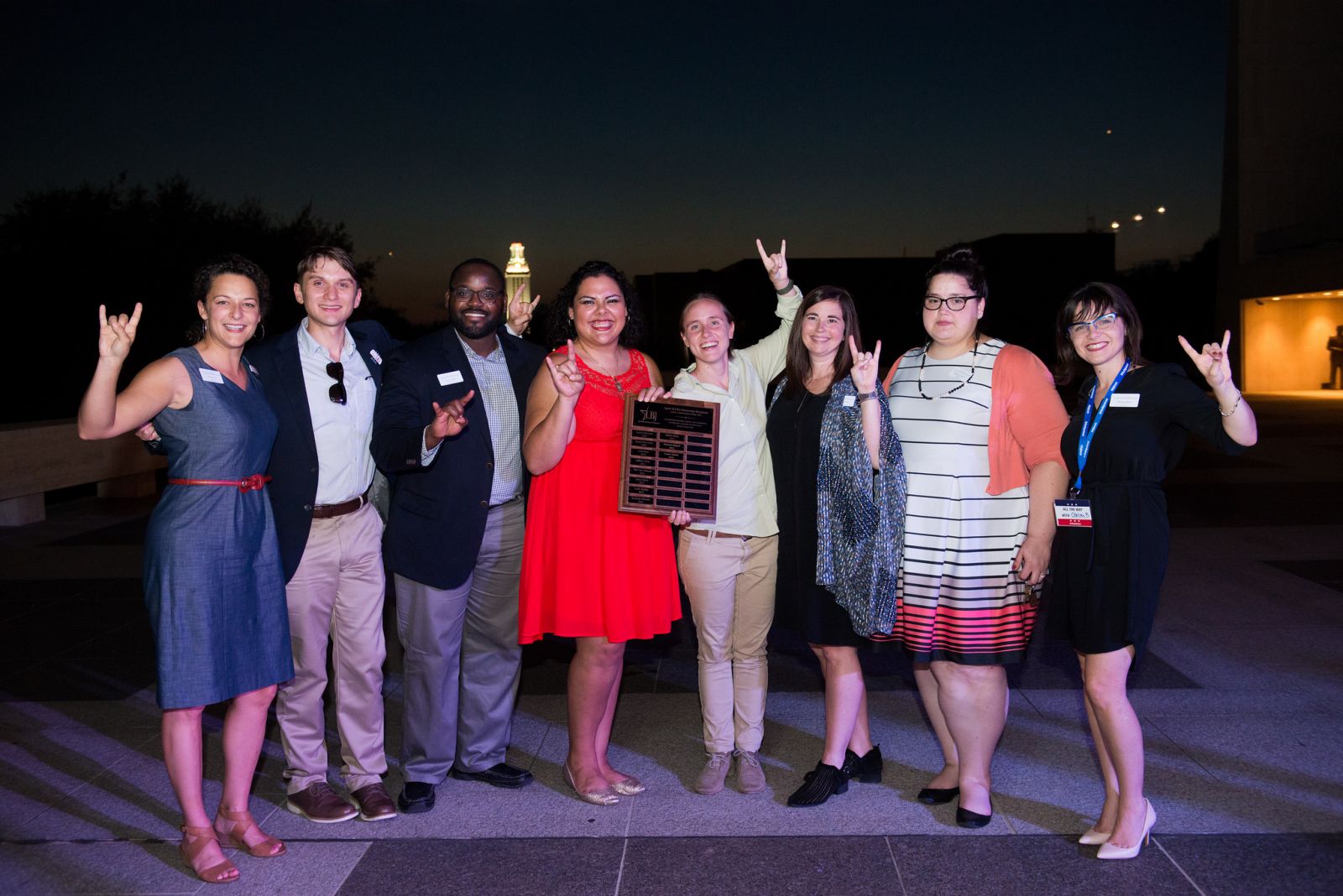 Both Cassie Gianni (MGPS) and Marimar Miguel (MPAff) were named recipients of the 2016 Spirit of LBJ Award.
---
Past Recipients
2015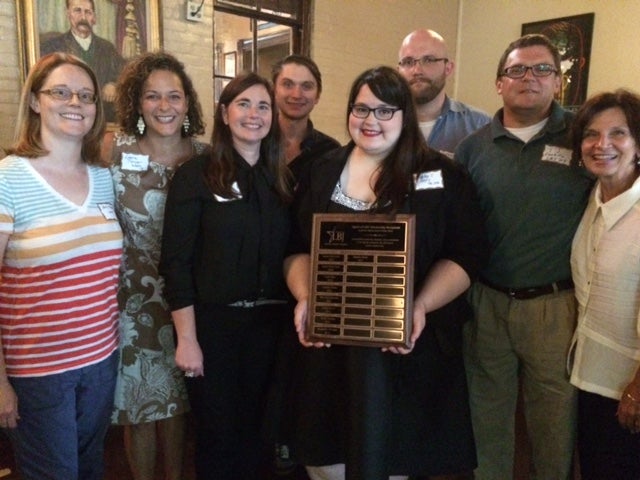 Martha Berry
(MPAFF 2015
expected
) was named recipient of the 2015 Spirit of LBJ Award.
---
2014
Rochelle Olivares (MPAFF '15) was named recipient of the 2014 Spirit of LBJ Award.
---


2013​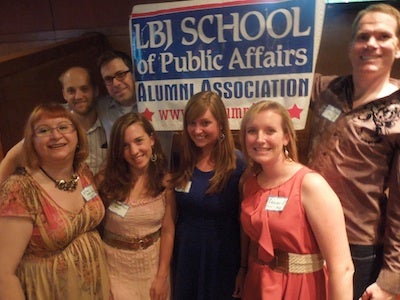 Kelly Steffen
(MGPS '14) was named recipient of the 2013 Spirit of LBJ Award in August at the annual Welcome Happy Hour hosted by the Austin-Area Alumni Chapter.
Kelly is a dual degree masters student in global policy studies at the LBJ School and is pursuing a master of business administration at the McCombs School of Business.
She was nominated by fellow student, Bonnie Hough (MPAff '14), who wrote, "Interested in international development and corporate responsibility, Kelly has spent her summer in Ethiopia working with the U.S. Agency for International Development on the Economic Growth team. While there, she has split her time traveling to rural areas and working in Addis Ababa on climate change projects.
While this experience provides insight into Kelly's inspirational career goals, her drive and passions spill into other areas of her life as well. During her first year at LBJ, she coordinated two major month-long service events that engaged the entire LBJ student body and cumulatively raised over $2,000 for various nonprofits. For these efforts, Kelly received an LBJ Student Recognition Award in the Fall of 2012. She was also an active member of the Graduate Public Affairs Council and a team leader and Research Fellow for the AidData Center. On top of all this, she spent the year as a Young Alumni Coordinator for her undergraduate alma mater, Michigan State University. In this role, she traveled to various cities around the country helping to set up alumni clubs. Although she barely ever had a minute to slow down, Kelly was (and is!) a constant presence in the LBJ community. I have gotten to know Kelly very well over the past year, and I can tell you that you could not choose a better person to receive this award. She is extremely hardworking in all that she does and a friend to everyone she meets."

Kelly was awarded $500 in recognition of her stellar contributions to the LBJ School community.
---
2012
Garry Davis (MPAff '13) was chosen as the 2012 Spirit of LBJ Award recipient and presented with a check for $500 at the Austin-Area Alumni Chapter's fifth annual Welcome Back Happy Hour on August 29, 2012.
Nominated by former Chapter President, Ginger Lowry (MPAff '85), Garry's qualifications met the criteria with ease, "(Gary has a) proven academic excellence, active c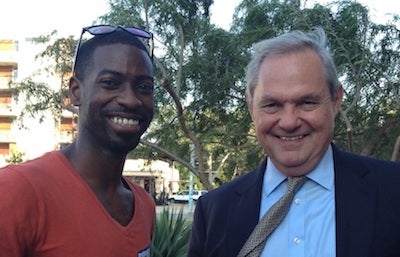 ommitment to promoting the School, event and organization leadership skills combined with a demonstrated interest in serving others while building communities of service both within and outside of the LBJ academic environment."
In his role as GPAC president for 2012-2013, Garry participated in and coordinated events for the incoming students at Camp LBJ, organized a student organization leadership conference, began creating a GPAC website, and sits on the board of the LBJ School of Public Affairs Austin Alumni Association.

 He participates in and outside of the School leading sports and service organizations focused on equality policy and advocacy, including the Harvey Milk Society and the Public Affairs Alliance for Communities of Color. He co-chaired the 2012 Barbara Jordan Forum, and participated on intramural football and softball teams.

Garry talks about receiving the award in this short video:
---
2011
The LBJ School of Public Affairs Alumni Association's Austin Chapter is pleased to announce our winners of the Fourth Annual Spirit of LBJ Award. This year's deserving winners, who merited equal recognition, are Mr.
Wes Ven Johnson
(MGPS '12) and Ms.
Sophia Checa
(MPAff '12).
"Wes and Sophia both represent the character and commitment that President Johnson envisioned from an LBJ student," stated Austin Chapter President Ginger Lowry. "Wes and Sophia exemplify the best of the LBJ School, the LBJ community and The University of Texas at Austin."
Wes Ven Johnson and Sophia Checa's nominations noted their commitment to serving the school and fellow students, raising money for student organizations while keeping their outside commitments in the greater LBJ and Austin community. Sophia and Wes served on the GPAC Committee. Both were involved with the Grindstone Community Service Organization and the Social Health and Economic Policy organization. Wes worked the Barbara Jordan Forum Week and Sophia served as the Harvey Milk Society Co-Chair.
For their efforts Mr. Ven Johnson and Ms. Checa, both received $375 at the Annual Alumni Welcome Back Social for Students held Thursday, August 25, 2011.
---
2010 Leah Bojo (MPAff '12)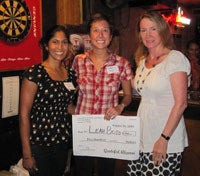 I am honored and grateful to receive an award that represents the essence of the namesake of our school. Being presented with the Spirit of LBJ Award reminds me of the reasons that I chose the LBJ School and of all that I am learning here and will soon take out into the world. Thank you, Alumni Association, for all that you do!" --Leah Bojo, 2010 Spirit of LBJ Award Winner
2009 - Sarah Hutt Chen (MPAff '10)

2008 - Agnes Sekowski (MPAff '11)