Austin Alumni Association Biographies
2011-2012 Alumni Board


Ginger Lowry (MPAff '85) President
Term expires 2013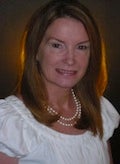 Ginger Lowry is a senior research analyst in the Texas Comptroller's Economic Analysis Division. She has over 25 years of combined private, public and nonprofit sector experience in business and systems analysis, project management, predictive economic modeling, legislative analysis and web-based reporting. Ginger monitors the fiscal impact of proposed legislation, conducts economic impact studies and serves as project manager of multiple Comptroller annual, biennial and special economic publications.
After graduating from the LBJ School of Public Affairs, Ginger worked for the Comptroller's Research Division, the Legislative Budget Board, Arthur Andersen & Co. (Accenture), Texas Health and Human Services Coordinating Council, Hospice Austin-Williamson County, the Texas Department of Insurance and Tokyo Electron America, Inc.
Ginger is bilingual in Spanish, worked in Argentina and has a degree with special honors in Spanish from The University of Texas at Austin. Her hobbies include reading, snow skiing and mentoring the homeless. Ginger has two children attending The University of Texas at Austin.
Ginger is president of the LBJ School of Public Affairs Austin Alumni Association and has served on the board since 2007.

Bryan Hadley (MPAff '07) Vice President
Term expires 2012


Bryan Hadley has worked as a performance analyst for Texas' Legislative Budget Board since graduating with a Master of Public Affairs from the LBJ School of Public Affairs in 2007.
Bryan has conducted research for the State of Texas in several policy areas, including Medicaid waivers for family planning programs, transportation planning, and rural healthcare workforce development. While at the LBJ School, Bryan completed the RGK Center's Nonprofit Studies Portfolio Program. His professional report was on the rising costs and declining federal funding for public health clinics receiving Title X grants.
Bryan serves as vice president of the LBJ School of Public Affairs Austin Alumni Association.

Theresa Gage (MPAff '01) Secretary
Term expires 2012


Theresa Gage graduated from the University of Texas at Austin with a Bachelor of Journalism (1997) and from the Lyndon B. Johnson School of Public Affairs at the University of Texas at Austin with a Master of Public Affairs (2001).
Theresa is the Director of External Affairs for the Electric Reliability Council of Texas (ERCOT), which manages the flow of electricity to 22 million Texas customers.
She previously served as the Director of Governmental Relations at the Public Utility Commission of Texas. Prior to joining the Commission, Theresa was a policy analyst for state Senator David Sibley, the author of legislation that restructured the Texas electric market. Gage has also worked on insurance and consumer issues for Texas Watch, a non-partisan advocacy group.
She started her career as a reporter concentrating on government and political issues for The Texarkana Gazette, a daily northeast Texas newspaper. Theresa is Secretary of the LBJ School of Public Affairs Austin Alumni Association.

Lisa Loftus-Otway (MPAff '04) Treasurer
Term expires 2013


Since graduating from the LBJ School, Lisa Loftus-Otway has worked as research associate at the Center for Transportation Research and focuses her research into three main areas: transportation policy, freight planning, and land use planning. Lisa regularly presents her research at major conferences and recently sat on a Federal Railroad Administration Focus Group providing advice on rail and land use for the development of the National Rail Plan. Lisa's public policy career began in the United Kingdom (UK) when she worked for the London Borough of Merton and the London Borough of Islington in their legal services division as the executive assistant to the director of legal and election services.
Lisa is an active member in the Heart of Texas Chapter of the Woman's Transportation Seminar, serving as the recognitions committee chair. Lisa recently co-taught a PRP with Dr. Leigh Boske at the LBJ School. She previously earned an LLB in law (1996) and LLM environmental law (2000) in the UK, and is licensed to practice law in New York.
Previously, Lisa served as the secretary and the vice president of the LBJ School of Public Affairs Austin Alumni Association. She is now treasurer.

Ted Holladay (MPAff '07) Bio forthcoming
Leigh Boske LBJ School Faculty Adviser



Ex-Officio Members

Wes Ven Johnson (MGPS '12) GPAC President
Term expires 2013


Wes Ven Johnson is in his second year of the MGPS program specializing in International Development. He also holds an MBA from the McCombs School of Business. Currently, he serves as the president of the LBJ School's Graduate Public Affairs Council (GPAC) and works as an assistant for the Climate Change and African Political Stability (CCAPS) project. Before coming to LBJ, Wes worked as an international development consultant in SE Asia and as a management consultant in the public and private sectors in the U.S.




Michelle Potter-Bacon LBJ School Alumni Coordinator