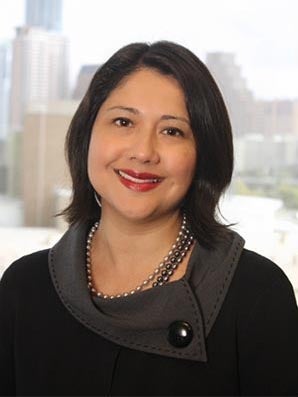 Madge Vásquez grew up in a small town in South Texas and now has a big job as the newly appointed CEO of Mission Capital. Last month, Mission Capital, the Austin-based philanthropic group that helps train and guide nonprofits, announced Vásquez would be leaving her position as the director of dental operations at St. David's Foundation to begin her new role as CEO in January 2018.
Vásquez was raised in Robstown, Texas, a small suburb west of Corpus Christi. As the daughter and granddaughter of farmworkers in South Texas, she had her own experience seeing economic and education inequality in the community based on the history of political dynamics and institutionalized racism. These experiences shaped her interest and passion for equity, community development, and empowering communities to tackle problems with their own solutions. She left South Texas to attend Southwestern University in Georgetown, Texas, where she received her Bachelor of Arts in International Relations in 1994.
After graduation, Vásquez had the opportunity to live and learn in El Salvador as a Fulbright Fellow. She did field work and research with mostly women's and international development organizations that focused on health care issues and civil democracy. Vásquez was in Central America only a few years after the Salvadoran Civil War had ended. She witnessed firsthand what people were willing to sacrifice to be change agents in their community. These experiences were formative and informed her decisions to work in the U.S. on farmworker issues, and later on community development. She was determined to figure out how to build community through financial stability and asset building.
She left El Salvador and headed for Washington, DC, where she briefly worked with Equity Research Corporation, a faith-based Latino congregation whose mission was to start community development programs. After DC, she came back to Texas and worked with the National Center for Farmworker Health before deciding to attend the LBJ School of Public Affairs.
After receiving her Master of Public Affairs in 2001, Vásquez went on to work for both public and private organizations including: Accenture, PeopleFund and Wachovia bank in Austin. Her extensive experience in community development, consulting, philanthropy, banking and community health has primed her for her exciting next step as CEO of Mission Capital.
Vásquez is currently preparing for her new role by going on a listening and learning tour. She is meeting with Mission Capital board members, clients, nonprofit partners, business executives and funders. She was kind enough to take a break from her busy schedule to share some of her life lessons and reflect on her time at the LBJ School.
---
What gets you out of bed in the morning?
It's the passion to be a change agent. It's more than making a difference, it's the ability to be strategic and embrace what I feel is a calling to be a good community steward.

How did your experiences growing up in South Texas shape you?
I was born in 1971, so I experienced some of that "white flight" as the demographics began to change in our community and as more Latinos were able to access the political process and be political representatives. It was formative for me to see the emergence of Mexican-American leaders, of Latino leaders, in the community, and even though by statistical or demographic standards it may have been a low-income community, and I may have grown up in a low-income family, I always felt a sense of abundance. That was because of my family, both immediate and extended, and my local faith community, that was always supportive and always encouraging us to aspire and to do great things.

Why did you choose to attend the LBJ School, and how did it prepare you for your career?
I ended up finding a job in Austin working for the National Center for Farmworker Health and, after doing that for a few years, felt that despite all of my efforts in direct service and being a practitioner, it was all about policy. The responses had to be policy responses if we were going to achieve change, and that's what encouraged me to go to the LBJ School. I knew of its reputation and felt like it was a good place for me.

What is your fondest memory from your time at the LBJ School?
I remember being on a PRP with Dr. Peter Ward about colonias in South Texas. I remember us traveling back and forth from Austin to South Texas to try and create access and equity and stability along the South Texas-Mexico border. I also enjoyed Dr. Victoria Rodriguez's women in policy course. That was a lot of fun, and I had a lot of great fellow LBJers and colleagues in that class.

What is one piece of advice you would give to current LBJ Students?
For me, a nugget of wisdom that's been helpful is to take risks and branch out and explore new career paths and topics. Above all, never stop learning. I'm a lifelong learner, and I love academic study and research, but I also love to learn by doing, and I think that has helped me as I've cultivated this topsy-turvy career path that now makes sense.