LBJ School 2016 Commencement
The LBJ School 2016 Commencement Ceremony will be held on Saturday, May 21, at 11 a.m. in the Lady Bird Johnson Auditorium. Students will also have the opportunity to participate in the Office of Graduate Studies convocation ceremony and the University-wide commencement ceremony. Please note that you must have already graduated or be a spring or summer 2016 degree candidate to participate in this ceremony. EMPL students are also invited to participate in this ceremony. Fall 2016 degree candidates may participate in the spring 2017 ceremony.
Rehearsal
Thursday, May 19, 9:00 a.m. Gather in SRH 3.124. Mandatory rehearsal for all students participating in the May 21st LBJ School commencement ceremony.
Class Photo
Thursday, May 19, 11:00 a.m. (immediately following rehearsal) at the Lady Bird Fountain
Dress comfortably for an outdoor group photo; formal attire not required.
Ceremony
Saturday, May 21, 11 a.m., Lady Bird Johnson Auditorium (Graduates gather in SRH 3.124 at 10 a.m.)
Students participating in the ceremony must arrive and check in at the LBJ School, SRH 3.124, no later than 10 a.m. Don't forget to bring your cap, gown and hood. Food, drink, and alcohol are not permitted.

Following the ceremony, please join the Dean on the plaza to celebrate the Class of 2016 with a champagne toast.
Please don't bring any other items (purses, etc.) as there will be no place to safely store your belongings.
NOTE: Hoods may only be worn by students who have completed all degree requirements for graduation.
Saturday, May 21, 5:30-7:00 p.m., LBJ School Lobby
Graduates and their families are invited to join Dean Angela Evans, as well as LBJ faculty and staff, for a celebratory reception. This event is free to attend, but an RSVP is requested at LBJ Dean's Commencement Reception.
At 7:00 p.m., the Dean will lead a procession to the University-wide commencement ceremony, which begins at 8 p.m.
Cap, Gown and Hood
Academic regalia (cap and gown) are required for students participating in the ceremony. To order regalia and invitations and to review relevant deadlines, visit the University Co-Op.
OSAP has a very limited number of caps and gowns to lend to students. These will be distributed to students on a first-come, first-served basis from Tuesday, April 26, through Friday, April 29, between the hours of 9 a.m. and 4 p.m. in OSAP (SRH 3.104). We do not have enough regalia for everyone, so please have a back-up plan. Students must pick up the gowns in person and are limited to one gown and one cap per person. If you would like to donate your cap and gown for students to use after you graduate, please drop them off in the OSAP offices after the graduation ceremonies.
Guest Tickets
All guests must have a ticket to enter the Lady Bird Johnson auditorium because seating is limited. Each graduate may claim up to four (4) guest tickets, and you must be registered to participate in the graduation ceremony before you can pick up tickets. Please reserve only the number of tickets you will use. If there are tickets left over after all participating students have reserved tickets, we will have a process for students to obtain additional tickets. Students participating in the graduation ceremony will receive an email with a link to sign up to participate and also reserve guest tickets.
Guest tickets for the LBJ School commencement ceremony are still available for pickup in the Dean's Office (SRH 3.384A) between 9:00 AM – 4:00 PM, Monday-Friday. If you registered for tickets via the graduation survey, the tickets you requested are bundled and waiting for you. Please note:
All tickets must be picked up in person. We will not distribute to a proxy.
Tickets must be picked up by 3:00 PM on Thursday, May 19.
You must provide your UTEID and signature when picking up tickets.
This program is sold out. Please consider returning any unneeded tickets to the Dean's Office or sharing them with students you know need additional tickets.
Extra unclaimed tickets (4 max per graduate) are also available on a first-come, first-served basis.
Any unclaimed tickets AFTER May 19 will be made available first-come, first-served at a Will Call table in front of the LBJ Auditorium beginning at 10:00 AM on Saturday, May 21.
Guests without a ticket may view the ceremony via closed circuit television at a designated overflow area in Bass Lecture Hall (LBJ 2.104).
Please contact Lovdy Grossman (lgrossman@austin.utexas.edu) with any questions.
To assist with making your visit to campus safe and enjoyable, please note the following safety procedures:
Backpacks, tote bags or any bag larger than 12 inches in dimension will not be allowed into any of the commencement venues.
All bags are subject to search by security personnel, including purses, camera cases and diaper bags.
Those with larger prohibited bags will be turned away. Do not bring any packages that cannot be opened or inspected.
Thank you for your cooperation.
Limited parking is available for students and their family and friends in Lot 39; however, the LBJ School cannot guarantee parking for everyone. Visitors are encouraged to park in the Manor Garage (MAG), San Jacinto Garage (SJG), or any of the other seven university parking garages. For additional parking options, click here.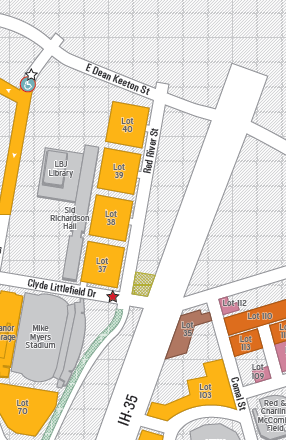 Services for Graduates/Visitors with Disabilities
Special services, including sign-language interpretation, are available to accommodate the needs of individuals with disabilities at the LBJ School commencement ceremony. If you require special accommodations, please contact Eileen Dunn at 512-232-4010, Monday through Friday, between the hours of 8 a.m. and 5 p.m. at least five days prior to arrival at the commencement activities.
Graduate Studies Convocation Ceremony
The Graduate School hosts a university-wide convocation ceremony at Bass Concert Hall to honor master's and doctoral graduates. Details can be found at (Note: this information will not be updated for the 2016 ceremony until around March 2016 - http://www.utexas.edu/ogs/student_services/convocation/.) LBJ students can attend both the LBJ School and the Graduate School ceremonies. The Graduate School master's ceremony begins at 9 a.m. and the doctoral ceremony begins at 12 noon. For master's students, the Graduate School has you at the top of the marching order, so after you have crossed the stage, you will leave the building and return to the LBJ School for our ceremony. For doctoral students, you will attend the LBJ ceremony and after you walk across the stage, you will leave the building and go directly to the Graduate School ceremony. Please note that you must contact Danielle Thoma with the Graduate School to confirm that you are eligible to participate in that ceremony. Her contact information can be found at the link above.
University-Wide Commencement Ceremony
The university-wide commencement ceremony celebrates the cumulative accomplishments of graduates of The University of Texas at Austin, on the south mall of the UT Tower on the evening of Saturday, May 21. Details can be found at (Note: this information will not be updated until around March 2016 - http://events.utexas.edu/commencement/spring/graduates.)
Quick rundown on the events (see attachment for more details):
Saturday 5/14: Hamilton Pool and Jester King
leave LBJ at 7:30am - guys, this is early, it's also the last day that Hamilton won't require reservations so it will probably be pretty busy! Please sign up on the google doc - Wade is your contact (214) 769–5864
*bring cash

*we may move to Krause Springs if it seems like Hamilton Pool will be crazy (that decision will be made Friday)

*if the rain means that both are closed, we'll go straight to Jester King at noon (hopefully we'll know that Friday night)
Sunday 5/15: San Marcos River Float
leave LBJ at 10am, again please sign up on the google doc - Wade is your contact (214) 769–5864
*bring drinks, sunglasses, a hat and your own tube if you have one

*if the weather sucks we'll go to the Goodnight for brunch, giant mimosas, bowling, and karaoke at 11am (we will decide by Sunday at 9am)
Monday 5/16: McKinney Falls hike and hang and PAACC Storytelling
leave LBJ at 10am, Wade is your contact (214) 769–5864, join the FB event for storytelling
*bring drinks, snacks, bathing suit, dogs, a positive attitude

*it looks like Monday should be fine, but if that changes we'll go the Goodnight if we haven't or brunch at Iron Cactus at 11am followed by Captain America at Drafthouse on 6th at 2:45pm
Tuesday 5/17: Franklin BBQ and Rainey Street Bar Crawl
get to Franklin about 8/8:30am, eat your BBQ, take a nap, Rainey starts at 12pm with brunch/lunch at Bangers! BBQ folks are on their own, Wade is your contact (214) 769–5864 before 4, Jamie is your contact (713) 213-7865 after 4
*if you are doing BBQ bring other food, beer, games

*for Rainey just don't forget your ID
*NO rain plan for Rainey ;)
Wednesday 5/18: Wine Tour!
get to LBJ at 10am, bus leaves at 10:30am and we will leave you, Jamie is your contact (713) 213-7865, sign ups are closed, no refunds, no rain plan
*bring $25 CASH for the wineries and extra for food

*we will stop for a late lunch, so bring snacks and drinks if you want on the bus - if you want to check out the bus, it's Cherry Bomb ;)
Thursday 5/19: Party Barge on the lake
leave LBJ at 12pm or meet at Walsh Landing at 12:30pm, sign up on the google doc, pay Jamie on venmo or cash - Jamie is your contact (713) 213-7865
*bring food and drinks (no glass please), towel, sun protection
*download GETME so that we can be safe and not risk driving under the influence
*PLEASE sign up in advance - we have to give a headcount and we need at least 40 people
*feel free to sign up a plus one or two
*if it rains and they cancel (very unlikely), everyone will get a refund, rain plan is just to move the party to my house
Class Gift
The Class of 2016 Diversity Fellowship Excellence Fund will ensure that our legacy is marked by helping to reduce the financial burden of graduate school for students who have shown a dedication and commitment to inclusivity and accessibility. To make your gift, click on the following link: https://lbj.utexas.edu/classof2016gift.