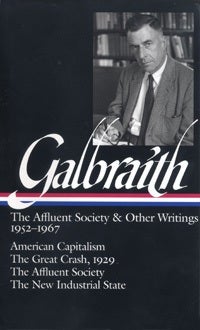 Book
Galbraith: The Affluent Society & Other Writings 1952-1967 The Library of America, 2010
In The Affluent Society & Other Writings, James Galbraith edits the works of John Kenneth Galbraith, the best-known American economist of the twentieth century, and a writer of remarkable style and grace. Galbraith, who forged a brilliantly unconventional career as scholar, intellectual, writer and public servant, is represented here by four of his most important books: American Capitalism: The Concept of Countervailing Power, The Great Crash, 1929, The Affluent Society, and The New Industrial State.
James Galbraith also serves as an editor for the journal Structural Change and Economic Dynamics. The journal publishes articles about theoretical, applied and methodological aspects of structural change in economic systems.
Additionally, Galbraith was elected to to the "Accademia Nazionale dei Lincei," also known as the Lincean Academy, the oldest honorific scientific academy in the world. Although the academy covers all scientific and literary fields, Galbraith is a member of the division for moral, historical and philological sciences, specifically for the social and political sciences.
View this publication:
UT Library (with valid EID and password)