Student Organization Promotes Diversity by Recruiting Under-Represented Groups to the LBJ School Community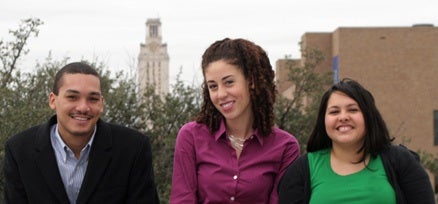 AUSTIN, Texas-- Dec. 10, 2009-- The Public Affairs Alliance for Communities of Color (PAACC) is a student organization that is dedicated to promoting diversity and enriching the LBJ School community by recruiting underrepresented groups, acting as a support group for first-generation students and by bringing in quality, high-profile guests for special speaking engagements.
Edmund Gordon, a Latin American Studies and Master of Public Affairs (MPAff) dual degree student and one of three PAACC co-chairs, says PAACC's mission is "to promote awareness and understanding of policy issues affecting communities of color by initiating dialogue, activities, and programs within the LBJ School community. Through these efforts, PAACC strives to contribute to the education of future policymakers."
Jenaya McGowan, a second-year Master of Global Policy Studies (MGPS) student and PAACC co-chair, says she was recruited to the LBJ School by PAACC members and believes that PAACC offers an important support system to underrepresented students who may feel alienated from the norms and mores of higher education.
"PAACC is a pivotal force in recruiting underrepresented students, thus contributing to a diverse classroom environment representing students of a variety of backgrounds, socio-economic classes, religions, political ideologies and experience," said McGowan. "While we are called Public Affairs Alliance for Communities of Color, that means all colors. PAACC welcomes all who wish to participate in our programming."
In order to fulfill this mission of attracting prospective students to the LBJ School, PAACC collaborates with the LBJ School's Office of Student and Alumni Programs (OSAP).
"This is done by scheduling recruitment efforts during 'Come to Texas,'—the University of Texas Graduate School initiative to bring prospective graduate students of color to UT to see the campus, by reaching out to admitted students via phone and email to answer their questions about UT and LBJ, hosting these prospective students in our homes, having prospective students shadow us in our classes and join us at PAACC meetings, and throwing special events and happy hours for these students," said McGowan.
According to Steve Alvarez, a graduate coordinator with the Office of Student and Alumni Programs, PAACC brings the LBJ School together as a community while promoting diversity.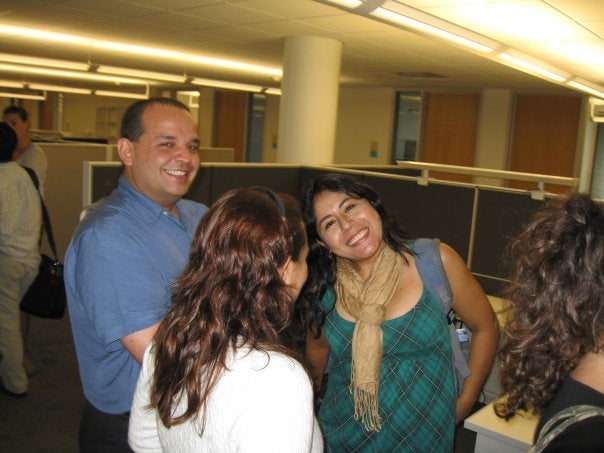 "Historically, PAACC has been one of the most active student organizations at the LBJ School. The group has been instrumental in putting on many events at the school that bring value and benefit to the whole LBJ community," said Alvarez. "In addition, they always partner up with OSAP and assist us with our recruiting efforts. They play an active role in recruiting first generation or under-represented students to the school by attending recruiting functions on behalf of the school, mentoring undergraduate students through the Inman Scholars Summer Leadership Program or by calling admitted students. Overall, PAACC and its members are committed to celebrating the diversity that enriches our lives every day and to making the LBJ School a great place for everyone. Their commitment and dedication to the this effort always promises that any events that they put on are top notch and very well done."
Angela Mora, a second-year MPAff student and PAACC co-chair, says that PAACC's involvement in the Come to Texas event was instrumental in her decision to attend the LBJ School.
"As a first generation college student looking to complete my masters here at LBJ, I was unsure about how the program would welcome the diversity that I bring—I am both a republican and a Latina," said Mora. "I attended the 'Come to Texas' event, received a phone call from PAACC members, and was greeted by friendly PAACC members during the Open House. PAACC is the reason I came to LBJ. It's the reason why I continue to feel that diverse students within the program have a voice. And it's where I hope future LBJ students will feel that they are welcome regardless of their skin color."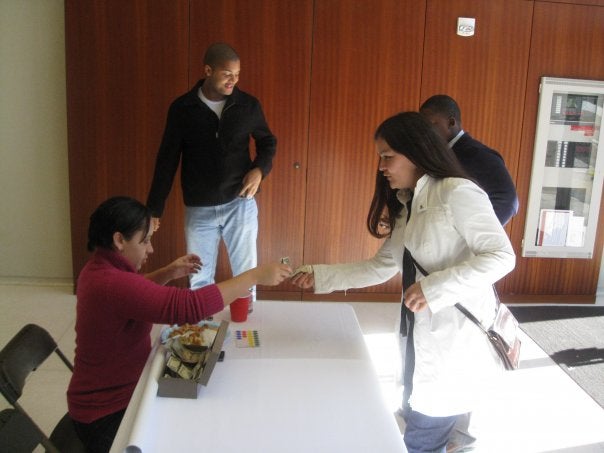 In addition to events designed specifically for student recruitment, PAACC also strives to host events that highlight diversity in the LBJ School community like the annual United Nations of Food, a potluck luncheon event where students, faculty and staff contribute dishes that reflect their cultural or ethnic heritage.
"The mission of the United Nations of Food is to celebrate the LBJ School's rich cultural heritage through fellowship and food," said Desiree Ledet, second-year MPAff student and PAACC treasurer. "The event provides the school with a unique opportunity to escape the everyday monotony of homework, group projects, and memos and to spend quality time together."
Proceeds from the event will be used to start a new tradition to commence in the spring known as the "Spirit of Barbara Jordan Awards." The event will honor students, faculty, and staff that embody the spirit of Barbara Jordan through leadership and service during the academic school year.
In addition to the United Nations of Food, PAACC spear-heads a diverse array of other events that range from attracting high-profile policymakers and practitioners to assisting undergraduates with thinking of applying for graduate school.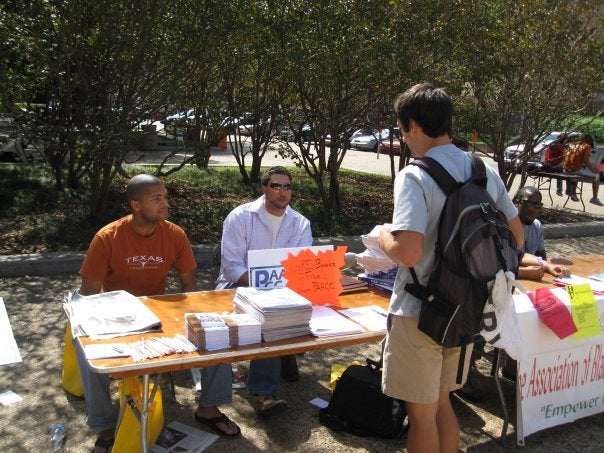 "PAACC participated in Campus Fusion, a week-long program sponsored by UT's Division of Diversity and Community Engagement," said McGowan. "PAACC has a table at the Campus Fusion kick-off rally where we handed out approximately 80 free GRE preparation study books and software Educational Testing Services."
PAACC also donated books and software to the Multicultural Information Center at the University of Texas at Austin to check out to students studying from exams. In addition, PAACC, in conjunction with OSAP, hosted two GRE preparation workshops with Kaplan testing services.
"These workshops included breakfast, lunch, a welcome and informational session from Dr. Pat Wong explaining graduate school, and in particular, the benefits of the LBJ School, and finally, a 6-hour workshop with a Kaplan instructor on how to succeed on the GRE with free Kaplan study books given to participating students," said McGowan.
In total, PAACC served approximately 80 prospective graduate students, a majority of which identified themselves as ethnic minorities or first-generation college students, or low-income students, said McGowan.
Other events that PAACC have spearheaded include the Barbara Jordan Brown Bag series that they organized in collaboration with the Graduate Public Affairs Council at the LBJ School to bring policymakers and practitioners to speak to the student body about their experiences.
"I sometimes think that PAACC should be renamed to something less about "color" and more about diversity, because that's what we truly are: a group of individuals committed to increasing diversity and divergence of opinion and experience here at LBJ," said Mora. "The fact that PAACC promotes cultural awareness and encourages the presence of ethnic, geographic, and political minorities among our student body makes LBJ a better place to study."