LBJ School Welcomes 2009 Incoming Students
Weeklong Orientation Culminates with 'Gone to Texas' Celebration
AUSTIN, Texas-- Aug. 20, 2009-- LBJ School of Public Affairs orientation week, organized by the Office of Student and Alumni Programs (OSAP), included a number of activities ranging from information sessions on academic and research opportunities for students to many social events scheduled by the student body. The week opened with a faculty mixer, followed by the convocation led by LBJ School Professor and Associate Dean Robert H. Wilson, which included presentations by Graduate Advisors Ken Matwiczak (MPAff), Eugene Gholz (MGPS), Peter Ward (PhD) and Graduate Program Coordinator Steve Alvarez. The week's activities concluded with a Dialogue on Diversity followed by welcoming remarks from Interim Dean Admiral Bobby R. Inman, USN (Ret.). The evening culminated with a welcome dinner and "Gone to Texas," a campus-wide new student welcome at the University of Texas at Austin's Main Mall.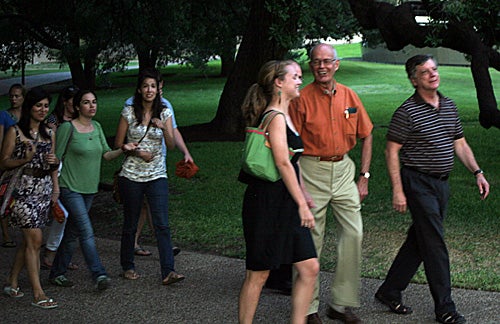 Orientation week is designed for students, introducing them to the faculty who will teach and lead them for the next two years, to their peers, and to the range of possibilities created by their new experiences. Admiral Inman reinforced in his welcome the School's commitment to students and preparing them to take on leadership roles after graduation. Alluding to the current renovation underway of the LBJ School's Sid Richardson Hall, Admiral Inman recalled how the original 18 students of the first class at the LBJ School entered into an incomplete Sid Richardson Hall as well, and how those original 18 students grew to what numbers over 3,000 graduates.
Katie Dochen, a first-year MPAff and Business dual degree student, is originally from Austin but is glad to be back after getting her undergraduate degree from Tulane University. Dochan attended Camp LBJ in the weeks before orientation. Camp LBJ is a summer transition program for all entering students that seeks to acquaint students with the LBJ community, introduce students to graduate school life, provide perspectives on the policy profession and global issues, and convey a rigorous conceptual framework for analytic thinking.
"I took William Spellman's math class at Camp LBJ," said Dochen. "I am glad because I am way more comfortable with the math. It was great to learn from a city council member. Every day he would come straight from the floor of the city council and into the classroom. He took math that I thought was basically theoretical and showed us how it related to real policy issues."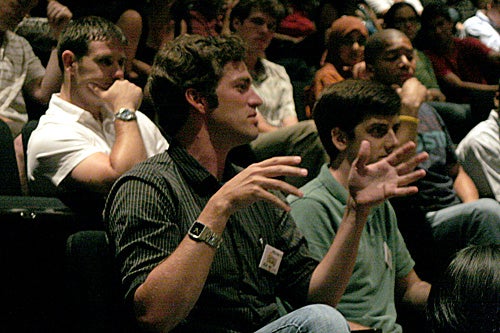 Throughout orientation week, students were given the opportunity to sit in on information sessions on the available policy research projects (PRPs) in order to make an informed decision about which PRP they might like to join. The PRP is a year-long project that every LBJ School student is required to participate in where students work in teams with clients to solve or address real issues.
Claudia Rossel, a first-year MPAff student, just moved to Austin from the Washington D.C. Metro area where she attended the University of Maryland as an undergraduate. Rossel has worked in the health policy research field but would like to expand her policy interests. According to Rossel, she is excited about the PRPs.
"The PRP sounds like a really interesting experience," said Rossel. "The opportunity to be published and to work with different companies and organizations, to have professors walk you through the different policy areas, is really unique."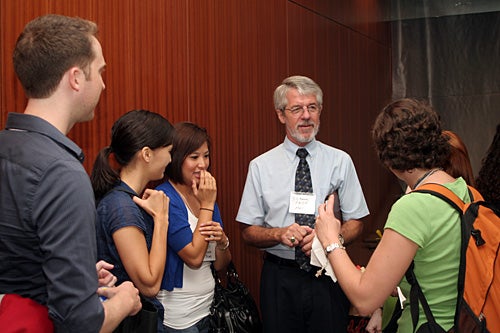 According to Graduate Advisor Ken Matwiczak the PRP program is exclusive to the LBJ School.
" The PRP at the LBJ School is unique compared to other public affairs and public administration programs," said Matwiczak. "It is the only program, as far as I know, that requires a year-long project. Most other programs have a one-semester capstone project usually in the student's last semester."
According to Matwiczak, the PRP program provides dual benefits to the students— the opportunity to work with real clients solving or addressing real issues, another aspect of the PRP unique to the LBJ School, and the opportunity to learn about teamwork.
"The team aspect is very important," said Matwiczak. "It's not just about research, but students get to learn about team development, team leadership, teamwork. It is a double-edged sword that allows students to experience the practical application of the research with project work in the real world in a safe environment."
According to Matwiczak, the topics and structure of the PRPs are unique to each instructor.
"In my PRPs, I organize the year into three sections, a learning and planning phase, a data collection phase, and a reporting phase," said Matwiczak. "I pick two students to be project leaders for each phase. We have weekly 'board meetings," where I provide guidance and direction. When we get to class, I provide five minutes of administration but after that the students run the class like a project meeting.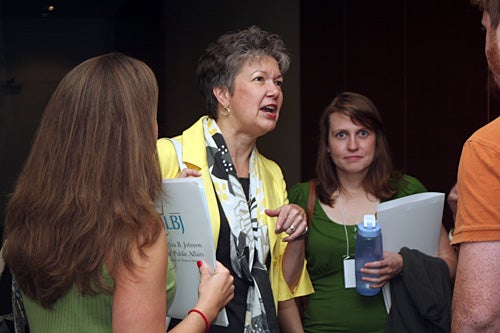 "I find that the independence empowers the students. I find that if they feel empowered then they take ownership of the project. It becomes their project, not mine. I find that generates better results."
In addition, faculty members from all of the research centers affiliated with the LBJ School gave a presentation explaining the policy interests and research projects of each center and educating the students about how they can become involved in the centers, either through a position as a graduate research assistant, through various internship programs, or by attending the events and guest speakers the centers host throughout the school year.
Wayne Gerami, a first-year MPAff student, previously worked for Americorp with Habitat for Humanity, and says he is excited about the opportunity to work with the RGK Center for Philanthropy and Community Service and hopes to specialize in the non-profit management portfolio sequence offered through the RGK Center.
"Coming from a non-profit background, I am excited about the opportunity to work with the RGK Center," said Gerami. "I think the information session on the centers was helpful. I already knew about the RGK Center and have worked with them before but I think that many students would not have realized the resources available to them through the centers without the information session."
Blake Messer, a first-year MGPS student who graduated with a degree in economics from the University of Texas at Austin, was also inspired by the information session with the centers.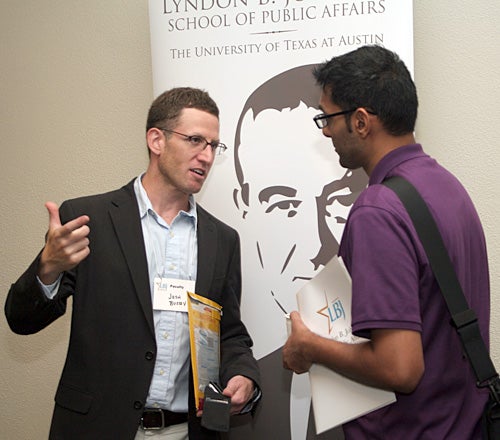 Orientation week is also a time for second-year students to introduce the new students to the greater Austin community through organized social events.
Laura Dooley, a second-year MPAff student, says that the social events surrounding orientation provide a great opportunity for the new and returning students to get to know one another and to introduce new students to the "staples of Austin."
"Some of the places we have taken students have been the Shiner Brewery and Black's Barbeque, President Lyndon B. Johnson's favorite barbeque restaurant," said Dooley. "We've also taken them to the Broken Spoke for dancing, karaoke at Common Interest, and Peter Pan Mini Golf."
According to Dooley, the student-run social events during orientation week give students the opportunity to learn about their new community and for returning students to catch up on summer internship experiences.
"These organized events give us all an opportunity to talk about classes, Austin, to learn about the new students and to catch up with our friends from last year," said Dooley. "LBJ is a really small, close-knit community."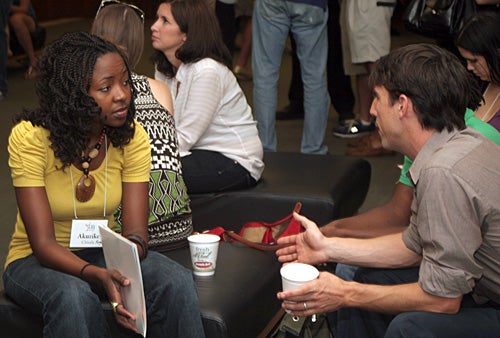 Molly Ewing, a second-year MPAff student and Student Life Officer for the Graduate Public Affairs Council (GPAC), was also on-hand to tell new students how they can get involved in the LBJ School community outside of the classroom.
"GPAC is a great way for students to get involved in all aspects of the LBJ community," said Ewing. "We cover academic issues, the social aspects, and alumni issues. We offer social events like the LBJ School prom but we also focus on health living, like providing breakfast before finals, working in community gardens, we even have a student who is a yoga teacher who might lead some yoga classes this year."