Broadcast Journalist Dan Rather Meets with Students; Interviews LBJ School Professor Michele Deitch for Dan Rather Reports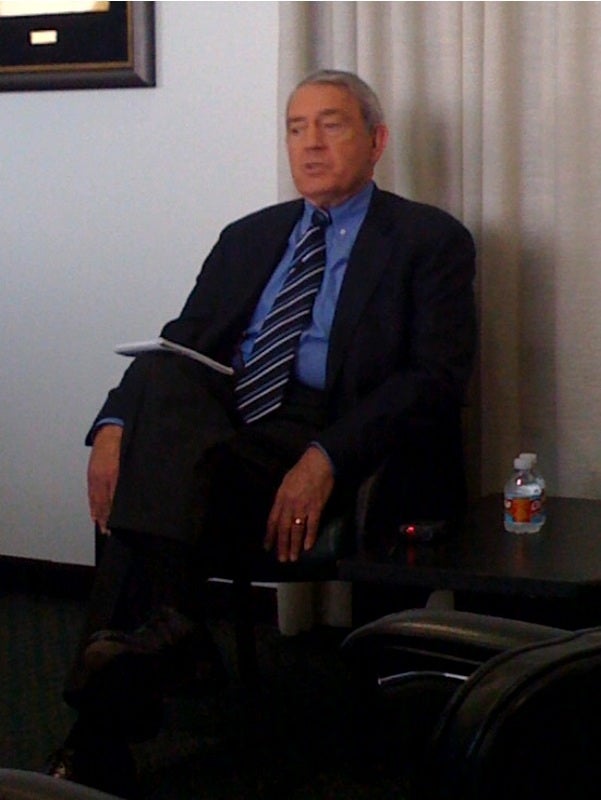 AUSTIN, Texas-- April 20, 2009-- Distinguished broadcast journalist Dan Rather met with LBJ School students on April 20 for an informal question and answer session, followed by an hour-long interview with LBJ School Professor Michele Deitch for an in-depth story dealing with the private prison industry and immigrant detention for Dan Rather Reports on HDNet.
During the the exchange with students, Rather spoke about various topics generated by questions taken from the audience, including the changing dynamics between the press and politicians, the impact of the Internet on journalism, his experiences as a reporter during the Vietnam War and personal anecdotes from his time as a White House correspondent.
After his talk with the students, Ellen Satterwhite, president of the Graduate Public Affairs Council (GPAC), presented Rather with a thank you gift from the LBJ School student body.
"It is such an honor to have one of the great guardians of the American public trust sitting in our student lounge, willing to answer questions and give us candid opinions about the world around him," said Satterwhite. "He was direct, incisive and sincere. We felt as though one of Texas' favorite sons deserved a gift to remember us by. We gave him a pint glass and a coffee mug-- we thought he might use both depending on what type of day it's been."
The interview with Professor Deitch for Dan Rather Reports took place in the Brown Room of the Lyndon Baines Johnson Library and Museum.
For more information about Dan Rather, visit http://www.hd.net/bio_rather.html