LBJ School's James K. Galbraith Talks on the Roots of the Financial Crisis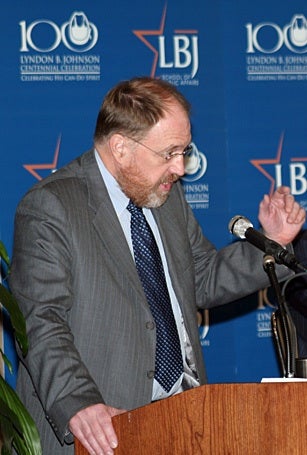 AUSTIN, Texas-- Jan. 13, 2009-- The College of Communication Senior Fellows honors program and the LBJ School will present LBJ Professor James K. Galbraith for a discussion on the origins of the financial cirisis and the most effective ways that citizens can advocate for sensible responses from political leaders and business titled "The Financial Crisis and the Road Ahead" January 28, 2009, in the Thompson Conference Center Auditorium from 7:00 p.m. to 9:00 p.m.
Galbraith holds the Lloyd M. Bentsen, Jr. Chair in Government/Business Relations at LBJ School of Public Affairs, where he teaches economics and a variety of other subjects. In addition to his academic work, Galbraith served in several positions on the staff of the U.S. Congress, including Executive Director of the Joint Economic Committee. He directs the University of Texas Inequality Project, an informal research group based at the LBJ School.
Galbraith's latest book, The Predator State: How Conservatives Abandoned the Free Market and Why Liberals Should Too, published in 2008, was recently named one of USA Today's Best Business Books of 2008. He also is the author of Balancing Acts: Technology, Finance and the American Future (1989) and Created Unequal: The Crisis in American Pay (1998), and he has co-authored two textbooks, The Economic Problem with the late Robert L. Heilbroner and Macroeconomics with William Darity, Jr.
Galbraith is a Senior Scholar of the Levy Economics Institute and Chair of the Board of Economists for eace and Security. He writes the "Econoclast" column for Mother Jones magazine, and occasional commentary in many other publications, including The Texas Observer, The American Prospect, and The Nation. He also is a commentator for Public Radio International's Marketplace.
For more information on James K. Galbraith, visit http://lbj.utexas.edu/faculty/james-galbraith/
For more information, contact Robert Jensen at (512) 471-1990 or rjensen@uts.cc.utexas.edu.
For more information on this event, visit http://www.utexas.edu/oncampus/calendar/politics/20090128/e6393