Ambassador Greg Engle Blends Diplomacy and Music in New Album 'Take it Personally'
AUSTIN, Texas-- March 11, 2010--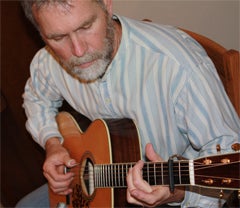 Ambassador Gregory Engle's experience as a world-traveling scholar and as career member of the Foreign Services living places like Pakistan, Germany, Ethiopia, Cyprus, and South Africa may seem like a great recipe for a respected diplomat, but these experiences are also the backbones of a career as a passionate singer-songwriter.
Engle's roles as Associate Director of the Robert S. Strauss Center for International Security and Law, adjunct professor at the LBJ School of Public Affairs, and former Diplomat-in-Residence from 2006-2007 have led him to a new location, a recording studio.
Engle wrote several songs in his 20's, but his travels and lack of technical knowledge slowed down his musical process. This process would be accelerated thanks to his move to Austin, Texas, where he found producer Stephen Doster. With all the pieces in place, Engle was able to make his debut album "Take It Personally," which has ten songs inspired by his wife whom he married at 19, his time in Africa, and his outlook on the human spirit.
"My diplomatic career provided me a lot of exciting and unique experiences that inevitably found their way into my songs," Engle said.
Four of the songs on the album are about Africa. The first track is titled "Nelson," and was written after Engle had several personal experiences with the former president of South Africa.
"When I was Consul General in Johannesburg, South Africa, I got to see Nelson Mandela speak on several occasions, and sat at the head table with him when the City of Johannesburg gave him a farewell lunch, as he was leaving the presidency," said Engle "This inspired the first song on the album. I've sent a copy of the album to President Mandela through one of his daughters, whom I knew when I was in Johannesburg, and I'd be thrilled to learn that he'd received it."
The authenticity of Engle's lyrics comes from rich life experiences. The genuine feel of his music is demonstrated on the 5th track in the album, "Market Day, Africa."
"It's about the large, lively outdoor market that literally surrounded our embassy in Lome, Togo," Engle said. "I was one of the few people at the embassy who relished inching through the market to get to work, because it was always a colorful reminder of where I was, as well as the eternal grit and optimism of the Africans."
According to Engle, he hasn't forgotten the places where he once served as U.S. Ambassador and still finds a way to help those places abroad. Engle is giving all of his proceeds from downloads of his song "Nelson" and three dollars from the downloading of the album, to the Nelson Mandela Children's Fund. Additionally, Engle put together a video tribute to a Glimmer of Hope, a charity that supports community self-help projects in Ethiopia in education, water&sanitation, health care, income creation, micro-irrigation, micro-finance and the construction of veterinary clinics. The video is set Engle's song "A Simple Prayer."
Visit www.englemusic.com for more information and to download Engle's music.
"The website is also somewhat unique among musicians' websites in having a 'Giving Back' page," Engle said. "This page cites some of the organizations I'm involved with that are trying hard to make the world a better place."