Former President of Ireland Mary Robinson to Open Seventh Annual Hatton W. Sumners Student Leadership Conference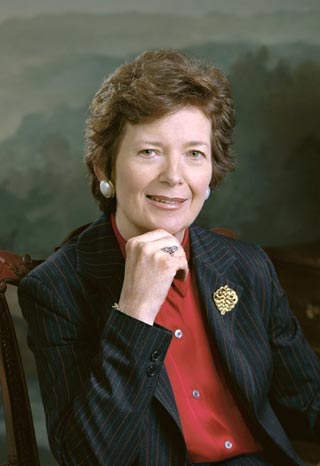 AUSTIN, Texas-- Feb. 24, 2010-- The LBJ School's Center for Ethical Leadership is pleased to announce that the former President of Ireland and former United Nations High Commissioner for Human Rights, Mary Robinson, will be the opening speaker for the seventh annual Hatton W. Sumners Student Leadership Conference. President Robinson will speak on Thursday, February 25 at 7:00 in the LBJ Auditorium. The speech by President Robinson is also jointly sponsored by the Distinguished Speakers Committee of the Texas Union and will be open to ticket holders from across the University of Texas at Austin campus.
The Center for Ethical Leadership has an allotment of special tickets that guarantee admission. These tickets will be available in the dean's office, 3.384 on the third floor of Sid Richardson Hall Unit III beginning February 23 on a first come, first served basis.
Students, faculty and staff members of the LBJ School also are invited to attend the other speaker sessions during the Hatton W. Sumners Student Leadership Conference which will continue on February 26 and 27 in the Thompson Conference Center. No ticket is required for these events.
Information about the other speakers and the conference schedule can be found at the following URL: http://lbj.utexas.edu/research/leadership/slc2010/
Hatton W. Sumners Student Leadership Conference is a critical part of the Center for Ethical Leadership's educational mission to develop leaders for tomorrow. The Conference brings together educators and students into association with leaders from many settings who can share their experiences and insights.The purpose of the conference is to develop the leadership potential of current students in higher education.
The heart and soul of the conference is the role of team and workshop leader. Several LBJ graduate students have been training since mid-January for this critical role. This year 177 undergraduate students have registered for the conference. They represent 15 colleges and universities in Texas and 15 colleges and universities in other states from California to Massachusetts. In addition, 20 students are attending from seven university campuses in Mexico.

For more information, visit: http://lbj.utexas.edu/research/leadership/slc2010/