Leading Civil Rights Scholar Lani Guinier Calls for a Renewal of Civil Rights-Era Leadership in Barbara Jordan Forum Keynote Address
As the highlight of the 18th Annual Barbara Jordan Forum, leading civil rights attorney and scholar Lani Guinier addressed current students, alumni and community members as part of the LBJ School's "50 for 50" initiative, a series of events commemorating the 50th anniversary of President Lyndon Johnson's signing of the Civil Rights Act.
In her talk, Guinier, the first African-American female tenured professor at Harvard Law School, called for a new movement of "leading from behind" that harkens back to the method of leadership used by the civil rights movement to win legislative victories in the mid-1960s.
She spoke of President Lyndon Johnson's support of the civil rights movement but noted that he was hesitant to push a voting rights bill through Congress so soon after signing the Civil Rights Act of 1964. According to Guinier, the leaders of the civil rights movement were able to win support for the Voting Rights Act of 1965 through a series of tactical decisions.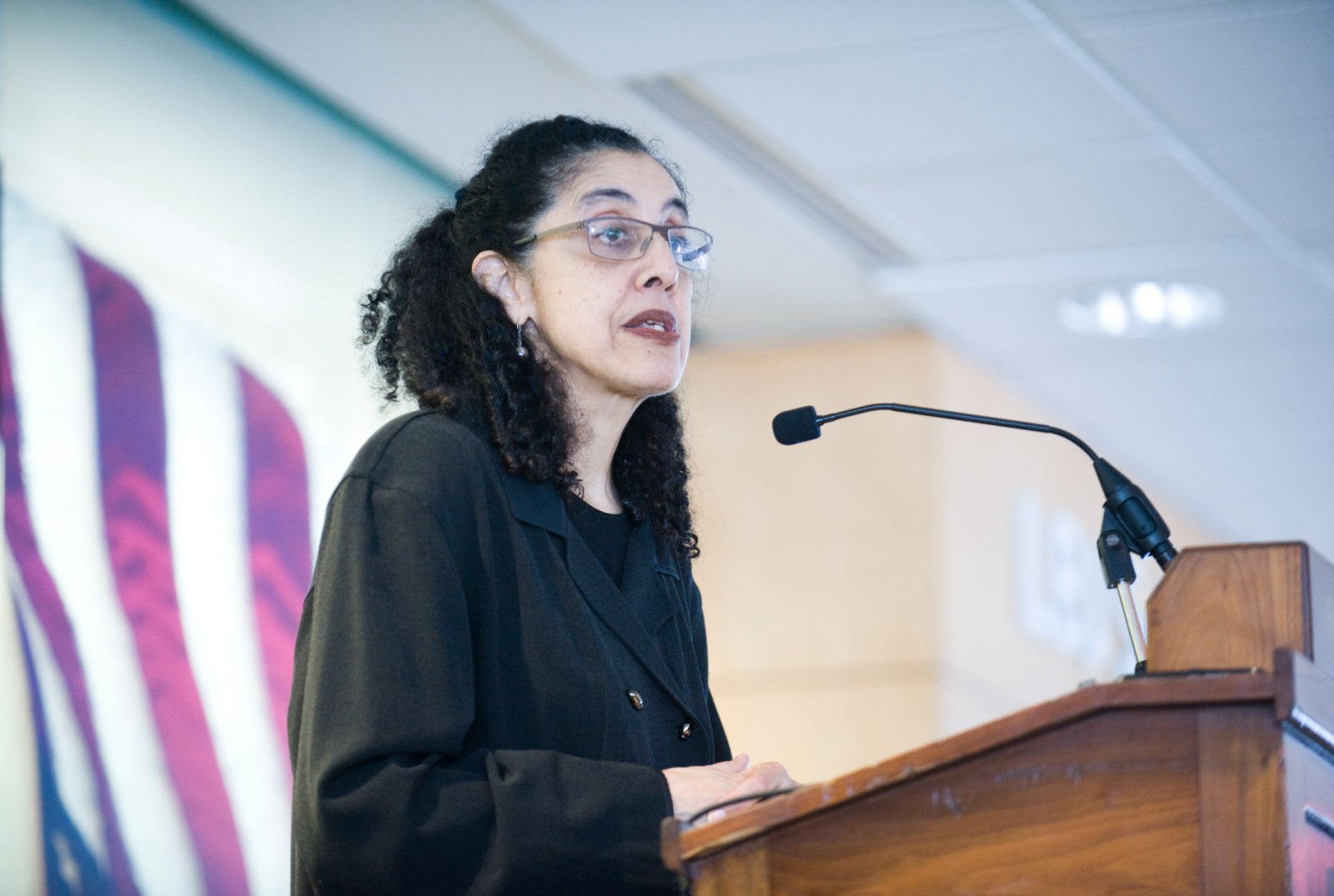 "Here is where the issue of leading from behind becomes really important," said Guinier. "Nelson Mandela said you really need to think about leadership the way a shepherd leads his flock. The shepherd does not stand in front of the flock and say come follow me. The shepherd identifies one or two sheep who are moving in the right direction and corrals the rest of the flock to follow the leader."
According to Guinier, Martin Luther King, Jr.'s embrace of young activists marching from Selma to Montgomery, Alabama to promote voting rights was a strong example of leading from behind. Public perception began to change on March 7, 1965 when Alabama state troopers attacked the 600 peaceful marchers on live television.
"That march caught the attention of the American people," said Guinier. "After saying in 1964 that it was too soon for a voting rights act, Johnson went to a joint session of Congress, spoke to members of Congress and ended his speech with 'we shall overcome.' He had adopted the movement's rhetoric and apparently when King was watching this on television the tears started to run down his face to hear the president of the United States embracing the language of the civil rights movement."
However, according to Guinier, the climate in America has changed with the advent of a new Supreme Court, which struck down part of the Voting Rights Act in 2013.
"I am telling this story because I think the fact that both LBJ and MLK were able to work together to get something like this done in 1965 means that we need to think about comparable kinds of connections of leadership," said Guinier.
The annual Barbara Jordan Forum is a weeklong series of events designed to highlight Jordan's lifetime of significant contributions to society as a politician, policymaker, activist and educator. Jordan joined the LBJ School in 1979 as a faculty member and remained a beloved teacher and mentor until her death in 1996. That same year, students created the forum in her honor.
The 2014 Barbara Jordan Forum is part of many events planned that will explore the critical civil rights issues of our time, helping prepare the next "get it done" generation to take on leadership roles in public service. For more information on additional 50th anniversary events, visit the LBJ School's "50 for 50" initiative page at utexas.edu/lbj/fifty.
---