Peter Ward Honored with Advising Excellence Award by The University of Texas at Austin Graduate School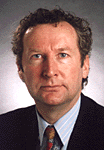 AUSTIN, Texas-- March 2, 2011-- LBJ School Professor and Ph.D. Adviser Peter Ward has been named the Outstanding Graduate Adviser by the Graduate School at The University of Texas at Austin.
Vice Provost and Dean of Graduate Studies, Victoria Rodríguez will present the awards at a banquet co-sponsored by the University Co-op on May 18, 2011.
As a graduate adviser, Ward has created a strong sense of community among doctoral students while acting as champion for resources and opportunities for them. He has taken an interest in the goals and progress of each student and has been instrumental in revitalizing the doctoral program at the LBJ School.
"Students need faculty members who stand with them and help them navigate their course work, independent research and the job market. The graduate adviser plays the most crucial role, and Peter Ward plays it extraordinarily well," said Robert Hutchings, dean of the LBJ School of Public Affairs.
The hallmarks of excellent graduate teaching go beyond classroom teaching to include mentoring students, supervising research and writing projects and preparing students for future careers.
For the full article and list of recipients, visit The University of Texas at Austin Graduate School website at http://www.utexas.edu/ogs/awards/news/pr_030111.html