Leading the Charge for Student Success: LBJ School Alumna Luz Hinojosa Assists Migrant Students Through UT's Division of Continuing and Innovative Education
By Wayne Wenske, Continuing and Innovative Education for UT's KNOW
Luz Hinojosa has spent most of her life on the migrant trail.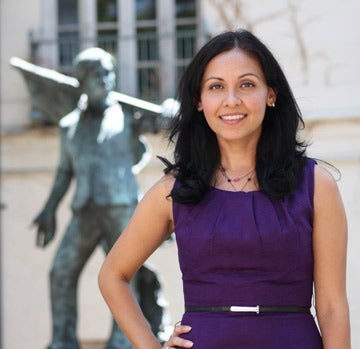 From the time she was born until her junior year in college, she traveled each spring to California's San Joaquin Valley with her family from their home in Mission, Texas, to clean cotton and pick grapes.
Despite her constant mobility, Hinojosa was able to maintain her studies and graduate at the top of her high school class. She went on to graduate from St. Edward's University with a double major in English Writing and Political Science. In 2010, she earned her master's degree in public policy from the Lyndon B. Johnson School of Public Affairs.

Hinojosa gives back to the migrant community through her work at the K-16 Education Center's Migrant Student Graduation Enhancement Program, a division of Continuing and Innovative Education (CIE) at the university.

CIE: What made you want to work for CIE's Migrant Student Program?
Hinojosa: I wanted to help migrant students stay in school and succeed. When I was in college, I was involved with helping migrant freshmen as they entered college. Before I graduated, I heard about the Migrant Student Program at UT. I found the program's Web site and read about it. When I graduated college in December of 2003, I applied to work for CIE and I started work here in February of 2004. Not a day goes by that I do not appreciate the work that I do and the people who I work for.