LBJ School Faculty Member and Teaching Assistant Receive 2011 Texas Exes Teaching Awards
AUSTIN, Texas-- February 14, 2011-- LBJ School of Public Affairs Associate Professor Pat Wong and Beibei Zou, Ph.D. student and teaching assistant, are both recipients of 2011 Texas Exes Teaching Awards. The Texas Exes Teaching Award is given to professors and instructors who have had a positive influence on the educational experience of their students.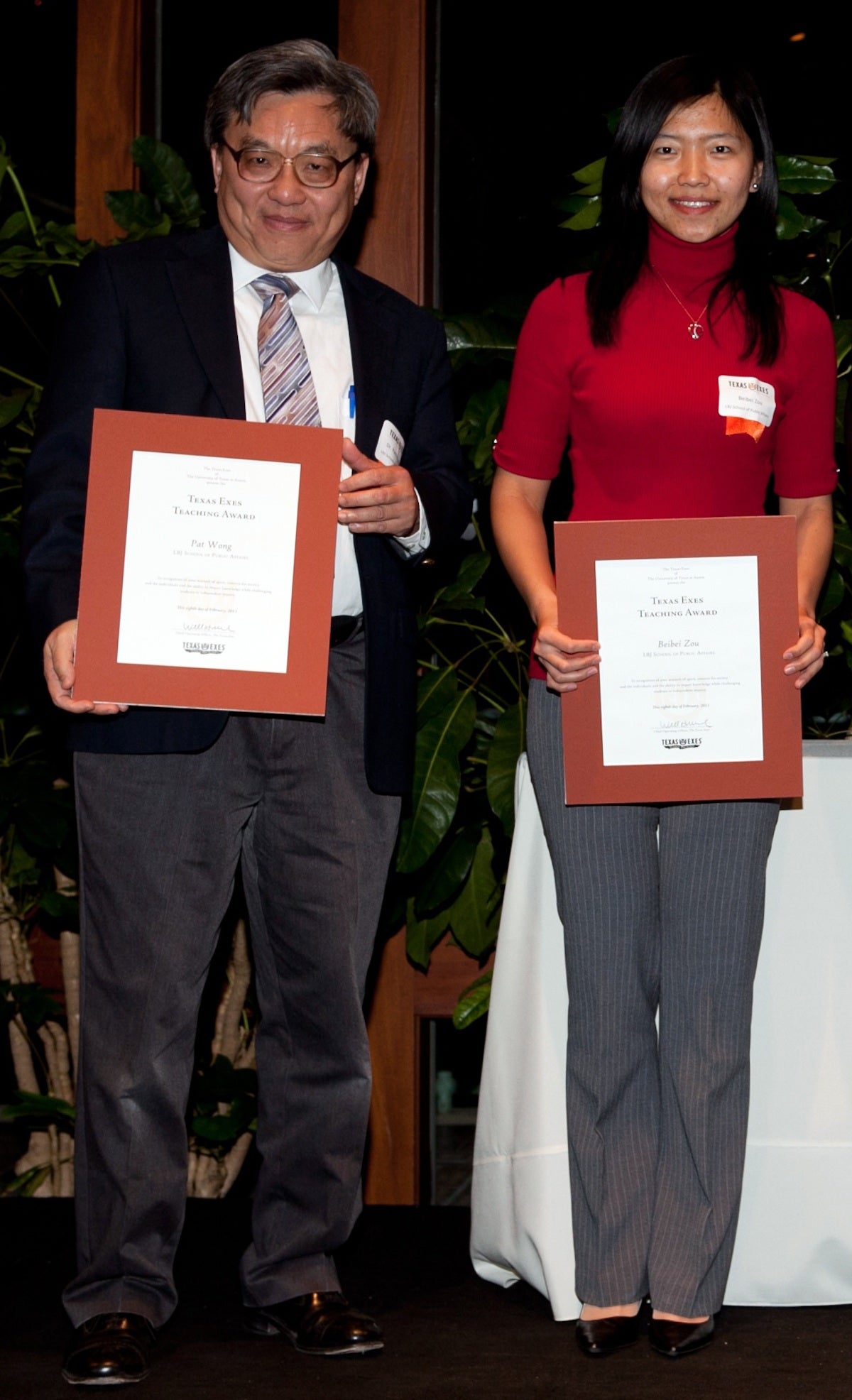 The award recipients are nominated and chosen by students in their teaching areas. In a nomination letter, one student said that Pat Wong "teaches each class with an impossibly high energy level. Pat doesn't give up explaining something if you don't understand -- he approaches questions from different angles until his students see what he is getting at... He has single-handedly made my LBJ experience amazing and has looked out for me both as his student and a human in need of some guidance... He wants everyone to succeed and puts in as much effort to your success as you put into your own. Pat does not just put information out there to be digested; he watched you eat it, mull over its taste, and understand what it's all about."
Pat Wong holds a Ph.D. in social welfare from the University of Wisconsin, Madison. His primary areas of interest are social policy, family and child welfare, poverty issues, housing, and community development. Publications and government reports by Wong are in the areas of child support and welfare reform, Medicaid managed care, and coordination of social services. He currently co-chairs a planning process dealing with homelessness at the City of Austin. He also serves as a board member on Texans Care for Children.
According to one student nomination letter, Beibei Zou "goes well beyond what she has to to be a TA. She has genuine care and concern for her students, giving up a portion of her weekends every week to help us... She goes above and beyond in and out of the classroom."
Zou, an international student from China, studies insurance regulation, risk management and public finance.
The Texas Exes have honored a faculty member and graduate instructor in each school and college each year since 1982. After accepting nominations from all UT Austin students, a committee from each school selects the award recipients.