John O'Brien Wins 2011 Distinguished Public Service Award
John O'Brien Named Recipient of the 2011 LBJ School Alumni Association Distinguished Public Service Award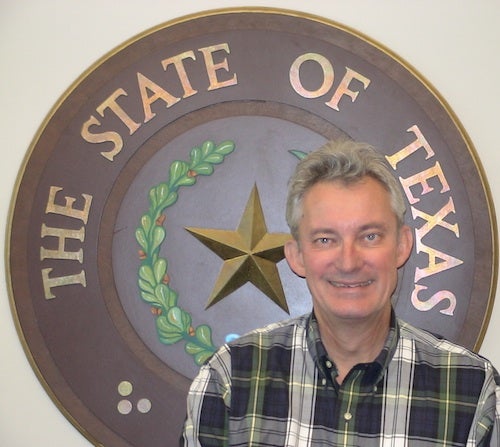 Lyndon B. Johnson School of Public Affairs alumni working at the Texas Legislative Budget Board (LBB) do not have to look far to find an alumnus who embodied the traits sought for the LBJ School Alumni Association Distinguished Public Service Award (DPSA): public policy contributions, community service engagement, demonstrated leadership and commitment to promotion of the LBJ School. LBB director John O'Brien (MPAff '81) meets and exceeds each requirement with ease.

Mr. O'Brien's 2011 nomination packet, submitted by LBB colleagues Jennifer Fox (MPAff '01) and Emily Sentilles (MPAff '08), boasts a record number 27 co-signatures of fellow LBJ School alumni who are current and former LBB employees. It includes glowing letters of support from Texas Lt. Gov. David Dewhurst, former Speaker of the Texas House of Representatives Tom Craddick and Texas State Auditor and former LBB Director John Keel, all of whom praise Mr. O'Brien for his "integrity and professionalism" in leading the work of the agency, which is central to the state's legislative process. 


A native of Grand Rapids, Mich., Mr. O'Brien arrived in Austin in the fall of 1979 to attend the LBJ School. Upon graduation, he began his public service career with the City of Austin, where he worked for seven years prior to joining the LBB in 1989. As director he is responsible for day-to-day management and oversight of the agency, including preparation of budget and policy recommendations and analysis of the fiscal impact of proposed legislation. He has served as liaison to the House Appropriations Committee and the Senate Finance Committee.

Mr. O'Brien is an active member of the National Conference of State Legislatures (NCSL) and previously served as the president of the NCSL's National Association of Legislative Fiscal Officers. He received the Texas State Agency Business Administrators' Association Administrator of the Year Award in 2005, a true indication of "the high regard in which he is held by his colleagues in Texas state government."

With his retirement from state service in April 2012 approaching, Mr. O'Brien may revisit his long-time passion and return to the stage to resume acting roles—when he's not hosting a policy meal for students or busy as a guest speaker in an LBJ School classroom, that is.

The LBJ School DPSA was established in 1989 and is presented annually to an LBJ School graduate whose career and public service record best represents the values on which the School was founded. The 2011 DPSA Selection Committee was composed of Leigh Boske, LBJ School Professor; Courtney Brown (MPAff '83), 2010 recipient of the DPSA; Beth Casey (MPAff '10), board member of the Washington, D.C. Alumni Chapter; Karen Livingston (MPAff '02), former president of the National Alumni Association; Ginger Lowry (MPAff '85), president of the Austin Alumni Chapter and Stephen Niemeyer (MPAff '92), chair of the 2011 DPSA Selection Committee.

Mr. O'Brien will be presented with the Distinguished Public Service Award at a ceremony on Friday, April 20, 2012 at the LBJ School in conjunction with the annual alumni reunion weekend.