Jacqui Angel Receives $680,000 Grant from National Institute of Health to Research Long-Term Care in Older Mexican-American Families
AUSTIN, Texas-- March 3, 2011-- For more than 20 years, Jacqui Angel has been a woman on a mission to explore the reasons why Hispanic and Mexican-origin communities experience such disparities in their access to healthcare and long-term care and educate the public on ways to ease this disparity.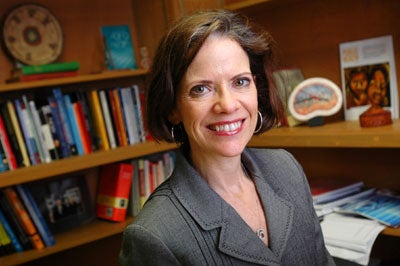 Recently, she received more than $680,000 from the National Institute of Health's (NIH) National Center for Minority and Health Disparity. As Principal Investigator, Dr. Angel will lead a team of researchers from The University of Texas at Austin's Population Research Center, University of California, Los Angeles, and Florida State University to study the risk of long-term care in older Mexican-American families.
"The grant is the first look at the extent to which immigration-related factors and economic resources affect options and living arrangements for older Mexican Americans as they age into the third stage of their lives and their potential repercussions for families in later life," said Angel.
Angel has been investigating the health and wellbeing of the Mexican American population since she published her dissertation on the effect of changes in health on alternatives in care and living arrangements for older adults in 1989.
As a sociologist with postdoctoral training in demography of aging and health, she has been examining the changing role of the family in the health and well being of older Hispanics in the United States. Over the past 20 years, she has worked on several NIA projects addressing the complex ways in which social factors affect health transitions and subsequent acute and long-term service use.
But recently she has devoted her research to looking at support systems built into the Mexican American community. The chief objective of the investigation is to better understand how the family support system, particularly for aging immigrants, may be enhanced by the selective use of targeted formal assistance that allows states to provide home-based, long-term care to older individuals. Ultimately, the work has implications of how changes in the population structures of the U.S. and Mexico influence the health and welfare of older people. With a particular focus on how Mexican Americans take care of their elderly or disabled family members, Angel aims to make recommendations that could apply to all aging families in the future.
According to Angel, older people of Mexican origin make up one of the fastest-growing segments of the U.S. population and their numbers are expected to increase sevenfold by 2050. This demographics explosion, says Angel, will place serious demands on the long-term care system, from family caregivers to federally sponsored sources of care.
"What is unique about the older Mexican American population is that they are the least likely to use nursing home care," Angel said. "They are most likely to be living with their family, mostly as the head of the household. Given the cultural desire to help one another, historically, it is a critical part of that care giving system."
However, Angel says, Mexican Americans suffer disproportionately from disabling conditions like diabetes that increase their risk of care in a nursing home or assisted living facilities. But due to economic and cultural factors, this population is also the least likely to use a nursing home. Going forward, this model of family care may change as the population grows.
In addition to examining the cultural and economic differences that affect the support systems Mexican Americans choose - or by default – are required to use to take care of their disabled and elderly loved ones, Angel is also exploring the role of nativity and immigration on the decision making process.
"That has been the critical variable I have brought to the project and that is to examine the extent to which time spent in the United States actually affects access to all kinds of resources and reliance on the system for support," said Angel. "We find that our late-life immigrants, those who came to the United States after age 50, are far more reliant on their children."
According to Angel, this will be the first study that looks at Mexican Americans in their eighties, nineties and one-hundreds.
Angel says that this Hispanic paradox, living longer but not necessarily living healthier, poses a question that can help researchers inform care giving for other groups because life expectancies for other minority groups are also on the rise.
"The question is, does this longer life translate into more disability-free days or more days living with disabling conditions that will require attention not only by the individual themselves and family members, but the health care system?" said Angel. "My research has been evolving to try to really solve this puzzle."
Angel and her team of researchers will begin to inform these questions by analyzing 3,952 individuals included in the Hispanic Established Populations for Epidemiologic Study of the Elderly, the largest and most representative survey on the longitudinal health of older Mexican Americans.
"We will evaluate a new empirical model to determine how immigration factors and family resources moderate how changes in functional status induce changes in care and living arrangements among Mexican Americans in the United States," Angel said. "The results will identify key predictors of Mexican American's care and living arrangements, including the use of nursing homes and assisted-living facilities, providing important insights into the social processes that will affect all aging families in the future."
Angel says that eventually she would like to make recommendations to policymakers to reduce disparities in long-term care services provided for all groups.
By Kerri Battles