Between Covers: An Annual Celebration of LBJ School Research
On Nov. 7, 2011, the LBJ School will present "Between Covers: An Annual Celebration of LBJ School Research," honoring faculty and students who have published significant books, articles and policy research project reports over the past year. The event will take place at the Lyndon Baines Johnson Library and Museum 10th floor Brown Room from 5 p.m. to 7 p.m.
Books:
Jacqueline Angel, Handbook of Sociology of Aging (Springer, 2011 with Ronald Angel)
The Handbook of Sociology of Aging is a comprehensive and engaging treatment of the field over the past 30 years. It is an indispensable resource for scholars, policy makers and aging professionals alike. The book contains 45 far-reaching chapters, authored by nearly 80 of the most renowned experts on the most pressing topics related to aging today. With its recurring attention to the social forces that shape human aging, and its social consequences and policy implications, this study will be of interest to everyone who cares about what aging means for individuals, families and societies.
Peter Frumkin, Strategic Management of Charter Schools: Frameworks and Tools for Educational Entrepreneurs (Harvard Education Press, 2011 with Bruno V. Manno, and Nell Edgington)
The Strategic Management of Charter Schools addresses the challenges facing charter schools by mapping out, in straightforward and highly pragmatic terms, a school management framework. Organized around three crucial challenges to charter school leaders—managing mission, managing internal operations, and managing the larger stakeholder environment—the book provides charter school leaders with indispensable tools and insights for achieving educational and organizational success. In its analysis of these managerial challenges, and its helpful and detailed examinations of particular schools, the book offers a clear, credible approach to the efficient and sustainable management of what are still young and experimental educational institutions.
Frank Gavin, Gold, Dollars & Power: The Politics of International Monetary Relation, 1958-1971 (Social Sciences Academic Press, 2011 Chinese Translation)
Social Sciences Academic Press released a Chinese translation of Gavin's 2007 book Gold, Dollars & Power: The Politics of International Monetary Relation, 1958-1971. Exploiting recently declassified documents from both the United States and Europe and employing economic analysis and international relations theory, Francis Gavin offers a compelling reassessment of the Bretton Woods system of fixed exchange rates and dollar-gold convertibility.
Michael Granof, Core Concepts of Government and Not-For-Profit Accounting (John Wiley & Sons, 2011 Second Edition with Penelope S. Wardlow)
This second edition of Core Concepts of Government and Not-For-Profit Accounting presents a concise, accessible, user-oriented look at the unique features of governmental and not-for-profit accounting. The text helps students understand the "why" of accounting requirements and how financial statements may be interpreted and used by a variety of interested parties, such as future managers, bond analysts, and members of legislatures and governing boards.
Michael Granof, Government and Not-For-Profit Accounting: Concepts and Practices, (John Wiley & Sons, 2011 Fifth Edition with Saleha B. Khumawala)
In this fifth edition of Government and Not-For-Profit Accounting: Concepts and Practices, the authors address issues including revenue and expense recognition, asset and liability valuation, the scope of the reporting entity, and reporting cash flows. By emphasizing concepts, rather than rules and procedures, the text ensures that students will gain insight into how and why these issues in government and not-for-profit accounting are resolved in comparison with the business sector. Unlike other government and NFP accounting texts, this edition is directed for both potential users and preparers of financial reports.
Michael Granof, How to Cost Your Labor Contract (BNA Books, 2011 Second Edition with Jay E. Grenig and Moira J. Kelly)
This trusted guide continues to be the most comprehensive, easy-to-understand explanation on how to calculate the economic impact of wages, benefits and work practices for anyone who is involved in labor contract costing. While most previously published information on costing amounts to only a few pages of coverage in textbooks on collective bargaining and labor relations, few, if any, publications reach the level of sophistication and depth on this topic.
Carolyn Heinrich, The Performance of Performance Standards (Upjohn Institute Press, 2011, with James Heckman, Pascal Courty, Gerald Marscke, and Jeffrey Smith)
Using a variety of data sources, the contributors explore how performance standards and incentives affect the behavior of public managers and agency employees, their approaches to service delivery, and ultimately, the outcomes for participants. The lessons contained in this volume provide direction for policymakers seeking to shape performance standards, speed their evolution, and ultimately improve government performance.
Jeremi Suri, Liberty's Surest Guardian: American Nation-Building from the Founders to Obama (Simon & Schuster, 2011)
In Liberty's Surest Guardian, Jeremi Suri explains where America has erred and where it has succeeded in nation-building efforts across history—in the Philippines, in post WWII Europe, in Vietnam—and offers a focused plan for how to move forward. He also outlines five fundamental principles of nation-building and describes how these principles have played into the most pivotal nation-building operations in history.
Special Recognition:
Michele Deitch for her work on Volume 30, Issue 5 (Fall 2010) of the Pace Law Review "Opening Up a Closed World: A Sourcebook on Prison Oversight", including co-authoring the foreward "Opening Up a Closed World: What Constitutes Prison Oversight" with Pace Law Professor Michael Mushlin and contributing three major articles on her research into prison oversight.
Gamkar, Shama for her work as editor of volume and author of "The State of American Federalism 2010-2011: The Economy, Healthcare Reform and Midterm Elections Spate the Intergovernmental Agenda," Publius 41(3).
Franice Ostrower for her work as President of ARNOVA, the leading interdisciplinary community of people dedicated to fostering through research and education, the creation, application and dissemination of knowledge on nonprofit organizations, philanthropy, civil society and voluntary action.
Graduate Student Publications:
Anazia, L. (with Leigh B. Boske). (2011). "U.S. and Texas International Trade and Transportation," Southwest Region University Transportation center Report.
Cullinane, J. (with C. Mugimu). (2011). "Financing Community Polytechnics in Uganda." In R.R. Latiner, D. Derrico, D. Valeau, and S.E. Sutin (eds.), Increasing Effectiveness of the Community College Model (Palgrave Macmillan).
Mudraziija, Stipica (with J. L. Angel). (2011). "Aging, Inheritance and Gift Giving." In R. Binstock, L. George, and J. Schulz (eds.), Handbook of Aging and the Social Sciences (San Diego, CA: Academic).
Mudrazija, Stipica (with J. L. Angel). (2011). "Raising the retirement age: Is it fair for low-income workers and minorities?" Public Policy and Aging Report 21(2): 12-19.
Policy Research Project Reports:
The LBJ School has established interdisciplinary research on policy problems as the core of its education program. A major part of this program is the nine-month policy research project (PRP). During this course one or more faculty members from different disciplines direct the research of graduate students on a policy issue of concern to a government or nonprofit agency. These PRPs, or capstone projects, generally produce a published report. Below are two PRPs of special note.
Title Insurance Regulation in Texas: Challenges and Opportunities - Led by David Eaton
During 2006-07, Texas' Commissioner of Insurance (Mr. Mike Geeslin) posed a number of questions about title insurance regulation to the Texas Legislature and Texas insurance consumers. Commissioner Geeslin sought information on alternative regulator options for title insurance in Texas. Following the 2009 Texas title insurance rate hearings, graduate students from the LBJ School conducted research on title insurance practices in the U.S. and Canada. The students' preliminary findings and recommendations were presented to staff at the Texas Department of Insurance in Spring 2010. The research team continued research in Fall 2010, culminating in this report.
Clean Energy Technology and Public Policy - Led by Leigh Boske, David Eaton, Roger Duncan and Charles Cook
During the 2010-11 academic year, Austin Energy funded a PRP to explore "clean" energy technologies and make recommendations regarding the use of these technologies. This report addresses several clean energy technologies through in-depth case studies: energy storage and electric vehicles, combined heat and power, energy efficiency, distributed solar photovoltaics, carbon capture and sequestration, coal bed methane, ethanol, natural gas from shale, nuclear power, and solar water heating.
Texas Transparency: Beyond Raw Data - Led by Gary Chapman and Sherri Greenberg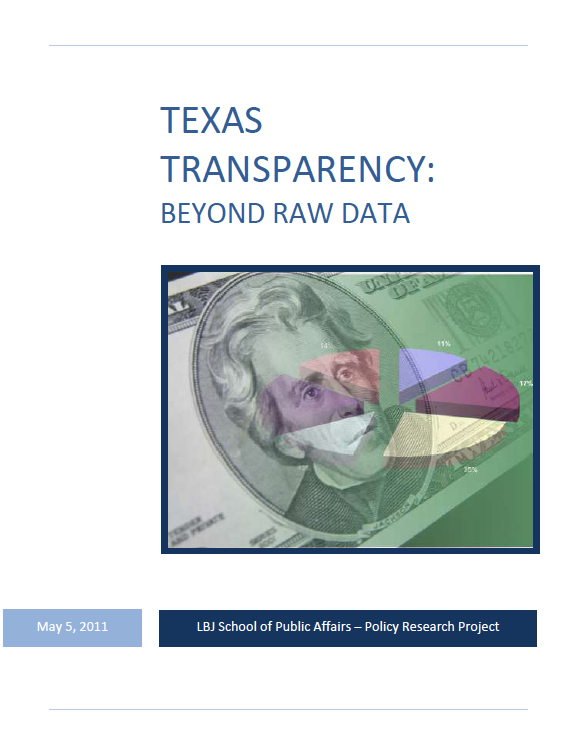 Students gathered information from stakeholders inside and outside of government on how to increase transparency through distributing a questionnaire and holding a statewide conference. This feedback helped identify strategies and best practices for connecting interested parties to government data and facilitating civic engagement. This research also includes case studies that further illustrate the challenges to achieving transparency in state government, state agencies, and local governments. Students identified barriers to transparency in data production and content creation, data formatting and presentation, and civic engagement. Students included recommendations for three types of stakeholders: government, intermediary organizations, and the public.
Vulnerability to Climate Change - Led by Joshua Busby
Student research teams working with the Climate Change and African Political Stability (CCAPS) program used Geographic Information Systems (GIS) to identify regions at greatest risk across Africa. This regional study on Southern African include Angola, Botswana, Lesotho, Madagascar, Malawi, Mozambique, Namibia, South Africa, Swaziland, Zambia and Zimbabwe. Broken into four volumes, this study examines the potential impact of a confluence of factors on countries' overall vulnerability and their ability to minimize the effects of climate change.