LBJ School of Public Affairs Long-Time Faculty Member and Renowned Internet Policy Expert, Gary Chapman, Suffers Fatal Heart Attack
AUSTIN, Texas-- December 15, 2010-- Gary Chapman, Senior Lecturer at the LBJ School of Public Affairs, Associate Director of the Telecommunications and Information Policy Institute at The University of Texas at Austin and internationally recognized expert on Internet policy, telecommunications and technology policy, died of a heart attack Tuesday, December 14, in Guatemala while on a kayaking trip, according to his family.
"The LBJ School has lost a beloved colleague, inspirational teacher, and wonderful friend. Gary was a man of shining integrity, whose memory and example we will carry with us," said Dean Robert Hutchings. "Our deepest sympathy goes out to his family and friends along with our heart-felt gratitude for a life of such profound contribution. We will miss him dearly."
Chapman, who joined the LBJ School in 1994, served as the most recent graduate advisor for the Master of Public Affairs degree program and as the School's Director of the 21st Century Project, which explores ways for citizens to be involved in policymaking involving technology, particularly in the areas of telecommunications, the Internet and digital media. He was the author of numerous articles on technology and society for a wide variety of publications, including The New York Times, The New Republic, The Washington Post, Technology Review, Communications of the ACM and many others. In 1995, his 21st Century Project helped bring computers and the Internet to low-income areas of Austin.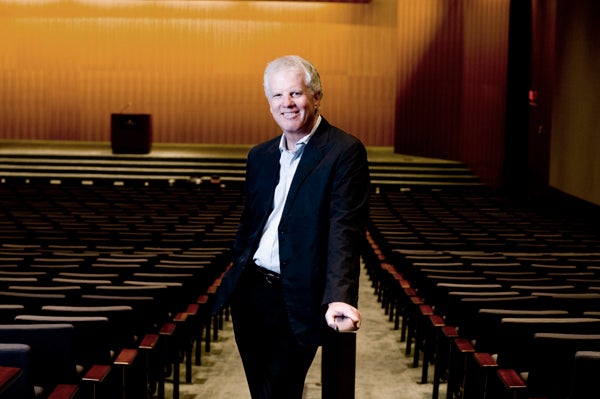 From 1995 to 2001, he was an internationally syndicated columnist on technology for The Los Angeles Times, and his column, called "Digital Nation," was carried in over 200 newspapers and websites. Chapman was also a technology columnist for Texas Monthly magazine and a general editorial columnist for The Austin American-Statesman. He has taught and lectured all over the world, most recently as a guest faculty member at the University of Porto in Porto, Portugal.
In early 2000, Chapman was named one of the "25 Most Powerful Texans in High Tech" by Texas Monthly. In 1999, The Austin American-Statesman named him one of its "Ten to Watch." Chapman has also served as chairman of the selection committee for the Turing Award, the world's highest award in computer science.
From 1984 to 1991, Chapman was executive director of Computer Professionals for Social Responsibility, the only national public interest group of computer scientists. The organization investigated international security, arms control, the role of computers in the arms race, and computers and privacy. In 1991, Chapman co-founded the Computers, Freedom and Privacy Conference, which is still held annually.
Gary Brent Chapman was born on Aug. 8, 1952, in Los Angeles. In the mid-1970s, he served as a media with the Army Special Forces or "Green Berets."
Chapman earned his B.A. in political science from Occidental College in 1979 and attended Stanford University's Political Science Ph.D. program in 1984, when he left to work at Computer Professionals for Social Responsibility.
Mr. Chapman's survivors include his wife, Carol Flake Chapman; his father, Arthur S. Chapman, and stepmother, Pierrette Chapman, of Solvang, California; and a half-brother, Duane Chapman, of Bakersfield, California.
Contact:
Susan Binford
Assistant Dean for Communications
512-232-40064
512-415-4820
susan.binford@austin.utexas.edu
Press:
Gary Chapman, Internet policy expert and visionary, dies at 58 - The Washington Post, Dec. 28, 2010
Gary Chapman dies at 58; visionary thinker about technology's effect on society - LA Times, Dec. 24, 2010
LBJ School lecturer was Internet expert, Gary Chapman 1952-2010 - Austin American Statesman, Dec. 15, 2010
RIP Gary Chapman by Omar Gallego - Austin American Statesman, Dec. 15, 2010
LBJ School Internet Expert Gary Chapman Dies Suddenly at 58 - KUT Radio, Dec. 15, 2010
UT community mourns loss of long-time lecturer - News 8 Austin, Dec. 15, 2010
Internet Policy Expert Gary Chapman Dies - Technorati, Dec. 15, 2010
Gary Chapman - Weblogsky, Dec. 15, 2010
Remembering Gary Chapman - Peter Lewis on Technology, Dec. 18, 2010
Related:
Transparency in Texas - Policy Research Project website
The Interactive Budget Project - policy research project
LBJ School Student Research Calls for Open-Standard Data, Better Transparency in Texas State Finance -
LBJ School Senior Lecturer Gary Chapman Builds Website for Austin City Aimed at Luring Google's 'Big Gig' Fiber Project
LBJ School Senior Lecturer Gary Chapman to Speak at The Austin Forum on Science, Technology and Society
LBJ School Senior Lecturer Gary Chapman to Serve as Co-Master of Ceremony for "Conversations with Bob Taylor" Event
LBJ School Professor Gary Chapman Co-Directs First International School on Digital Transformation in Porto, Portugal
Open Government on the Internet: A New Era of Transparency - Conference focuses on the importance of open/free government information; role of the Internet
Videos:
Aug. 29, 2009 - Gary Chapman Shares His Experiences on Bob Taylor, One of the Fathers of the Internet
May 15, 2009 - Open Government and the Internet: Panel on Transparency and Application Development - Intro by Gary Chapman
Dec. 5, 2008 - The Lyndon Baines Johnson Centennial Symposium - Panel on Resources and Technology