LBJ School Students Explore How Civilian-Developed Policies Affect Lives of Soldiers
Daylong tour of Fort Hood military facility sheds light on training, living conditions and services for military personnel
By Zachary Child, First-Year Master of Global Policy Studies student at the LBJ School of Public Affairs
AUSTIN, Texas-- December 2, 2011-- On Friday, Nov. 19, 2010, LBJ School Professor Ed Dorn took his "Shaping Defense Policy" class on a tour of Fort Hood, a U.S. military base located outside Killeen, Texas. The trip was an opportunity for Dorn's students, a mix of veterans, service members and civilians, to explore questions about life on a base and service in the U.S. Army.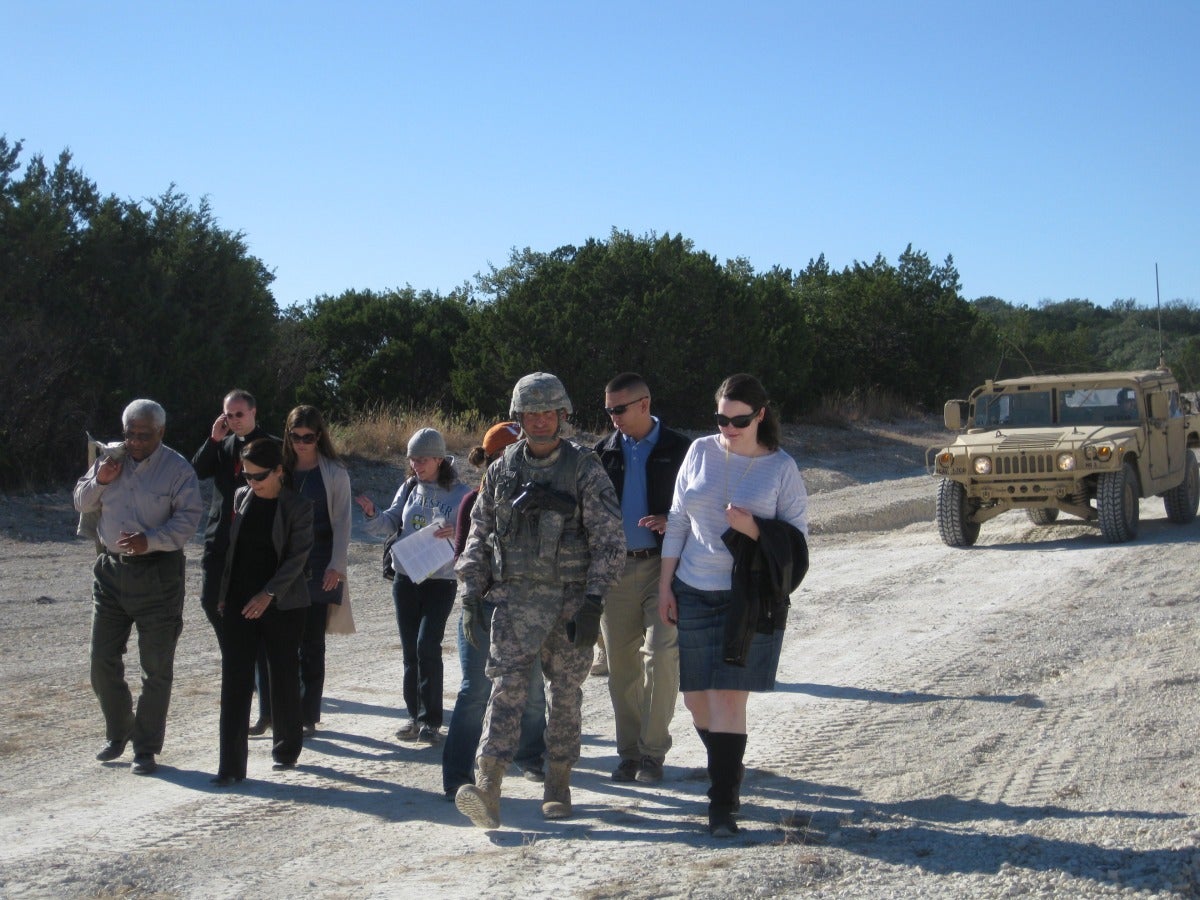 "My Defense Policy class takes the 20,000-foot view," Dorn said. "The purpose of visiting Fort Hood is to give students a sense of how the high-level policy decisions play out on the ground. After all, the success of our policy depends upon how a soldier performs."
"The Great Place"
Fort Hood is the largest military installation in the world. Sprawling over 300,000 acres of Central Texas plains, the base houses nearly 50,000 soldiers of the First Cavalry and Fourth Infantry Divisions.
The streets, lined with fast food restaurants, elementary schools, churches and malls, make it easy to forget you are on a military base. Colonel Jeffrey Sauer explained, "We call it 'The Great Place.' It's a city unto itself."
In other ways Fort Hood is like no American city. The base is a transition point for thousands of soldiers preparing for combat, and it was at the Soldier Readiness Center where Major Nidal Hasan killed 13 people and wounded 30 others on Nov. 5, 2009.
The center, still fenced off with barbed wire, is a solemn reminder of the murders.
"The community was hard pressed to deal with the tragedy," Sauer said. "But the people from Fort Hood to Temple have come together to support each other."
Over lunch, the LBJ School students met with Jean and Bill Shine, local realtors who work closely with Fort Hood leaders on issues related to military families. Jean Shine is currently an unpaid Civilian Aide to the Secretary of the Army.
"My job is to take the army message to civilians," Shine said.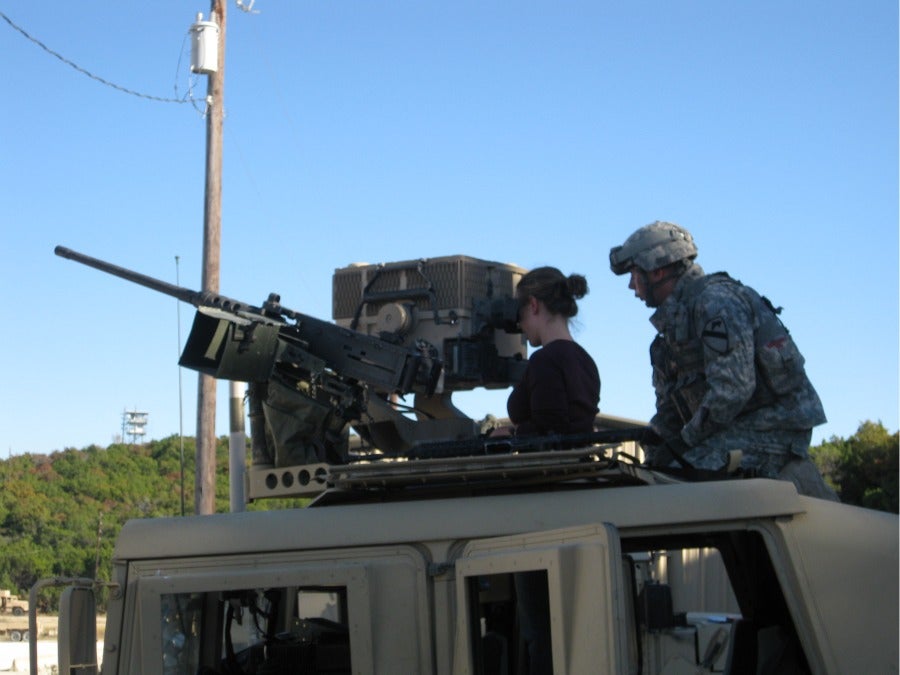 Shine advocates increasing dwell time between soldiers' deployments to three years to reduce stress on personnel and their families. More service members, she noted, are coming home with serious injuries and behavioral health issues.
Shine told us that earlier that morning she had visited the wife of a disabled soldier who is part of Gold Star Families, a support network started by military spouses.
Beyond supporting the mission and traditions of military service, the surrounding communities support Fort Hood because it is their social and economic engine.
According to Sauer, the base has a nearly $10.9 billion impact per year on the Killeen-Temple-Fort Hood metropolitan area, which places it among the fastest growing economic areas in the country in terms of population, business and investment.
"Fort Hood will be here forever," Sauer said.
Despite secure army investment in the base, some of Dorn's students wondered about the future of civilians that depend on the base.
First year Master of Middle Eastern Studies and Public Affairs (MPAff) student Brittany Burns asked, "Once we're out of Iraq and Afghanistan, how will it affect the economy of the area?"
The Barracks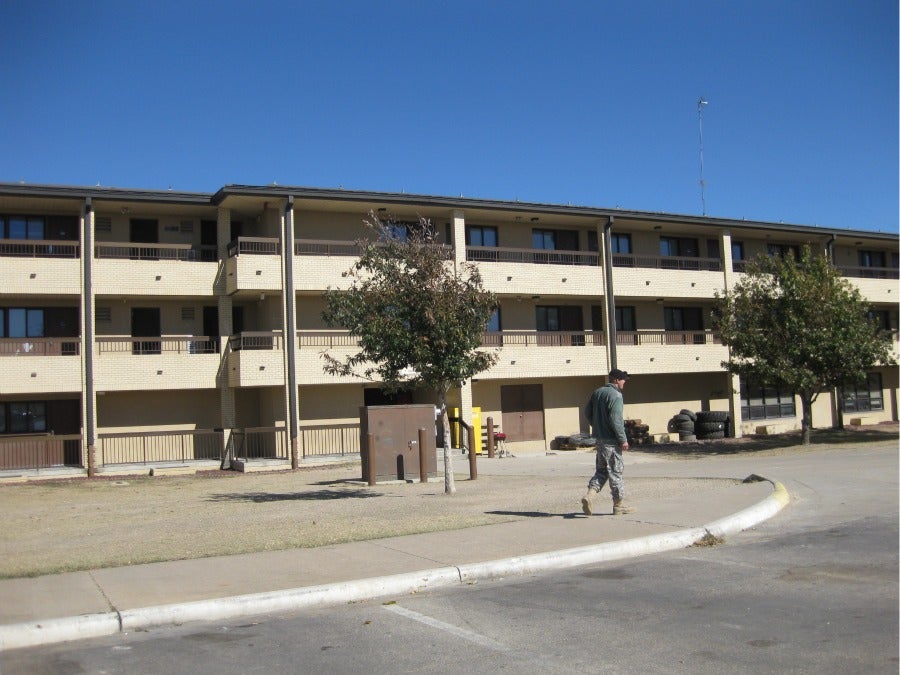 Col. Kurt Pinkerton, a current LBJ School military fellow who is mentioned in the recent book "The Fourth Star," spoke about the importance of learning more about the everyday lives of service members in the United States.
"Having access to Fort Hood allows LBJ School students to see the impact of policy on soldiers," Pinkerton said. "Students, who are one day going to be policy makers, have a unique opportunity to interact with everyone from a general down to a private."
Young, unmarried soldiers in the lower ranks are often required to live in barracks. Fort Hood is in the process of demolishing or renovating older buildings and constructing modern living quarters, but some old blocks remain.

We toured one of these drab brown concrete barracks with two young female privates who live there. They told us about some of the inconveniences of living on base, including regular inspections of their quarters, bans on cooking, even prohibitions on keeping spices or tea for fear of it being confused with Spice, a synthetic cannabis product.
The Army recognizes the difficulties of young service members and has implemented Better Opportunities for Single Soldiers (BOSS). The program seeks to improve quality of life by offering opportunities for higher education, community service, and recreation off base. But when asked if they took advantage of BOSS, both women said they were not well aware of what the program had to offer.
"I didn't know the challenges of living in the barracks," second year MPAff student Patricia Myers said later. "For policy there is always that disconnect. You can put policy in place but it's difficult to make sure people are getting the benefit."
Training
According to Col. Gary Volesky, Fort Hood puts a premium on using its resources to train soldiers for combat. These exercises, as much as possible, attempt to recreate the situations on the ground.
"We are stretched, but the U.S. Army is the best there is," Volesky said.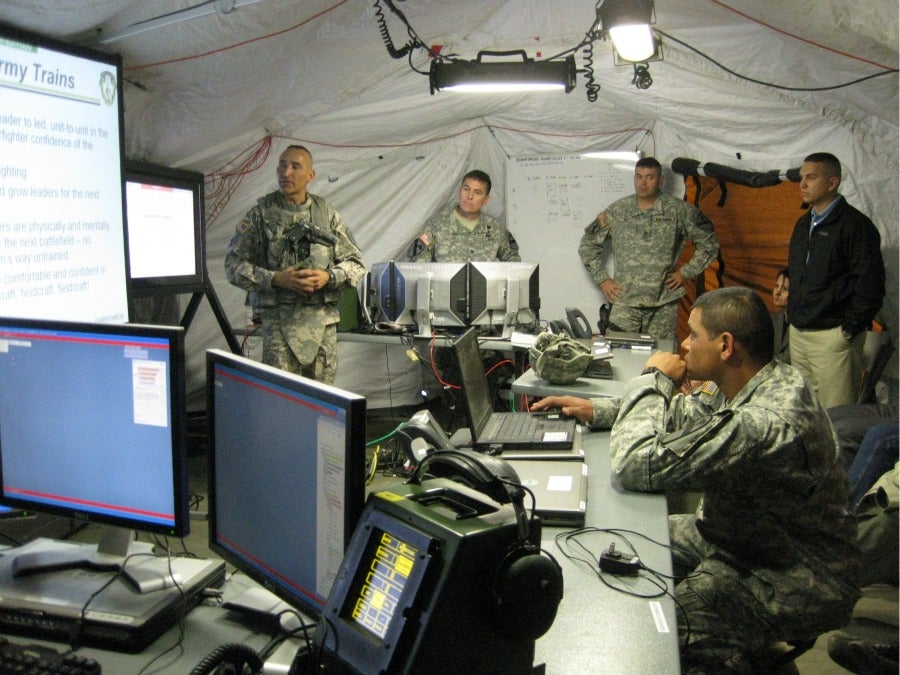 Dorn's class visited a tank gunnery range and mobile command center where soldiers train for weeks at a time to learn how to coordinate field operations and gain a sense of living conditions in combat zones.
"I never really knew how we were preparing people to go to war," third year Master of Middle Eastern Studies and MPAff student Joanna Schenke said. "I am seeing how much responsibility soldiers my age have. It's a lot of weight."
While live fire exercises give soldiers a chance to practice group tank and artillery maneuvers, they learn the basics on Fort Hood's $120 million tank and Humvee simulation facilities.
The simulators accurately replicate 98 percent of the controls of the vehicles. Detailed computer programs can put them on the grounds of Fort Hood or just as easily in the center of Baghdad.
All of the rigorous training, according to General Daniel Allyn, commander of Fort Hood's First Cavalry Division, is to ensure that soldiers see and experience every possible scenario before deployment.
Allyn will lead First Cavalry troops in Afghanistan in the spring of 2011, while others will deploy to Iraq and South Korea.
Failure, according to Allyn, comes from being unprepared. According to Col. Volesky, this is not an option. He put it simply, "We have to win."