First African-American to Play UT Football, LBJ School Alum Julius Whittier Visits Longhorn Team; Shares Personal Story About Becoming an LBJ School Student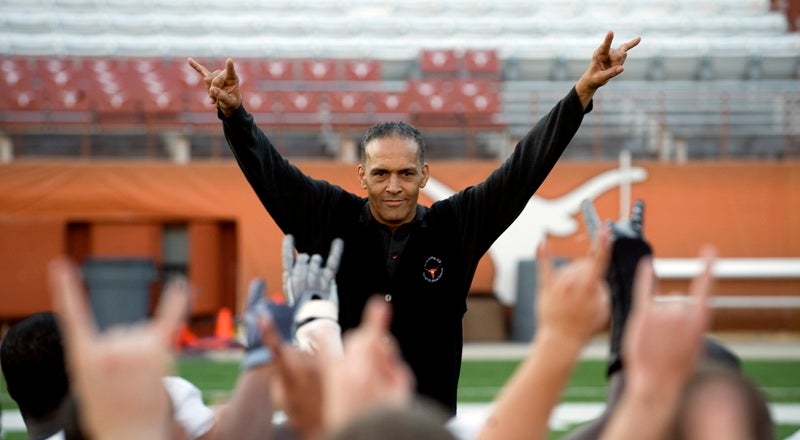 AUSTIN, Texas-- December 1, 2010-- LBJ Alum Julius Whitter ('76) , the first African-American to play football for The University of Texas at Austin, recently spoke to current Longhorn football players, a talk which was captured in a video by Texas Sports TV. Whittier discussed his experiences as a pioneering member of the UT football program and life after graduation.
Whittier arrived at The University of Texas at Austin as an undergraduate in 1969 and played football from 1970 to 1971. After graduation, he returned the university as an LBJ School student in 1974.
"I met President Johnson during my years as an undergraduate," said Whittier. "Coach Royal and some other athletes from my football team went to the Johnson Ranch and that's when I first learned what the LBJ School was all about. I say this earnestly, but the president told me specifically that he would enjoy knowing that I had at least examined the program at the School."
Whitter graduated from the LBJ School in 1976 and went on to receive a law degree as well. He currently works in the Dallas District Attorney's Office as a supervisory chief prosecutor.
'We are so honored that Julius would come out and meet with the players," said University of Texas at Austin Head Coach Mac Brown. "He's a hero. He's a pioneer. Thank goodness it is a much better world than it was in 1969 because of people like him."
To view the video, visit: http://www.texassports.com/allaccess/?media=214320
Related:
The New York Times - Changing the Face of Texas Football - Dec. 3, 2005