LBJ Alumni Touching Lives Through Dominican Joe's and Makarios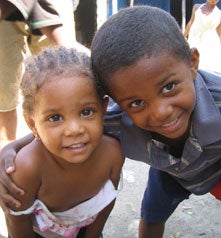 AUSTIN, Texas-- Dec. 13, 2006-- Sharla Megilligan and Mehul Patel are among the distinguished alumni from the class of 2004 who are making a profound difference in the lives of children and coffee growers in the Dominican Republic.
Patel and Megilligan are the founders and principal partners of the coffeehouse Dominican Joe, located at 515 South Congress in Austin. This growing business not only serves the caffeine-driven needs of Austinites, but is the major purchaser of coffee brokered by Makarios, a faith-based nonprofit organization founded by Megilligan in 2004 to support educational development in the Dominican Republic, Haiti, and other impoverished areas of the world.
Makarios (the word comes from the ancient Greek for "blessed") began providing schools, vocational programs and other educational opportunities in Haitian villages, called bateyes, on the Dominican Republic's north coast and the poor areas of Santiago, the island's second largest city.
In only two years, the program has seen truly inspiring results, Megilligan said.
"Makarios teachers love, care, and nurture their students. Our students have grown in a culture where there is not always enough to go around. They used to fight to be first to get the school snack. Now, they have learned that if they are the last in line, they will still get what the first person in line gets."
Megilligan describes the care with which one of the students attending Makarios schools, a boy named Lisandro, watches after his little sister and describes him as an energetic child. His life is improved by the heartfelt work of Megilligan and Patel and his future prospects are brighter.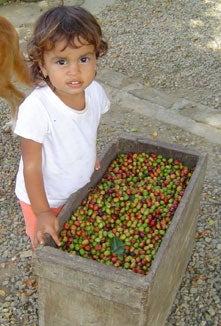 To teach students literacy, math, and problem solving skills, Makarios recently purchased a farm. It will help students apply what they are learning to their environment. These skills will be beneficial to family farm operations and future earning potential. Megilligan envisions transitioning classes currently held in village buildings and churches to more permanent structures. This is the first year Makarios is providing students with uniforms, which consist of khakis shorts or pants and shirts. Earlier this year, the Great Society Fund—a fundraising organization organized by LBJ School students and alumni to fund innovative social entrepreneurship endeavors—awarded Makarios its 2006 innovation award.
However, even with the positive impact the program is giving on the lives of the children, Makarios' organizers quickly recognized their potential to assist in engendering economic development for the villages where its schools were located.
On a visit to the Dominican Republic, Patel was amazed at the level of poverty in which villagers lived. "Their homes consisted of a concrete floor, four walls and a ceiling. The family slept on the floor. Some of the homes had doors, but they were hinged with the soles of old shoes," he said.
The villages are connected to the surrounding small coffee farms struggling to make ends meet. Unable to get the price for their coffee beans to make their farms sustainable, many farmers leave their crops unharvested. To help, Makarios decided to create its own brand of Dominican coffee—Café Makarios—which consists of high-quality arabica beans that are harvested annually and shipped to U.S. markets.
"The prices that were being offered for their coffee beans were very low. It was not worth their time to harvest the crop for a few cents per pound. It was falling off the tree and dying. Dominican Joe is providing a market for them and making it more profitable for coffee growers to harvest," said Patel.
Proceeds of coffee purchases are used to improve the small operations of coffee growers in the Dominican Republic. Makarios hopes to expand the numbers of coffeehouses and restaurants interested in serving quality coffee while having a positive affect abroad—already coffee producers in the Dominican Republic have seen their lives changed.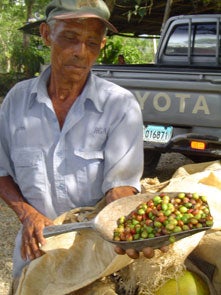 It is a global connection that many of the residents of Austin's Travis Heights neighborhood—who comprise Dominican Joe's primary customers—appreciate as they navigate the cozy atmosphere of the shop located at the southeast corner of Congress Avenue and Riverside Drive in Austin. The walls are decorated with pictures of the children, coffee growers, and villages that have been touched by both these two LBJ School graduates and their programs. And, of course, the two founders are more than eager to discuss their project with anyone who asks.
"We are very appreciative of Travis Heights area residents and everybody that chooses to buy coffee here. Everyone that comes here loves the concept, the feel, and the coffee. We have gotten very positive feedback from the community," explains Patel.
For more information about Dominican Joe, visit their website at http://www.dominicanjoe.com or call 512-448-3919.
For more information about Makarios, visit their website at http://www.makariosinternational.org or call 512-589-9018.
-William Moreno