Greg Pardo Featured as "Model for Intellectual Activism" in St. Mary University's Gold and Blue Magazine
Taking the Message of Service Around the World

by Rosemary Segura, Coordinator of Web and Print Communications for St. Mary's University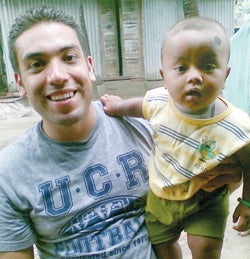 AUSTIN, Texas-- October 14, 2010-- If you asked Greg Pardo (B.A. '05 St. Mary's University, MPAff '10) to sketch a map of where he thought he'd be five years after graduation, it wouldn't have included places like Bangladesh or Burma, or even Washington, D.C. But that was before he experienced the Marianist spirit that permeates the St. Mary's campus.

Greg, a native of San Antonio and a first-generation college student, says education was instilled as a priority by family. "My father installed carpet and tile, and my mother worked as a housekeeper. Their goal was for my brother and me to embrace education. My grandfather sparked my interest in politics," he recalls.

He's a graduate of Memorial High School—just down the street from St. Mary's—but hadn't thought of attending until the University's student chapter of League of United Latin American Citizens (LULAC) hosted a "Liberation through Education" leadership conference at his school. St. Mary's students like Gabriel Sanchez (B.A. '01) impressed Greg with their passionate dedication to helping first-generation college students realize the dream of earning a college degree.
For more, visit: http://www.stmarytx.edu/gold&blue/index.php?site=serviceFall2010