Greenberg Named Interim Director of the Center for Politics and Governance at the LBJ School of Public Affairs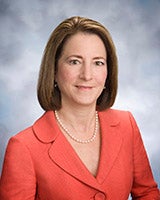 AUSTIN, Texas-- Oct. 7, 2010-- Sherri Greenberg, LBJ School of Public Affairs lecturer and former member of the Texas House of Representatives, has accepted the position of interim director of the LBJ School's Center for Politics and Governance (CPG) at The University of Texas at Austin. Greenberg follows Veronica Vargas Stidvent, who is moving to the McCombs School of Business as lecturer and assistant to the dean.
"On behalf of all of us at the LBJ School, I want to thank Ronnye for her many contributions to the School's Center for Politics and Governance since its launch in 2007," said Robert Hutchings, dean of the LBJ School of Public Affairs. "We will miss her at the helm of CPG, but are pleased that she will remain an active associate of the Center and we are committed to continuing to support her important work with the Hispanic Leadership Initiative."
"We are fortunate that Sherri Greenberg has agreed to serve as CPG's interim director," continued Hutchings. "Sherri not only brings a wealth of political and legislative expertise and experience to her new role, but she has been intimately involved in the Center and its various programs since 2008, including its full slate of activities planned heading into the November 2010 mid-term elections."
Named a CPG Fellow in 2008, Greenberg currently leads CPG's State Politics and Policy Initiative. Through this initiative, CPG studies, conducts analysis and facilitates the success of Texas state policy and politics through a broad range of state-specific programs.
Greenberg is also spearheading a post-election panel with the student group Citizens for Local and State Service (CLASS) on Nov. 4 featuring Paul Burka of Texas Monthly, Christy Hoppe of the Dallas Morning News, Harvey Kronberg of the Quorum Report, and Elisa Hu from the Texas Tribune. In addition, Greenberg has announced that the annual CPG Fall Forum, a half-day panel discussing the issues of budget and redistricting that will be important topics in the next Texas state legislative session, is scheduled for Nov. 12.
Greenberg, who served for 10 years as a member of the Texas House of Representatives, completing her final term in January 2001, also teaches a variety of courses at the LBJ School on public finance and budgeting, Texas state government, local government, education, housing, technology, and campaigns and elections.
More on the Center for Politics and Governance:
The Center for Politics and Governance at the Lyndon B. Johnson School of Public Affairs, The University of Texas at Austin is dedicated to preparing emerging leaders to be more effective by merging theoretical knowledge and practical applications of politics and governance. The Center is committed to develop new approaches to political institutions that will foster creative and effective policymaking. The Center's areas of focus include the effect of campaign politics on policy, the changing demographics of the American electorate, ethical leadership, and the role of the media and emerging technologies
More on the State Politics and Policy Initiative:
Through this initiative, created in 2007, the Center for Politics and Governance studies, conducts analysis and facilitates the success of Texas state policy initiatives, including coursework related to the state legislature as well as the Center's internship program, where students intern for a member of the Texas legislature, a non-profit interest group, or media outlet involved with the Texas legislature. Courses provided by CPG include, "Inside the Texas State Legislature and State Agencies," and "Lobbying for Non-Profits."